Last updated on May 14th, 2006 by Karen Shelton
Introduction
One of the most stressful times for reporting on celebrity hair is at the end of the TV season. At that point the networks are pulling the plugs on various shows and I am running behind them trying to make sure that I have captured all the media that I need on those shows.
I know it's a little crazy but maybe someday someone will want to look back at the show that was.
I also have a sense of loss as TV shows that I personally have become attached to circle the drain. Sometimes they disappear with no notice.
Yes, I watch the daily ratings but sometimes there is no rhyme or reason to why the networks turn off the lights.
This was the case with the ABC Drama series In Justice starring Kyle MacLachlan as David Swain, Jason O'Mara as Charles Conti, Marisol Nichols as Sonya Quintano, Constance Zimmer as Brianna and Daniel Cosgrove as Jon.
All of them are seasoned actors having appeared in some of my favorite shows such as star Kyle Mac Lachlan who appeared in Sex And The City, Jason O'Mara in Band of Brothers and The Agency and Constance Zimmer from Joan Of Arcadia. Bill Lewis is a fan favorite as Bill Lewis on Guiding Light and Marisol Nichols has guest starred on many hits shows including Blinde Justice, Cold Case and the CSI franchise.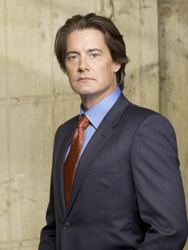 ABC/Andrew MacPherson All rights reserved.
Who knows really why the final decision is made to terminate a show? For the most parts the critics ranked the show "adequate" There was some complaint about plotline holes, lack of cast chemistry and a general copycatting of shows like Cold Case and Without A Trace.
Maybe the show had plotline and cast problems. The reason it was cancelled could also have been due to scheduling conflicts or possibly the show didn't have enough time to really grab an audience. I personally loved the various characters, whether others thought they got along or not, and I liked a new twist on the Cold Case, Without A Trace twist.
And yes, I Tivoed all the episodes to check out all the hair. While the story lines, in my humble opinion, were excellent, there was no denying the fact that there was some awesome tresses on the show. After all, I am a hair fanatic. Would you expect me to ignore the obvious?
In Justice's Women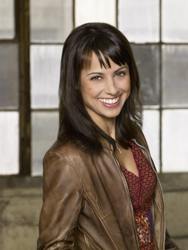 ABC/Andrew MacPherson All rights reserved.
The two main women characters on In Justice had shoulder length or longer dark tresses that were mostly worn straight.
In fact, it was interesting to note that all of the characters on the show, both male and female were some shade of very light to very dark burnette. I'm not sure it that was just a co-incidence, but it was definitely a fact.
Also, none of the stars had super short styles. Their hairstyles were in keeping with current events and they type of styles that you would expect to see young aggressive lawyers wearing out in "the field".
Constance Zimmer's hair looked radically different from the role she played on TV's Joan of Arcadia where she had multi-colored punked out strands. For most of In Justice her tresses were worn very sleek and super shiny with a much shorter fringe that worked to balance her square jaw and wider forehead. She often wore her fringe slightly separated and to one side.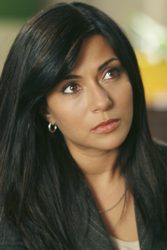 ABC/Andrew MacPherson All rights reserved.
Award winning actress Marisol Nichols is no slouch is the sizzling hair department. She also wore her cobalt black hair long and sleek for her role as the young Hispanic attorney who passionately defended the underdogs.
Marisol's television credits include her critically acclaimed role as the hardened female lead in Stephen Bochco's cop drama, "Blind Justice" (2005), for ABC. Nichols also appeared in a recurring role on Cold Case in 2003 along with many noted guest roles on series such as CSI and Nip/Tuck.
Marisol has thick luscious hair which she wore with a deep side part and a full side swept bang over the top of one eyebrow. Her hair was shiny and glossy and had lots of beautiful volume and body.
The Men Of In Justice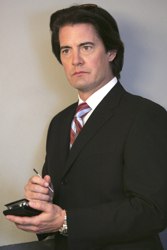 ABC/Andrew MacPherson All rights reserved.
Kyle MacLachlan followed a major departure with his normal short and very finished hairstyle by going with an almost too long and slightly shaggy cut. It was very appropriate for his role as the charismatic yet boisterous David Swain who alternated between worrying about dining at the very best restaurants to hanging out in jail trying to free innocent victims. Long hair on men is definitely making a come back for 2006, so it seemed only fitting that MacLachlan would portray a wealthy, priviledged and slightly spoiled playboy with a long sweep of dark strands.
I loved Kyle as Charlotte's husband, Dr. Trey MacDougal on Sex and the City. His role as David Swain was a major shift and intriquing.
Although it was clear that veteran actor Kyle Mac Lachlan was the lead male character, at times Jason O'Mara appeared to take the lead as the macho former police detective. He kicked in doors, chased perps and all the while doing a great job of being tall, dark and Irish with a stunning short naturally curly Ceasar cut that enhanced his rugged good looks.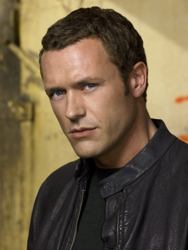 ABC/Andrew MacPherson All rights reserved.
The handsome former rugby player is best known for his work on TV's The Agency. He appeared in the 2005 season of The Closer and has had guest roles on series such as CSI.
If his work on In Justice is any indication, there is no doubt he will land a great new acting gig somewhere.
Although the initial In Justice episodes hinted at an attraction between Marisol Nichols' character, nothing ever developed beyond a hushed conversation between the two female cast members. Maybe the writers had a future plot development that would have caused romance to blossom. It is a shame that this plot line never developed. It might have helped to ignite the show and attract more viewers.
Regardless, Jason was fun to just watch. His hairstyle was a tribute to naturally curly haired guys everywhere who struggle with trying to find a great cut.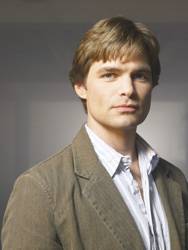 ABC/Andrew MacPherson All rights reserved.
Daniel Cosgrove had a completely different style than either Jason or Kyle, it was a great style that is currently very popular with men.
As Celebrity Hairdresser Robert Hallowell described it, the cut is a "basic men's haircut" that is cut in graduated layers and squared off at the back to show off Daniel's very roughed jaw line. The front of the hair was tousled along Daniel's forehead bringing attention to his stunning eyes.
Daniel, who was a fan favorite on Guiding Light as Bill Lewis, played an slightly rebellious young investigative attorney who pushed the envelope and clashed young buck fashion with his male bosses.
The fashion in which Daniel's hair was cut and styled clearly communicated his sexy yet ambitious attitudes.
Summary
As Celebrity Hairdresser Robert Hallowell, who has worked on many TV sets explained to me "there is no way to know the reasons that some shows survive and others shows get axed. Although the critics complained of less than spectacular chemistry, somewhat boring plot lines and bland characters, I enjoyed the shows, the actors and of course the wonderful hair.
Although the show is over, my article is a farewell tribute and will serve to remind visitors to HairBoutique.com of the actors and actresses that gave their best to make this short-lived wronged victim drama succeed.
If you want to talk more about this or other hair care articles on HairBoutique.com or anywhere else, please post a message on HairBoutique.com's Hair Talk Forums.