March 20th, 2010 by Karen Shelton
Introduction
More and more women are boldly throwing their hair color bottles out the window and cancelling their regular trips to the hair colorist.
While the thought of emancipation from the slavery of weekly or bi-monthly touch-ups sound tempting, there are definite risks involved. While some actress and celebrities can pull off the Silver Fox With Sass look, this many not translate as well to everyday women.
Rita Hazan, one of the top hair color gurus in New York was quoted in W Magazine as saying "going gray causes an immediate aging of 10 years".
When Jennifer Lopez showed up with noticeably gray hair roots at the National Council of La Raza's Alma Awards in May of 2006 she set off a media frenzy. Was she pregnant? Why else would she show off her gray roots? Some fans were very upset by what they deemed her lack of concern for her looks. Reporters around the world note fan displeasure at Jennifer's lack of concern.
Once the hallmark of little old ladies, gray hair is now being embraced by women who are daring and full of self confidence.
Of course, this is not the case with men who opt for silver, white or gray. George Clooney was deemed even sexier than before when he let his hair gray naturally.
Women tend to be intimidated by society, their hairdressers and magazine articles that promote the concept of 60 being the new 40. That puts tremendous pressure on 60 year olds to work hard to have sexy hair.
"It's freedom when you let go of something unnatural that you used to define yourself" according to Jamie Lee Curtis.
Aging gracefully does mean devoting extra time and attention to other aspects of one's appearance. You have to groom yourself according to Ezersky. Gray hair can look haggy if you don't wear make-up and look put together.
Rita Hazan thinks " a chic haircut is especially important" The cut's got to be a little edgy" she says. A bob is really pretty, or you could go longer, which is chic, but not past the shoulders". And, as with any hue, some shades of gray are more flattering than others. Silvery hair can take on an unbecoming yellow tint because of oxidation and exposure to sediments in water, something that can be avoided by using a shampoo formulated to balance the gold with shades of blue and purple.
Constant Harnet, color director for Frederic Fekkai Fight Avenue, warns against glazes meant to increase shine, even the clear ones. They can add unwanted color. It absolutey can ruin gray hair say Harnett who went from blonde to white haired at the age of 30. She has persuaded many of her clients to go gray. "Frederic and I have tried pushing it". It can look so elegant and pretty.
So pretty, in fact, tat a handful of women are actually adding extra gray. Yoga instructor Zara Wilke, 36, who lives in Nyack, New York, started noticing grays at the tender age of 21 and promptly plucked them out. But after six years of literally pulling out her hair, she began adding extra silver streaks instead. I found it very empowering and very sext to embrace what my body was naturally trying to do. Rather than going against it.
Marie Martinez Seznec, Christian Lacroix's director of haute couture feels the same way. In their native Brittany, her family was known around town for their silvery white locks and Marie noticed her first gray at 15.
Proof that her look is as chic as ever, Meryl Streep has reported that Model Carmen dell 'Orefice, late editor in chief Liz Tilberis or Harpers Bizarre among others inspired her Devil Wore Prada silver do.
Even better, Leslie shows off her beautiful blonde tresses in a series of hairstyles that include wearing her hair in soft ringlets that hint at hard core natural curls.
When I saw her curly strands I did deliberately ponder whether Leslie is a naturally curly girl or just had a hairdresser talented with a curling iron?
Leslie also wears her hair pulled up in a messy bun (adorable) in a sleek do for a club scene (sexy) and in a variety of other hairstyles that range from cute to edgy.
In fact, Leslie's (Debbie) ever changing hair is part of a dialogue between her on-screen hubby Pete (Paul Rudd) and the baby daddy Ben Stone (Seth Rogen).
While hanging out in Las Vegas Ben Stone points out to Pete that his wife Debbie is great on a number of levels including the fact that she is always changing her hairstyle.
I thought that line was priceless and so funny. Seriously, how many men really notice when their lady changes her hairstyle unless it is a dramatic change like going from blonde to purple or adding or subtracting 6-10 inches?
Silver Fox Hair Secrets
Besides having great hair and acting chops or note, Leslie has a brilliantly talented husband, Judd Apatow, who wrote and directed Knocked Up and 40 Year Old Virgin.
After ten years of marriage she also has two adorable daughters who both appeared as her real children in Knocked Up.
My only hope, besides trying to figure out if Leslie really has naturally curly hair or a great hairdresser is when we will see this mega talented and beautiful actress again.
Steal Her Hairstyle
Although Leslie had access to a team of top hairdressers for her array of perfectly finished styles, with a little time and practice it would be possible to steal her styles.
Follow the steps listed below to recreate Reese's basic shoulder skimming style:
1. Start by selecting a shampoo with a color safe formula to preserve any gorgeous blonde highlights or hues like Leslie's current golden shade. Otherwise, select a shampoo that works with your current texture, type and condition of hair.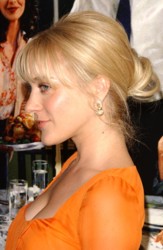 Miranda Otto The Lord Of The Rings: The Two Towers Premiere December 15, 2007
Shampoo products to try: Robert Hallowell Prawduct - shine booster shampoo - 8.5 oz (250 ml), Phyto Colored Hair System, J.F. Lazartigue Micro Pearl Shampoo for Dry hair, Paul Brown Cleanse Balancing Shampoo.
2 Apply a rinse out conditioner that works for your hair's normal texture, type and condition. Consider trying a color co-ordinated mask to intensify your existing color.
3. Finish with a cool/cold rinse to close the cuticle and help add natural shine.
4. Towel blot (never rub or rough dry) to remove excess water.
5. Coat damp strands with a customized styling product cocktail containing styling tools such as a

defrisant

, volume building mousse, gel or other styling products that work best with your hair texture and type.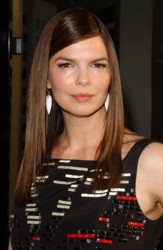 Jeanne Tripplehorn, Big Love Season Premiere Premiere June 6, 2007
Styling products to try: Robert Hallowell Prawduct - super volumizing tonic - 8.5 oz (250 ml), Paves Professional FLAWless Red Carpet Firm Hold Repairing Styling Mousse For Dry Damaged Hair or
6. Blow dry using a large round boar's bristle brush (shown to the side - Conair Round Brush) for strong, lasting support. Direct the air flow down from the roots towards the end to build in shine and smooth strands.
7. Use fingers to lightly scrunch near the roots for desired volume and lift.
8. Use round brush to lightly roll the ends of the hair under.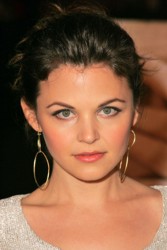 Ginnifer Goodwin Big Love Season Premiere Premiere June 6, 2007
9. Finish blow drying with blast of cold air, if possible, which sets the style.
10. When hair is 100% dry separate hair into individual 2" sections and set on medium sized hot rollers, or curl with a medium sized curling iron to add movement to the strands.
11. If curling with a curling iron, after working with each section, roll the newly formed curl with your fingers up towards your scalp and pin into place to allow the curl to cool completely. Work around the entire head until all sections have been curled and pinned to the scalp. Spritz lightly with a soft hold hairspray.
If curling with hot rollers, let the curlers completely cool before removing. Once all the rollers have been released, let new curls dangle free before styling. Spritz lightly with a soft hold hairspray.
12. Use a tail comb or brush to create the desired part.
13. Use your fingers and/or a boar's head brush to lightly break up the curls and arrange into a soft finished halo of bouncy waves that terminate into a slight curl at the tips.
14. If desired use a small barrel curling iron to touch up the curls on the ends. Let the curls cool and then tousle lightly with fingers.
15. Apply a small drop of shine serum and lightly brush over the top of the finished style. If you prefer, use a shine spray product and spray into the palms of your hands and then glide over finished style.
Shine Serum Products To Try: Robert Hallowell Prawduct - love that shine drops - 2 oz (60 ml). Robert Hallowell Prawduct - love that shine spray - 4 oz (120 ml) 16. If desired, finish the look with a long lasting hairspray for a silky shine effect.
Hairspray to try: Geena Davis and Jennifer Love Hewitt loves Robert Hallowell Prawduct - rawhold hairspray - 8.5 oz (250 ml).
Oprah loves Paves Professional - FLAWless Convertible-Proof Firm Hold Repairing Hair Spray for Dry Damaged Hair.
Summary
Leslie Mann's career is blowing up thanks to her great roles in Knocked Up and The 40 Year Old Virgin. She also has gorgeous blonde tresses that she wears in a range of sassy styles.
Original Publication Date: 03/20/10 - Revised Publication Date: 01/06/10
If you want to talk more about this or other hair care articles on HairBoutique.com or anywhere else, please post a message on HairBoutique.com's Hair Talk Forums.