Last updated on April 1st, 2002 by Karen Shelton
Introduction
One of my very first impressions of the Phyto Hair Care Line was through my use of the Phyto 7 leave-in conditioning cream. I first discovered this great leave-in conditioning product during a trip to New York City. A hair and beauty consultant at a large beauty boutique strongly recommended that I try the Phyto 7 for my naturally wavy (with some curl), highlighted and normally dry hair.
This product is carefully designed to nourish and re-hydrate dry hair that has experienced keratin loss, progressive porosity or the depletion of hydrolipic film on the hair cuticle. This product is perfect for weakened hair that tends to be dull, brittle, fragile, has split ends, is difficult to style or is unmanageable.
A Little Goes A Long Way
As with many of the Phyto products, a little goes a long way. The Phyto 7 is very concentrated. The product use directions suggest that you spread a dab of Phyto 7 throughout the palm of your hands and between fingers, then untangle your hair by running your fingers through the lengths and at the ends of the hair.
I have to admit that I was quite skeptical when I first tried the product so many years ago. The small white tube contains 1.7 ounces. I figured that if a little is good, a lot is better. As if reading my mind, the beauty consultant that sold me the first tube really stressed that I start slow with a tiny dab. She encourage me to make sure I rubbed the product into the palms of my hands to distribute evenly.
The consultant was right about using just a tiny dab. The first time I tried the product on my hair I used a thumbnail sized dab. I was amazed how well it covered my long thick hair. I did cheat a little and add another dab that I distributed through my thirsty dry ends.
Not only did I find that my hair detangled much easier after applying the Phyto7, my hair felt soft and hydrated.
How To Use For Maximum Benefit
Phyto7 has been a friend to my hair for many years. Over time I have learned some of tricks for getting maximum benefit from this fabulous leave-in conditioning product.
The Phyto7 product works best for me when my hair is slightly damp but not dripping wet. Before I apply the Phyto7 I towel blot my hair to remove excess moisture. When I apply Phyto7 to dripping wet hair I always get results that are not as satisfactory. I believe that too much water will dilute the conditioner excessively and minimize the benefits that it offers.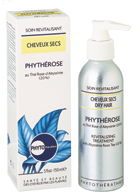 When my hair is feeling brittle I can use a tiny dab and smooth it over my hair when it is dry. While I also have achieved good results with the PhytoMist hydration product, I like to use the Phyto7 as well.
Layering the Phyto 7 along with the Phyto 9 leave-in conditioner works great when my ends seem to be much drier than the middle part of my strands. Sometimes I will apply the Phyto 7 to the middle of my hair and Phyto 9 to just the ends.
I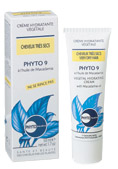 have to be careful not to apply either the Phyto 7 or the Phyto 9 too close to my roots. As a good rule of thumb all conditioners should be applied starting approximately one to two inches from the roots. This prevents the oils from the conditioner from being absorbed into the scalp.
When I am careful to follow directions and only use a small dab, a tube of either the Phyto 7 or the Phyto 9 will last me for many months. The tube is wonderful for traveling as well since it doesn't break or spill.
Although everyone has to find their own way with every product, it is very important to never overdo the amount that is used.
Packaging & Ingredients
The Phyto 7 leave-in conditioner is attractively packaged in a sleek while tube with stylish yellow and blue lettering.
Phyto 7 is a 100% natural plant based treatment cream for all hair types that softens and hydrates with 7 very special plant extracts. This leave-in moisturizing treatment mends split ends as it nourishes and revitalizes. It is a creamy blend that is non oily and leave hair supple, shiny and easy to style.
The Phyto 7 contains the following ingredients which are all of botanical origin: Burdock (Articum Majus) Extract, Rosemary (Rosemarinus Officinalis) Extract, Sage (Salvia Officinalis) Extract, Calendula Officinalis Extract, Willow (Salix Alba) Leaf Extract, Soybean (Glycinesoja) Extract, Althea Officinalis Extract, Sodium Dehydroacetate, Phenoxyethanol Parabens (Ethyl Butyl).
About Phyto
One of the reasons that I love the Phyto products so much is because I admire what the company represents. Phyto is dedicated to offering products that are tailored specifically to individual needs for specific hair types. They constantly research the best possible products and use only the finest plant based ingredients.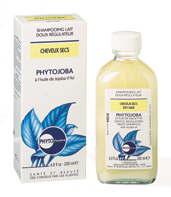 Phyto takes pride in recommending complimentary products that address specific hair conditions. For dry hair conditions Phyto recommends Huile d' Ales for a pre-shampoo conditioning, Phytojoba shampoo and then Phyto 7 (leave-in conditioning treatment) for adding moisture to dry strands.
Environmentally aware, the company only sells their products in recyclable containers and packaging. Phyto also offers biodegradable product ingredients and minimal use of preservatives.
Summary
Phyto7 is a wonderful leave-in conditioner for dry or damaged hair. A little dab of this creamy conditioner goes a very long way. It never fails to leave my hair feeling soft and hydrated.
If you want to talk more about this or other hair care articles on HairBoutique.com or anywhere else, please post a message on HairBoutique.com's Hair Talk Forums.