October 10th, 1999 by Karen Shelton
Introduction
According to most hair and beauty experts, updos are hotter than ever for 1999. This article deals with two updos that can be created simply with a little practice.
Not only are updos fairly easy to create, they can be everything from practical to dressy.
You can glam them up with jeweled butterfly clips, jeweled hair pins or you can wear your updo completely unadorned.
This first curly updo (shown to the left) works best on hair that is medium to long in length.
If you have enough hair, you're a great candidate for this look no matter what your age.
This curly updo is adorned with two small jeweled silver butterfly clips placed at the top of the crown as beautiful accent pieces to dress up the look. (Hair by Karen Helmuth at Vanis Salon, Indiana, USA).
Instructions
To create this charming and romantic curly updo follow the instructions listed below:
You may want to create this updo on "day old" hair which tends to hold shape and form better than newly washed softer hair. The choice is yours.
If you wish to shampoo your hair before you create the style complete the following steps:
Wash your hair with a shampoo that adds body and/or volume to the hair. Edwin Paul is great as well as any of the color shampoos.
Apply a good rinse out conditioner to the ends of the hair. Avoid using too much conditioner or your hair will be too soft and hard to manage.
Rinse the hair completely and do a cool/cold water final rinse to add shine.
Carefully blot your hair with a thick towel to remove as much moisture as possible.
Use a wide toothed comb or pick to untangle.
Apply a good leave in hair conditioner like Edwin Paul Leave In Conditioner to protect against blow drying.
Apply a good thickening/shine product to the underside of your hair. Edwin Paul Volume Mist would be ideal. For a sleeker effect, use a styling lotion such as Edwin Paul's Smoothing Gel.
Blow dry your hair upside down from the roots until it is almost dry. Be sure to use the coolest/slowest speed on the blow dryer. If you own a diffuser, use this instead and carefully "scrunch" your hair as you blowdry. This will encourage curls or waves to form naturally as you blowdry.
Finish blow drying your hair until it is completely dry.
Carefully brush or comb your hair up into a firm, but not overly tight, ponytail that sits at the back of your crown. Secure the ponytail with a "hair friendly" elastic band in the same color as the hair.
Take small sections of hair about 1/2 to 1 inches thick at the very top of the ponytail and using a small curling iron, make tight ringlet curls. Use the curling iron on as many sections of your hair as you like. Let the curls cool before touching them.
Once all the sections of the hair have been curled, apply a good hair spray like Edwin Paul's . Using your fingers carefully arrange the ringlets so that they fall in a soft waterfall of curls from your crown. Note: To make the curls smaller or bigger you can adjust the number of strands and the thickness so that you have smaller and more numerous curls or bigger and fatter curls. If you prefer a looser fuller look, use 2 or more ponytails to section off the hair and then create multiple strands.
Once you have arranged all the curls, pull a few ringlets loose at the front of your hair to fall softly on your forehead. When you are satisfied with the look spray the curls a final time with a good hairspray like Edwin Pauls or similar.
You have the option to wear this look with or without bangs.
With a little practice you should be able to do this updo by yourself with a good mirror.
If you prefer, your hair stylist should be able to easily recreate this look for you.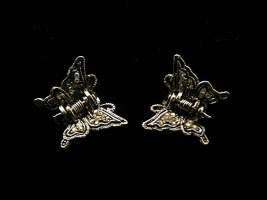 Note: To add sparkle to this gorgeous hairstyle you may want to add one or more jeweled hair pins or jeweled butterfly clips to the top of the crown. Or you may want to add sparkly hairpins to hold the curls.
If you would like to learn more dressy hairstyle for medium to long hair check out Patrick Cameron's long hair videos in The Hair Boutique Marketplace. They will knock your socks off. Check them out.
Updo #2 - Messy Undone Bun Updo
The second updo is created very much like the first curly updo. The difference is in the curls. Instead of using a small barrel curling iron to create a cascade of ringlets, the hair is captured in a series of small ponytails. The tails of the hair is pulled out in multiple directions.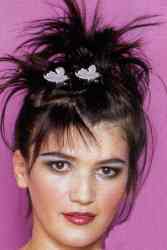 The ponytails should be created using "hair friendly" elastic bands. This style really works best with "day old" hair with lots of body.
To add drama to the look, create tiny crooked parts that zig zag at the front of the crown and on the sides. Be creative. Add as many little crooked parts as you like.
This look can be dressed up with the addition of little butterfly clips or you can add jeweled hair pins. (Hair by Gary Hooker for Clynol).
This messy undone updo style can also be worn plain with just little pieces of hair splayed out in all directions. To give the hair the proper stiffness a good styling grease like Edwin Paul's Uncle Bubby for giving the tails of the hair stiffness.
The "Undone" Bun Updo works best on hair that is shoulder length or longer. It will be harder to achieve the "Undone" Bun with much shorter hair.
Undone Instructions
Use any good styling product with a lot of weight and hold such as Aveda's Confixer, or Aveda's Flax Seed/Aloe Strong Hold Spray-On styling gel.
If you are creating the updo on dry hair, first dampen your hair slightly , apply the Confixer, or Flax Seed/Aloe spray and then repeat the rest of the steps.
Apply the Confixer by rubbing about a dime size dollop in your palms of your hands and then distribute through your hair. Apply the Flax Seed by spraying the gel lightly through your entire hair surface.
Pull your hair into a firm, but not overly tight, ponytail at the crown and secure with a "hair friendly" elastic band. Do not use rubber bands or any bands that will tear the hair when you remove the band. Note: it is best not to pull the hair too tightly into the ponytail. If the ponytail is too tight you may experience a slight headache. Long term wearing of tight ponytails can actually encourage hair loss in some circumstances.
Divide your ponytail into three or more equal ponytail sections. If you prefer you can bypass the single ponytail and create several separate ponytails instead.
Twist each section of your hair corkscrew style and then bring it back in towards the elastic band. Bobby-pin (lightly) the twisted sectionto the base of the ponytail. When you are pinning, leave about 3 inches of the ends sticking straight up. Make sure you use "hair friendly" bobby pins that will not have scratchy or sharp ends.
Lightly fingerpick or fluff out the individual hair bits with a hair friendly pick or wide toothed comb and then spray the whole head with any strong holding hair spray like Aveda's Firmata. To give the ends even more spikiness, apply Aveda's Control Stick to the very ends. You can also use the Control Stick to smooth any loose ends that escape from the ponytails.
If you have bangs, either gel them back or lightly spike them up. You can jazz the bun up by add butterfly clips or jeweled hair pins. This style also looks great with the new bra or illusion headbands.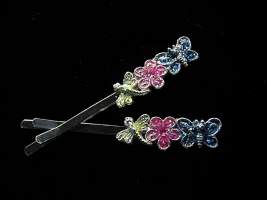 This bun will work for just about any event. You can tone it down for a more business or formal event or spike it up for a fun evening out.
To talk about this article be sure to post your comments on Hair Talk. For additional information on Hair Boutique articles check out the following articles and links:
If you want to talk more about this or other hair care articles on HairBoutique.com or anywhere else, please post a message on HairBoutique.com's Hair Talk Forums.