Last updated on March 22nd, 2004 by Karen Shelton
Introduction
The role of the hair scrunchie (aka the scrunchy) has been in jeopardy since Carrie (Sarah Jessica Parker) on Sex And The City (SATC) fought with her guy-of-the-moment, Jack Berger, about the long suffering hair accessory. As a brief recap, Carrie pointed out Jack's inappropriate use of the so-over scrunchie in his latest novel.
(Traditional black scrunchie from Karina shown above - from HairBoutique.com).
Although Jack could care less about the fashion worthiness of a fabric covered elastic, he took Carrie's ribbing to heart. And yes, you guessed it, couple splitsville was only a few episodes away. Even worse, Jack dumped Carrie on a post-in note. Was he still enraged over her scrunchie bashing? In reality no one but the writers will ever really know for sure.

Did the famous scrunchie fight trigger the dissolution of their love match? Probably not directly. However, it was an interesting relationship barometer for how incompatible Carrie, the Manola Blatnik wearing fashion diva and Jack, the low key writer, really were.
(Traditional blue scrunchie from Karina shown above - from HairBoutique.com).
Being a hair accessory fanatic I was amused by the SATC famous scrunchie episode. Even more interesting to me was the many emails I received from scrunchie loving fans all over the world who wrote for advice on whether to banish their beloved pony accessories to the depths of their closets.
Glamour Don't

Although the famous hair accessory SATC episode has started to fade into the mourning filled haze of the show's final episode, the scrunchie debate lives on in the April 2004 issue of Glamour Magazine.
(Set of three scrunchies from Karina - from HairBoutique.com).
Let me point out that this is no ordinary Glamour edition. No, this is the 65th anniversary issue that highlights the all time best beauty Dos and Don'ts. Now let me throw out the fact that I adore Glamour magazine. I have been reading it since I was a teen trying to figure out how to get a clue about hair, beauty and makeup. It was one of my first magazine addictions.
Andrea Pomerantz Lustig's Beauty Tips

While I happily vacuumed up every little tidbit of beauty tips in Andrea Pomerantz Lustig's splendidly crafted article, my eye caught a glimpse of the maligned scrunchie pictured at the very top of the Beauty Dos & Don'ts page. Oh no, not again! But yes, there it was framed by a crisp Glamour proclamation - "Don't Scrunchie In Public". (Image of L. Erickson 3" Scarf Headband - HairBoutique.com).

Andrea has many wonderful dos and don'ts in her article. I loved the fact that she specifically mentions that the new scarf headbands are a big do and that long bangs are great for freshening up any style. Yes, and I totally agree that skinny bands with whale prints are best worn by the under age five set. (Image of L. Erickson 1 1/2" Scarf Headband - HairBoutique.com).
Definition Of A Scrunchie

Do I agree with the don't scrunchie in public rule? I think it all depends on what you define as a scrunchie. Traditionally scrunchies consist of a circular elastic band completely encased by a piece of gathered fabric designed to produce a pouffy look. (L. Erickson USA - Two Tone Pony - Turquoise w/ White - HairBoutique.com).

Scrunchies were originally used to hold a ponytail in place but eventually graduated to other uses such as a bun holder or wrap. Although scrunchies were used as functional pony holders, they were also used as pure decorative accessories as well. (L. Erickson USA - Two Tone Pony - Lavender w/ Petal Pink - HairBoutique.com).
Scrunchies scaled up and down in a dizzying array of sizes, shapes and were crafted on materials ranging from simple cottons and rayons to silks, satins, furs and leathers.
Although I personally gravitate towards pony elastics encrusted with a wide range of chic beads and crystals for public ponytail wear, I have been known to slip on the upgraded EVITA PERONI scrunchie versions that consist of high fashion ripped lace, satin and tulle.
I have even slipped a gorgeous beaded scrunchie around a classic ballerina bun which spectacular results.
Scrunchie Wearing Celebs
More importantly several well-known celebrities are known scrunchy poster girls. Megawatt blonde stars Pam Anderson and Jessica Simpson obviously don't agree or could care less with the scrunchy rules of public display.
Pam, a feature Jane Magazine columnist, has been snapped on more than one occasion happily shopping with her blonde ponytressed locks wrapped in a jeans-friendly scrunchie. Jessica has also been spotted on her MTV Newlyweds show in a similar fabric wrapped scrunchie style band.
Keep in mind that Pam Anderson is consistently one of the top Googled celebs on the Internet. And do I even need to mention how wildly popular Jessica Simpson has become? Both blonde icons are idolized for their beauty and style, scrunchies or no scrunchies.
Everyday Scrunchies?
It is appropriate to wear a plain cotton or rayon wrapped scrunchie to a black tie event or a red carpet gala? Probably not. Made out of the right material like velvet and diamonds, a scrunchie might just work for any dressy event. (Smoothies - Metal Free Rope Pony - Black - HairBoutique.com).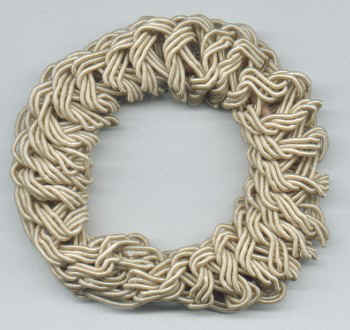 Should scrunchies be forever banished to the darkest corners of the hair accessory world? Only you can decide what works for you, but I encourage you to follow your own hair accessory desires. (Smoothies - Metal Free Rope Pony - Blond - HairBoutique.com).
Glamour magazine would probably be the first to agree that nothing is more of a Beauty Do than a woman who oozes confidence and poise, regardless of what she is wearing.
Summary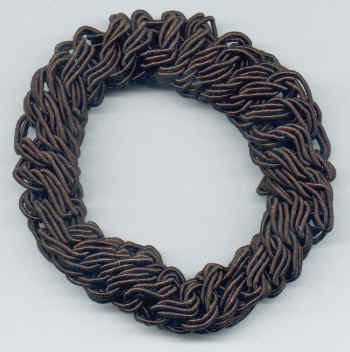 The reality is that any fashion, whether it is the latest couture gown or hair accessory like a scrunchie can work in the appropriate circumstances. (Smoothies - Metal Free Rope Pony - Brown - HairBoutique.com).
And don't be surprised if someday Paris Hilton is captured on film wearing a scrunchie of sorts. Granted it will probably be pink, but don't believe for a second that Paris plays by anyone's rules, hair, fashion or otherwise.
Which leaves the burning question about Carrie and her beau, Jack Berger - is it ever OK to break up with someone on a post-it note? Hmmm, sounds like a another great article. Stay tuned.
Social Media Network Information
Please follow me on Twitter at: http://Twitter.com/HairBoutique. I look forward to meeting new people
from all walks of Twitter and learning from their Tweets.
Visit us at Hairboutique.com located at: http://www.HairBoutique.com, on Facebook, MySpace and YouTube.
Thank you for visiting us at The HairBoutique Blog and for leaving your comments. They are very much appreciated. We apologize in advance but must remove any direct advertisements or solicitations.
- Revised Date: 11/06/10
If you want to talk more about this or other hair care articles on HairBoutique.com or anywhere else, please post a message on HairBoutique.com's Hair Talk Forums.