June 24th, 2007 by Karen Shelton
Introduction
If you don't know who actress Leslie Mann is, just pop in a DVD copy of The 40 Year Old Virgin and pay attention to the drunk chick that drives "The Virgin" (Steve Carell as Andy Stitzer) home from the bar.
The scene is one of my favorites in the movie and beyond hilarious. And yes, the scene could be used as film by Mothers Against Drunk Driving (MADD) as a very good example of why you shouldn't drink and drive.
During the scene, Leslie Mann as Nicky, wears an edgy newsboy cap that accents her blonde tresses. Never mind, you won't notice her tresses unless (like me) you're completely over the top about hair.
Hey, even I didn't focus on her strands even though I confess that I noticed the cap. I was laughing so hard at the scene I had tears in my eyes, which made her hairstyle an afterthought.
In the absolutely fabulous film, Knocked Up, the lovely Leslie has a much larger role. As Debbie, the sister of knocked up Alison Scott (Katherine Heigl), Leslie pulls out all the acting stops.
She alternates between being funny, serious, dramatic and a little ditzy. I loved her, hated her and felt bad for her all - all at the same time.
Famous Beautiful Blonde Hair
Even better, Leslie shows off her beautiful blonde tresses in a series of eye popping hairstyles which includes wearing her hair in soft ringlets which hint at hard core natural curls.
When I saw her curly strands I deliberately pondered whether Leslie is a naturally curly girl or just had a hairdresser talented with a curling iron?
Leslie also wears her hair pulled up in a messy bun (adorable) in a sleek do for a club scene (sexy) and in a variety of other hairstyles that range from cute to edgy.
Interestingly, Leslie's (Debbie) ever changing hair is part of a dialogue between her on-screen hubby Pete (Paul Rudd) and the baby daddy Ben Stone (Seth Rogen).
While hanging out in Las Vegas Ben points out to Pete that his wife Debbie is great on a number of levels, including the fact that she is always changing her hairstyle. Ben definitely admires Debbie's hair fashions.
I thought that line was priceless and so funny. Seriously, how many men really notice when their lady changes her hairstyle unless it's a dramatic change like going from blonde to purple or adding or subtracting 6-10 inches?
Leslie Mann - Great Acting Chops & Hubby
Besides having beautiful hair and stellar acting chops, Leslie has a brilliantly talented husband, Judd Apatow, who wrote and directed Knocked Up as well as the 40 Year Old Virgin film.
After ten years of marriage Leslie also is blessed with two adorable daughters who actually appeared as her real children in the Knocked Up film.
Hair Texture, Face Shape & Styling Options
Leslie is blessed with big beautiful eyes, well shaped brows and a face shape that incorporates a well defined chin, tapered cheekbones and a square shaped forehead. Although not truly a classic heart shaped face, Leslie does possess some of the characteristics.
For her appearances in Knocked Up Leslie wears her hair a myriad of ways ranging from well-defined curled ringlets to softly textured waves. She also wears her hair down around her face and pulled up into messy half up/half down styles.
Leslie's hair color consists of a rich honey blonde base with strategically placed lighter blonde highlights painted around her hairline to bring out her stunning eyes and open up her face.
Whether she wears her hair blown out straight, with lots of ringlets, tousled or scrunched, she has demonstrated a fabulous sense of hair fashion savvy.
Steal Leslie Mann's Hairstyle
Although Leslie had access to a team of top hairdressers for her array of perfectly finished Knocked Up styles, with a little time and practice it would be possible to steal her various on and off screen styles.
Follow the steps listed below to recreate Leslie's basic hairstyle:
1. Start by selecting a shampoo with a color safe formula to preserve any gorgeous blonde highlights or hues like Leslie's current golden shade. Otherwise, select a shampoo that works with your current texture, type and condition of hair.
Shampoo product to try: Rene Furterer Okara Repairing Shampoo. The Rene Furterer Okara line has been especially created for chemically treated hair (perms, colors, straightening). The Okara Extract (soy protein) restructures and tonifies the most damaged hair for a long lasting color or vigorous curls.
Other shampoo products to try: Phyto Colored Hair System, and J.F. Lazartigue Micro Pearl Shampoo for Dry hair.
2 Apply a rinse out conditioner that works for your hair's normal texture, type and condition. Consider trying a color co-ordinated mask to intensify your existing color.
Conditioning product to try: Okara Restructuring and Protective Radiance Mask
3. Finish with a cool/cold rinse to close the cuticle and help add natural shine.
4. Towel blot (never rub or rough dry) to remove excess water.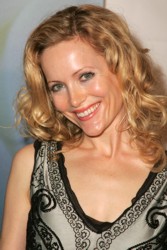 Leslie Mann 2006 Writers Guild Awards Arrivals 02-04-06
5. Coat damp strands with a customized styling product cocktail containing styling tools such as a defrisant, volume building mousse, gel or other styling products that work best with your hair texture and type.
Anti Frizz products to try:
Rene Furterer Control Emulsion Anti Frizz
Styling product to try: Rene Furterer Anti-Dehydrating Mousse
6. Blow dry using a large round boar's bristle brush (shown to the side - Conair Round Brush) for strong, lasting support. Direct the air flow down from the roots towards the end to build in shine and smooth strands. 7. Use fingers to lightly scrunch near the roots for desired volume and lift.
8. Use round brush to lightly roll the ends of the hair under.
9. Finish blow drying with blast of cold air, if possible, which sets the style.
10. When hair is 100% dry separate hair into individual 2" sections and set on medium sized hot rollers, or curl with a medium sized curling iron to add movement to the strands.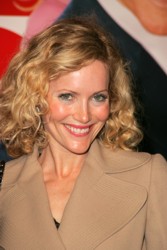 Leslie Mann Fun With Dick And Jane Premiere 12/14/07
11. If curling with a curling iron, after working with each section, roll the newly formed curl with your fingers up towards your scalp and pin into place to allow the curl to cool completely. Work around the entire head until all sections have been curled and pinned to the scalp. Spritz lightly with a soft hold hairspray.
If curling with hot rollers, let the curlers completely cool before removing. Once all the rollers have been released, let new curls dangle free before styling. Spritz lightly with a soft hold hairspray.
12. Use a tail comb or brush to create the desired part.
13. Use your fingers and/or a boar's head brush to lightly break up the curls and arrange into a soft finished halo of bouncy waves that terminate into a slight curl at the tips.
14. If desired use a small barrel curling iron to touch up the curls on the ends. Let the curls cool and then tousle lightly with fingers.
15. Apply a small drop of shine serum and lightly brush over the top of the finished style. If you prefer, use a shine spray product and spray into the palms of your hands and then glide over finished style.
Shine Serum Product To Try:
Leslie Mann
Rene Furterer Spray Gloss which creates a soft mirror like shimmer when sprayed over hair. It also helps enhance hair's texture.
16. If desired, finish the look with a long lasting hairspray for a silky shine effect.
Hairspray to try:
Rene Furterer Mini Lacque Hairspray - Great hairspray that tucks neatly into any handbag or perfect for travel.
Other Styling Options
Leslie's basic style offers many options. If you prefer a sleek straight style, use a flat brush to blow dry straight. Finish with a flat iron.
If you prefer tousled textures, experiment with scrunching or use different sized hot rollers and break up the finished curls with your fingers or a brush. This style offers many options including working well when pulled up into a half up/half down tumble of texture or wrapped into messy twist.
Summary
Leslie Mann
Leslie Mann's career is blowing up thanks to her great roles in Knocked Up and The 40 Year Old Virgin. She also has gorgeous blonde tresses that she wears in a range of sassy styles.
I must confess that when it comes to Leslie I am curious to figure out if Leslie has naturally curly hair or just a great hairdresser talented with a curling iron.
Other than solving that burning question I also am curious to know when we'll all see this mega talented and beautiful actress again. This uber talented actress will no doubt surface again soon. At least we can all hope.
Social Media Network Information
Please follow me on Twitter at: http://Twitter.com/HairBoutique. I look forward to meeting new people
from all walks of Twitter and learning from their Tweets. Visit us at Hairboutique.com located at: http://www.HairBoutique.com, on Facebook, MySpace and YouTube.
Thank you for visiting us at The HairBoutique Blog and for leaving your comments. They are very much appreciated. We apologize in advance but must remove any direct advertisements or solicitations.
- Revised: 09/14/11
If you want to talk more about this or other hair care articles on HairBoutique.com or anywhere else, please post a message on HairBoutique.com's Hair Talk Forums.