Last updated on February 1st, 2000 by Karen Shelton
Introduction
I began using the Aveda Self Control hair styling stick when I got my Bed Head hairdo.
The Self Control stick is an easy-to-use pomade packaged a lot like a stick of deodorant. It's perfect to use any time extra styling is needed, and it can be used on wet or dry hair. Best of all, it won't flake and it washes out easily.
This product also provides shine and control, even to hard-to-manage hair. Perfect to slick hair at temples, nape, anywhere extra styling hold is needed. It works great on stray hairs that "pop out" of a well designed updo, braid or French Twist.
The stick contains natural humectants and conditioners, including extracts of flax seed, acacia and black tea.
Usage
You can use the hair styling stick for extra hold and shine. Put a little of it on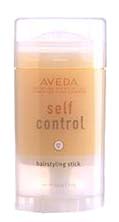 your fingertips, and, using the other hand, rub your hands together briskly to distribute the product and warm it up.
With the fingertips, dab it on lightly from scalp to ends. You don't have to coat every hair; you just want to give the hair additional lift and shine.
Packaging
The Aveda Self Control hair styling stick is eye-appealing in its opaque container. As with a stick of deodorant, simply turn the dial at the bottom of the container to get more product.
The stick costs approximately $15.50 USD (not including any taxes) for a 2.5 solid ounces. The stick is solid and will last for a long time.
Fragrance
The styling stick has a light, pleasant scent, redolent of fresh herbs.
How I Tested It
In my lifetime, I must have used dozens of hair products, especially gels. But the styling stick does something no gel has ever been able to do for me—hold my hair in place!
When I first bought the stick, I blobbed it on and ended up with a 50's greaser-do. But a hairdresser gave me a great tip—just put a little on your fingers, rub both hands together to warm it, then apply it to the hair.
Rubbing the hands creates friction, which warms up the waxy product. I was able to dab it onto my hair to give it lift and shine. So, in addition to doing a great job, a little goes a long way, making it a good buy.
I have used the stick in conjunction with other gels, and also on its own. I 'm glad to say that it is every bit as successful as a "standalone" product.
Ingredients
Hydroalcoholic extract of flaxseed (linium usitatissimum) (linseed), acacia (robina pseudacacia) kinkeliba (combretum micranthum), hops (humulus lupulus), and black tea (camelia oleifera) PEG-6 caprylic-capric glycerides (coconut), PVP/VA copolymer, sodium stearate (mixed plant) sucrose (sugar cane), Aveda's own natural fragrance of pure flower and plant ingredients, methylparaben, propylparaben, diazolidainyl urea.
Animal Testing
Aveda has high environmental standards, and does not animal testing, nor do they endorse it. Also, they avoid all animal by-product ingredients in their products.
Conclusion
The Aveda Self Control hair styling stick is a great product. I love what it does to keep my hair in place and looking shiny. I also like its portability—you can take it anywhere, and it you had no other hair products with you, the stick will give you great style.
You can also post your comments on The Hair Boutique Hair Talk board.
If you want to talk more about this or other hair care articles on HairBoutique.com or anywhere else, please post a message on HairBoutique.com's Hair Talk Forums.