Last updated on June 2nd, 2007 by Karen Shelton
Introduction
As reported by The Black Book of Hollywood Beauty Secrets, Amber Valletta reportedly uses Ponds cold cream and a cheap plastic bag on her luscious blonde locks when they are looking dull.
According to The Black Book, the former model, turned actress, wets her hair, slathers it with Ponds and then covers it with a plastic bag. Amber does this home hair treatment before any big Red Carpet events.
The gorgeous blonde actress (born February 4, 1974 in Arizona) was absolutely fabulous as the rich and beautiful Allegra Cole in Hitch with Kevin James, Will Smith and Eva Mendes. Amber loves to change her hairstyles and naturally dirty blonde hair color on a regular basis.
Famed celebrity hairdresser Orlando Pita has worked with many of the most famous supermodels including, Cindy, Christy, Claudia, Niki Taylor, Karen Mulder and Kirsty Hume. He has also coiffed Amber's, tresses which he described as "thinner needing more coaxing".
Orlando explained "Amber has beautiful hair, but it's thinner and benefits from the use of thickening (or related volume enhancing) products for extra volume".
Orlando recommends thickening and volumizing products from John Frieda's line which includes a range of volume enhancing shampoos, conditioners, sprays and mousse products.
Ones to try: John Frieda - Sheer Blonde - Thickening Perfection Volumizing - Rinse-Out Treatment and John Frieda - Sheer Blonde - Full Blown Blonde - Volumizing Spray.
Orlando recommends applying the thickening or volumizing products to wet hair close to the roots. After applying to the roots, the famous stylist recommends spraying lightly through the rest of the hair.
For best results, apply it repeatedly, in several coats, throughout styling.' When blow-drying, he advises against pulling the brush through the hair. 'Too much tension greatly reduced body,' he says.
Amber usually wears her hair with layers allowing versatility when styling and helping to crank up any natural texture in her tresses. She also wears slight layers around her face to give her hairstyle extra body, height and movement.
Although Amber wears her hair up for special events, she also loves to wear her hair in what is often described as wavy, "beachy" hair.
Old Hollywood Hairstyle
DailyCeleb.com All Rights Reserved.
The former supermodel who spent five years studying acting to avoid falling on her face when she hit the big screen, has been coiffed by some of the most famous super stylists of all time. Besides Orlando Pita she has worked with Garren, Oribe and other runway hair superstars.
Her tresses were colored a rich dark chocolate hue that was glossy and shimmering. It had hints of contrasting toffee highlights woven throughout which gave Amber 's strands the appearance of rich fullness and luster.
The alternating toffee highlights placed against the dark chocolate base also helped to bring out a magnificent shine.
Steal Amber's Wavy Hair Style
If you look closely at her photo, you will notice that her hair style was brushed off her face without any noticeable sign of a part.
Depending on her ultimate hairstyle, Amber at times has utilized side and center parts as well as playing with wispy fringes along her forehead.
Amber often wears her hair with lots of movement and volume and down around her shoulders. She often alternates the texture between long and sleek with lots of soft undulating waves.
DailyCeleb.com All Rights Reserved.
Amber has face shape that appears to be fluid.
If you look closely you will see that her face has a point at the chin and wide cheeks that taper towards the forehead. Most experts would categorize this as a heart shaped face. Sometimes her facial shape appears heart shaped and at other times it appears to be more oval shaped.
Her gorgeous Old Hollywood hairstyle can be customized to work with just about any face shape, hair type or texture.
Amber has a natural wave to her hair. Although her hair appears to be fine, she has a lot of hair. This style is ideal for hair that is has a slight bend or wave.
For naturally curly hair the strands must be either pre-straightened or blow dried straight with waves then created on the pre-straightened style with hot rollers or curling irons.
For naturally wavy tresses you may opt to use a long finger diffuser to blow dry with the goal of creating looser waves and curls without utilizing a curling iron or hot rollers.
This style is idea for hair that is medium in thickness that is shoulder length or a bit longer.
Note: If you have short or medium length tresses or hair that is thin and fine, you can also instantly recreate this style with one of the great new HairDo clip-in hair extensions from Jessica Simpson and Ken Paves.
Step By Step Instructions
Follow the steps below to re-create Amber's gorgeous wavy hair style:
Start with precision layered shoulder-length or slightly longer strands. Work with your hairdresser to achieve the correct basic layered cut. Be willing to modify the style depending on your face shape, hair type, length and texture.
DailyCeleb.com All Rights Reserved.
1. Start by washing your hair in lukewarm water with a product designed to add back moisture and to treat colored or highlighted hair with tender loving care.
If your hair is highlighted or colored like Amber's be sure to use a color maintenance system to extend the life of your gorgeous hair hue.
2. Rinse hair well and then apply a moisturizing rinse-out conditioner focusing the products on the areas of the hair that are most dry or damaged.
Note: If your hair is fine or thin (like Amber's) you may wish to skip this option.
If you hair is thick, naturally wavy or curly or damaged consider performing extra conditioning treatments. Substitute the rinse-out conditioner with a deep conditioner llowed to soak down into the hair's shaft.
4. Finish with a cool/cold rinse to lock in moisture and add additional shine.
5. Towel blot to remove excess moisture. Apply a conditioning detangling spray or leave-in conditioner and detangle strands with a wide tooth comb working from the ends to the roots.
Create either a center or side part, depending on how you wish to style your hair. Amber wears a variety of part but for her current wavy style she alternates between a center and deep side part.
DailyCeleb.com All Rights Reserved.
Note: If your hair is prone to frizz apply a defrisant product or mix with your other styling products. It has been reported in the past that many celebrities like Amber are big fans of Phytodefrisant for their naturally curly hair that tended to frizz.
6. For lots of fullness, lift and volume, apply a volume enhancing product directly to the roots.
7. Use fingers to rake more volumizing spray, gel or cream through the rest of the hair.
One to try: John Frieda - Sheer Blonde - Full Blown Blonde - Volumizing Spray
8. Separate strands into 1" to 2 1/2" sections and blow dry. Although not recommended if you prefer, use a blow dry with a boar's bristle round brush.
Note: For fine hair like Amber's, use fingers and scrunch in texture. For thick hair, blow dry with a long finger diffuser or desired brush type.
If hair is naturally curly, do not use fingers to blow dry since this can add to frizz. Use a long finger diffuser to define natural texture or use a flat brush and blow dry to relax natural curls.
9. Blow dry the top sections of hair using brush or fingers to lift individual top strands and direct the air flow from ends to roots to build in volume along the crown and top of the head.
10. Before hair is completely dry, separate it into individual sections approximately 1 - 1 1/2" in thickness. Twist each section around your finger, Lay the new twisted sections against your scalp and pin it to your scalp with a large smooth metal sectioning style salon clips.
Note: Avoid using Bobby Pins to secure hair twists which may cause creases in the hair.
11. Separate remaining hair into individual sections ranging from 2 1/2 to 3" in thickness. Continue to roll each section around your fingers clipping to your scalp. 12. Continue to dry your hair using a diffuser to prevent overflowing your tresses. 13. When hair is completely dry remove the salon clips and "finger pick" your hair. Note: Do NOT brush your hair of this will remove the newly created waves. 14. To balance newly created waves and to tighten strands which may not have held wave patterns use a 1 1/2" barrel curling iron rolled in a ringlet formation to create touch up waves.
15. Spritz firm hold hairspray over the top of the newly released waves.
16. Apply a shine serum, shine spray or hair cream to seal in moisture and add that shimmering shine similar to Amber's.
17. Hairspray is optional.
18. For added glam pin a stunning hair clip near the hairline.
Additional Hair Styling Options - Tousled Updo
Amber looked spectacular with her shoulder length tresses softly waved and wrapped up into a sexy tousled twist at the World Premiere of Premonition starring Sandra Bullock in March of 2007.
Her hair twist was styled to create body and slight movement along the crown and at the sides. She wore long side-swept bangs which completed the windswept look.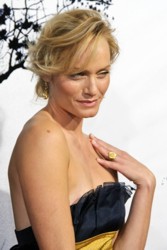 DailyCeleb.com All Rights Reserved.
1. Start by following the Step By Step directions (above) to create Amber's loose "beachy" wave style. 2. Use a boar's bristle styling brush to direct hair up and off the face and directed towards the back of the head. 3. Pull all the hair into a loose ponytail with the base nestled near the base of the head about the nape of the neck. 4. Secure the pony with a Blax or Bungee Band in the same color as the hair. 5. Twist the pony hair over the top of the base into a messy chignon or twist. 6. Use a tail comb to lift and separate strands along the sides and around the perimeter of the face. 7. Use a curling iron to create soft texture. 8. Finger tousle and pick bangs and side strands into desired position. 9. Spray with firm hold hairspray to hold finished style in place. 10. Apply a shine serum, shine spray or similar to seal in moisture and add that shimmering shine similar to Amber's. 11. Attach a gorgeous set of shimmering crystal hairpins, hairclips or barrettes along the side of the style or in the back above the twist.
Other options for this style include playing with a variety of parts or pulling the hair into a half up-half down style allowing luscious waves to cascade down around the shoulders or back.
Summary
Amber Valletta always looks stunning in a wide range of eye popping, mouth dropping hairstyles. Steal Amber's style and you'll turn heads everywhere you go.
Social Media Network Information
Please follow me on Twitter at: http://Twitter.com/HairBoutique. I look forward to meeting new people
from all walks of Twitter and learning from their Tweets. Visit us at Hairboutique.com located at: http://www.HairBoutique.com, on Facebook, MySpace and YouTube.
Thank you for visiting us at The HairBoutique Blog and for leaving your comments. They are very much appreciated. We apologize in advance but must remove any direct advertisements or solicitations.
- Revised Date: 04/23/10
Send this page to a friend..
If you want to talk more about this or other hair care articles on HairBoutique.com or anywhere else, please post a message on HairBoutique.com's Hair Talk Forums.