July 20th, 2001 by Karen Shelton
Introduction
"Frizzy" was the top hair complaint in a special "bad hair day" Yale survey of females between the ages of 17 to 30 conducted by Dr. Marianne LaFrance, a professor of Psychology and Women's and Gender Studies at Yale University. Professor LaFrance discovered a direct correlation between bad hair days, levels of self-esteem and self-criticism.
Beautiful actress Gwyneth Paltrow is a true to life example of Dr. LaFrance's findings. So is Bridget Fonda who often appears with super sleek hairstyles.
Gwyneth was quoted in the March 2002 issue of Vogue Magazine as saying: "If I have frizzy big hair, I feel like I have zero sex appeal".
Just imagine that. If a gorgeous blonde movie star living a charmed life struggles with self-esteem issues when she has frizzy hair, just consider how bad hair effects the average person that doesn't have access to celebrity hairdressers and instant hair fixes endures.
Frizzy Hair Trends Come & They Go
Sometimes current hair fashions set a trend when people work very hard to create an out-of-control, funked up, frizzy look.

If you're reading this article, your goal is most likely tied to dumping out-of-control frizzy tresses that haunt you when you style your hair. If you're currently frizz challenged, it is a likely bet that your hair is damaged and parched. Which means it is very dry.

How do you dump frizzy hair for good? There are several routes to take which include initial frizz prevention, hair care reform and ongoing maintenance. If you're determined to have sleek and well-behaved hair you can make it happen with proper hair care and feeding.

Ultimately the answer to parched frizzy hair is to add moisture. As you can imagine, that's the striped down version. There are lots of variables that must be considered.
Who Has Frizzy Hair?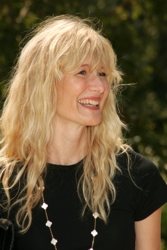 DailyCeleb.com - All Rights Reserved.
Frizziness can haunt all types of hair and textures from thin to thick and straight to curly, Besides the lack of natural oils and moisture, frizzy hair can be the result of protein deficiencies either in your diet, or in the cortex of your hair.
At some point in their life most people will deal with frizzy hair that results from the following:
1. Improper hair moisture balance (lack or excess of moisture). 2. Naturally curly or kinky tresses. 3. Out of control wavy hair. 4. Damaged strands from chemical processing (perms, chemical straightening). 5. Hair with combo chemical damage or heat processing damage (hot irons, curlers). 6. Hair loss related issues. 7. Hair breakage from a wide range of factors. 8. Improper hair care routines. 9. Nutritional deficiencies or combination of all factors above.
Frizzy Hair Causes
The primary key to achieving hair that is devoid of all frizz is to find the right moisture balance for your hair type and textures.
Natural oils and moisture are essential to create smooth, silky and healthy hair. Human hair is composed of approximately 10-12% moisture. If the natural moisture level in your hair drops below those normal levels, dryness and frizz may be the result.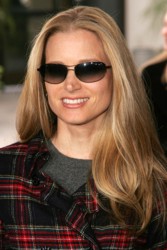 DailyCeleb.com - All Rights Reserved.
On the flip side of the coin, if your hair has too much moisture, problems can also result. If too much moisture is the issue the solution is to block out excess moisture with hair care products that contain silicone. This will help to control frizziness. Rene Furterer Anti-Frizz Height Control Emulsion can work wonders. Another product to try is Phytocurl Enhancing Shampoo.
Hair that is naturally curly, wavy or a combination is made up of cuticles that are shaped in such a way as to prevent the strands from completely closing. This fact allows the moisture in the hair shaft to be more easily lost through evaporation.
If your hair has been chemically altered through coloring, perming or straightening, the chemicals may have damaged your hair's natural ability to absorb and retain moisture. This is also true of hair that is overexposed to sun, chlorinated and salt waters.
Additional hair frizz initiators may include:
Too frequent shampoo sessions which strip hair of natural oils and moisture balance.
Incompatible hair care products which may be too drying or produce excess oils.
Use of hot or very hot water when washing which dries out tresses.
Excessive or improper use of hot blow dryers & styling tools which rob moisture & essential fatty acids from the hair.
Improper hair care techniques & maintenance.
Skipping regular hair trims to remove split or damaged ends. Damaged ends can split and travel up the hair shaft causing instant frizz.
Excessive handling of your strands. Keep your fingers out of your hair. This is especially true if hair has a tendency to frizz.
Poor diet and lack of proper vitamins which can prevent proper moisture balance.
Stress or other emotional upsets.
Lack of adequate water and body fluids.
Frizzy Hair Fixes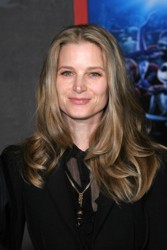 DailyCeleb.com - All Rights Reserved.
A lot of hair care literature will focus frizz challenges only on curly hair. The fix according to the same literature is for curly heads to learn to "love their hair". OK, while there is definitely value in understanding and appreciating your hair, just saying to love your hair doesn't offer details.
So what are the details to loving your hair? Number one, understand your hair's issues. Whether it is curly, wavy, kinky, straight with damage or a combination of textures and types, all hair has natural tendencies or patterns. Learning your hair's patterns will help you to work with it to achieve frizz-free tresses.
When blow drying frizzy hair consider using a diffuser to prevent blowing hair in multiple directions resulting in frizz and friction.
Whether your hair loses moisture because of its natural cuticle shape or because of how you treat your hair, the resolution is the same. Add moisture back to the hair cuticle and stop the frizz.
Both internal and external methods of adding moisture can be applied.
Internally you can take special hair care supplements or increase the consumption of foods, vitamins and minerals that will add oils, moisture and necessary protein so that you strengthen your hair from the inside out.
You can also utilize external hair care products and various treatments to control the dryness and frizziness.
Externally applied silicone products can instantly help neutralize frizzy hair. Although it can and does help hair attain a smoother look, it is only a temporary fix for a long term reoccurring issue. The ideal frizzy hair fix is to identify and discontinue the causes of the problem rather than simply applying a band-aid to the symptoms.
Good moisture enhancing products contain some form of humectants that not only moisture back but attracts moisture and retains it to the cortex of the hair.
External Hair Frizz Fixes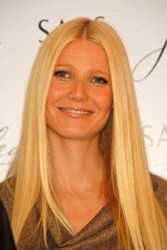 DailyCeleb.com - All Rights Reserved.
The human scalp naturally produces sebum that is essentially composed of fatty acids. Once hair grows longer and loses direct contact with the scalp these natural oils are not easily passed through the rest of the hair shaft.
Also, daily shampooing of the hair will strip away the natural oils that used to be distributed throughout the hair shaft in years gone by with a brush or head massage.
Consider some of these helpful hints:
Avoid shampoo and related hair care formulas with high amounts of sodium lauryl sulfate and/or alcohol which can dry strands.
Mix one part light conditioner with 2-3 parts bottled or distilled water in a clean spritzer bottle. Spray on damp or dry strands to help avoid or remove tangles and control frizzy strands. Add more or less water for a thicker or thinner formula.
Always completely rinse out all the rinse out conditioner. Leave a very light layer for softer hair without frizz.
Mix 1/2 cup of apple cider vinegar and 1/2 cup of warm water and pour over strands during the very last rinse cycle. Vinegar balances the pH of most hair and will help to smooth the cuticle.
Perform a final cool/cold water rinse to close off the hair cuticle and lock in newly added moisture. Although hair experts disagree on the benefits, many people achieve smoother hair results with this option.
Blow dry tresses on lowest, coolest setting using a concentrator nozzle directed down the hair shaft to smooth and lock in shine.
Employ self adhesive rollers. These rollers work great at smoothing frizzy hair.
Use a combo brush, curling iron and blow dryer in one to minimize long term hair damage.
Add self adhesive rollers to dry hair and apply heat, with your blow dryer.
Keep a frizz-control serum such as John Frieda Frizz-Ease or Phytodefrisant handy for touch-ups. Only a few drops will work miracles.
Avoid razor cuts which may add to frizzy split ends and damaged layer possibilities.
Hot Oil Treatments
Throughout history different ethnicities have sworn by different fixes for frizzy hair. Polynesians, Italians and Hawaiians, to name a few, have traditionally relied on the use of heavy oils such as coconut and olive oil to help smooth frizz.
In current times, the fix for frizz seems to be directly related to the use of silicone products to fill in the rips and tears in the cuticle that cause the frizz and to help provide smoother, shinier hair.
Is there one right treatment for frizz?
To Oil Or Not To Oil?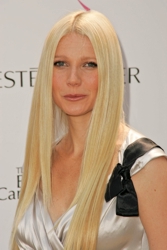 DailyCeleb.com - All Rights Reserved.
Although historically we have been taught to lavish our dried out strands with lush hot oil treatments, in reality, for most people, the long term results of using hot oils such as olive will only coat the outer surface of the hair causing temporary shine but long term oil build-up.
Frizzy hair that has been coated with heavy oils may actually deteriorate further since moisture will no longer be able to easily permeate through the oil buildup. Since moisture will not be able to migrate to underneath the cuticle layer, the hair will not be conditioned. Since the oils will build up on the surface of the hair, when using blow dryers or hot styling appliances the result will be hair that is truly fried.
Sitting out in the sun with a heavy hot oil on your hair will cause the same result.
Only oils that contain essential oils will actually be able to penetrate deep into the cuticle and condition the strands.
Essential fatty aids (EFA's) are great moisturizers. Some of the best essential fatty acids include Sesame, Jojoba, Evening Primrose, avocado and olive oil. These are all rich in EFA's.
It is possible to replace lost EFA's by applying a light oil to the external surface of the hair's covering.
Oiling Hair Notes
While some people swear by frizz relief through the use of hot oil treatments, others experience a worsening of the condition.
What does this say? Like everything else in the hair world it says that one size does not fit all. While one frizzy haired person will experience relief with oil and another with silicone products, a third person will have even more problems.
Bottom line, try the treatment methods that seem most appropriate for your type, texture and current hair condition and be willing to experiment until you find the best treatment.
Be willing to test several oils before you're able to find the oil that is perfect for you and your hair type, texture condition and needs. While many people swear by Jojoba oil, others get great results with Sweet Almond, Olive, Coconut, Monoi and Sesame.
Every oil is different and will offer unique benefits. Some people may use only one oil and others may alternate between many different oils depending on the ever changing needs of their hair.
Different Types of Hair Oils
While some people swear by frizz relief through the use of hot oil treatments, others experience a worsening of the condition. Only you can be the judge of what is best for your hair.
Some of the oils that frizz heads swear by include:
Jojoba Oil - One of the most popular oils that is closest to human sebum. This oil can be very moisturizing for dry or damaged strands. It is excellent as a pre-treatment oil which helps smooth and detangle. The benefit to Jojoba Oil is that is it moisturizing but non-greasy.
Coconut Oil - is one of the oil which helps in the lubrication of the hair. The content in coconut oil like magnesium, potassium, calcium and iron happens to provide the best for your hair. It is very useful for damaged hair due to its ability to strengthen it.
Rosemary Herbal Oil - is very useful for the unwanted and flaky dandruff problems. Warm the oil slightly and apply it with the help of your fingers or cotton. Rub it well on the scalp and wrap with a hot towel.
Olive Oil - strengthens your hair and nourishes it due to inherent qualities it has. It helps to reduce stress and promotes the idea of healthy hair by providing elasticity to your hair.
Vaseline - Although some people use this product it is NOT recommended for application to the hair. It can be extremely difficult to remove & not normally beneficial for most hair types. Castor Oil -
Sesame Oil -
Almond Oil -
Oiling Hair Steps
Follow the methods below to add oil to your frizz prone strands:
Pour a few drops of jojoba or similar oil into the palms of your hand.
Gently rub your hands together to warm and mix the oil completely. The secret is to use a very small amount so that you get the coating benefits of the oil without an oily or greasy appearance to the hair.
Distribute the oils from your hands to your strands by using your palms and fingers to lightly smooth the oil into 100% dry hair. Always start at the frizziest areas of your hair and work down towards the least frizzy.
Focus the oil on the most damaged, frizzy or dry sections. Usually the ends and middle of your hair will be the driest sections.
Allow the oil to remain in your hair all day. If you prefer, use this method as a pre-shampoo treatment and shampoo the oil out of your hair after 30-60 minutes.
This oiling treatment, done on a regular basis, as needed, will guarantee your hair will have a good, all natural humectant layer that will allow your hair to attract and retain moisture.
You can also replace much needed protein in your hair by adding internal or external hair products or foods that contain hydrolyzed soy protein, keratin amino acids, cystine, silk amino acids, and wheat protein
Internal Fixes
Essential fatty aids (EFA's) are great internal moisturizers.
Hair Products To Help Frizzy Hair
One this is for certain, there is no shortage of products in the hair care arena designed to help tame dry, frizzy strands. A key fact to remember is that not all products work for everyone. It is also important to take into consideration your own unique hair type, texture and degree of dryness and frizziness when selecting the best external products for your hair.
Media Buzz
Allure Magazine provides a list of the frizz fighting best sellers in their annual list of best hair care products.
For several years Allure has recommended the following two frizz fighters:
Others to try include leave-in hair conditioners & Frizz Fighting Gels:
Leave-in conditioning treatments add luster while taming frizz and flyaway. In a pinch you can always rub a tiny dab of skin conditioner into the palms of your hair and lightly gloss the palms over the top of your hair to instantly soften fly-a-ways and frizz.
Phytojoba Hydrating Shampoo is specially formulated for dry hair and is a gentle, creamy shampoo with intense hydrating benefits to enhance the natural protection of hair and maintain it in good condition. A soothing cornflower and mallow decoction combined with a washing base derived from Coconut oil makes this an ultra-gentle formula, allowing your hair to rapidly regain its optimum moisture levels, shine and suppleness.
Phytobrush Shampoo is an innovative shampoo specially formulated to facilitate effective blow-drying and extend hold for permed or overly frizzy hair. Specific thermo-protective agents shield hair against damage caused by hot blow dryers and repeated traction during blow-drying, and stops the brush from catching on hair and provides faster hairstyling results and extended hold, with smoother, shinier hair.
Phytodefrisant Straightening Balm is designed for relaxing the hair and softening permed and naturally frizzy hair. It combines extracts of Ferula, Horseradish, Sage and plant mucilage. Which work synergistically to provide natural, chemical-free hair relaxing benefits while protecting the hair fiber. The original alcohol-free formula also works to re-hydrate and strengthen hair without making it greasy or weighing it down.
Phytosesame Masque Hydration is a fast-acting hydrating conditioner that provides dry hair with the essential elements it needs. Brimming with nourishing ingredients - Sesame, Jojoba, Castor plant oils and Cocoa and Shea butter - it ensures deep-down nourishment and helps rebuild the hair's protective film to restore optimum moisture levels. Rapeseed oil derivative makes hair instantly easier to detangle without weighing it down. From the very first application, your hair visibly regains strength, shine and suppleness.
Pre-Conditioning Treatments
Follow the methods below to add oil to your frizz prone strands:
Pour a few drops of sesame or jojoba oil into the palms of your hand. Gently rub your hands together to warm and mix the oil.
Rubbing your hands together. The secret is to use a very small amount so that you get the coating benefits of the oil without an oily or greasy appearance to the hair.
Distribute the oils from your hands to your strands by using your palms and fingers to lightly smooth the oil into 100% dry hair. Always start at the frizziest areas of your hair and work down towards the least frizzy. Usually the ends and middle of your hair will be the driest sections.
Allow the oil to remain in your hair all day. If you prefer, use this method as a pre-shampoo treatment and shampoo the oil out of your hair after 30-60 minutes.
Shampoo
When your hair is excessively dry, damaged or frizzy it is often best not to shampoo every day. In fact, many hair care experts advise that hair that is dry only be shampooed 2-3 times a week at the max.
Avoid clarifying or strong cleansing shampoos unless your hair is loaded with styling products on a daily basis. Hair that is dry or frizzy needs to avoid suffocating the hair cuticle with styling products when possible. If styling products are used then a clarifying shampoo may be appropriate once a month.
Since hot water can further dry out hair, no matter how wonderful it may feel, a hot shower can contribute to frizzes. Be sure to use lukewarm to cool water to shampoo.
Rinse Out Conditioners
Use to help soften and detangle as appropriate.
Leave In Conditioners
A good acidifying conditioner provided maximum benefit to the hair cuticle. It detangles, adds body, adds natural shine and it increases the alpha bonds in the hair.
Gels/Smoothing Lotions & Silicones
Avoid using thick or heavy gels that will suffocate the hair cuticles and rob the cuticle of moisture.
Many people with frizzy hair find relief with John Frieda's Secret Weapon. It is touted as being helpful in producing soft, loose curls. You can experiment with the product. Try applying it to wet hair and then scrunch natural curls and let dry naturally.
Have Chemical Treatments Applied By Hair Care Professionals
Avoid performing any chemical treatments at home. This includes color, perms and straightening.
Yes, you will probably spend less money at the beginning but a hair care expert may eventually have to correct the damage. In the long run the amount of time and money you may spend undoing the damage that you create at the beginning will not be worth it. If you must do your own chemical processing at home be sure to research the treatment extensively and when possible, discuss it in advance with an expert.
Frizz Prevention
Proper care and feeding of your hair will prevent so called mechanical problems and damage. These occur when you perform hair damaging actions such as brushing wet hair, using cheap damaging hair care products, blow dry without a good leave-in conditioning protector and incorrectly handle your hair.
Learning to care for your hair correctly will prevent negative impact to your cuticle layer saying you lots of grief in the long run.
Detangle damp hair properly with a wide toothed, seamless or smooth comb or pick.
Use a good detangling or leave-in conditioning product with natural UV or sunscreen protection. Use a high quality product to help remove snarls. Start at the ends of the hair and carefully work up towards the roots to remove all tangles. A good leave-in conditioner acts as a type of heat block or protector. This will minimize any blow dryer damage.
If you must blow dry then use a blow dryer that allows you to vary your settings or finish your drying with a "cool" or "cold" shot to close off cuticles.
Use a good smoothing or silicone product when blow drying to achieve a frizz-free smooth and silky style. Use a paddle brush to achieve a straight look.
Apply a good finishing spray to seal in moisture and shine.
Most professional designers have these and that is why your hair feels so good when you leave the salon.
Most salon brand shampoos have a pH 4.5-5.5 and use gentle cleansers. Also generally they are more concentrated.
The sun and tanning beds will cause chaos with the hair. Make sure your conditioner has plenty of sunscreen.
A "cool" setting on a dryer actually helps "set" the hair. It cause little damage.
A good foam. gel, spray gel... will add body and help your style.
A good "working spray" will aide you when blow drying, setting, sculpting, or using irons. It is a hair spray that can be applied to damp (if you wish) or dry hair.
Get a good 'finishing spray" - unlike a "working spray" a finishing spray will keep the hair or sections of the hair in place all day.
Try the Calgon Water Softener trick
Some hair experts suggest that you dissolve 1-2 teaspoons of Calgon or a similar water softener into 8-16 ounces of warm water.
Use it as a final rinse after you have finished your shampoo and rinse out conditioning cycle. Although some people find that it makes their hair feel slightly grimy, many swear by the treatment claiming that it helps to soften, detangle and help control frizziness.
Fabric Softener
Some frizz fighters swear by using regular fabric softener on their strands. While this may work for some, the products can be highly flammable. Better to avoid this option unless you can be sure that the product selected is not dangerous for your gorgeous tresses.
Summary
If you understand the root causes of your frizz you can learn how to care for your hair to prevent ongoing problems and issues.
If you want to talk more about this or other hair care articles on HairBoutique.com or anywhere else, please post a message on HairBoutique.com's Hair Talk Forums.