July 27th, 2006 by Karen Shelton
Introduction
Celebrities and their high paid staff of hairstylists and publicists know that changing a star's hair color or style can instantly attract major media attention.
Not only does coloring your hair offer a fabulous way to instantly jazz up your look, it allows you the option to change the way others perceive you. It can also set you apart, which is why some celebrities like Kelly Osbourne and Madonna will go against the main stream and select shocking color combinations.
Short hair is actually a great length for creating new hair color because any undesirable color will grow out faster and can be instantly trimmed off the head.
Although Madonna historically is probably one of the most famous stars who changes her hair color on a very regular basis, Jessica and Ashlee Simpson, Mandy Moore, Drew Barrymore and Christina Aguilera have all cycled through a wide range of hues from blonde to red and brunette.
With the advent of "hair as the ultimate accessory" and so many add-on options, stars are constantly changing their hair color as often as their clothes.
Whenever possible, it is best to work with a hair color professional to create the safest and best hair color for you.
The reality of the situation is that working with a professional hair colorist can be expensive and once you start with a major hair color change, you are committed to long term maintenance and upkeep.
Utilizing some careful planning and follow-up action you should be able to adopt new hair colors at home. Many colorists suggest that the best way to start with at-home hair coloring is to stick with the demi-permanent colors that generally wash out after just a few shampoo sessions.
Types of Hair Color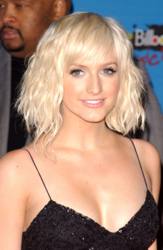 DailyCeleb.com - All Rights Reserved
Although there is a dizzying array of hair color companies that cater to either the professional or home hair colorist, there are some basics about hair color that apply to both the pros and the do-it-yourselfers (DIYs).
Barbara Lhotan, a Paul Mitchell Senior Haircolor Instructor provided the following info on various types of hair color:
Hair color generally falls into the following categories:
Temporary – Lasts through 1-2 shampoos. Coats outside of cuticle but does not usually contain peroxide or ammonia. Will not lift color but will deepen, brighten or enhance existing color.
Semi-Permanent – Lasts 4-6 shampoos. Coats outside of cuticle and down to next layer. Generally is free of peroxide or ammonia. May be more permanent in some situations if hair is overporous and allows color to stain deep into the hair shaft.
Demi-Permanent – Lingers through up to 20 shampoos. Deposits color between cuticle and cortex. May contain some peroxide and/or ammonia.
Permanent – Cuticle is opened and color is deposited down into the cortex. Contains peroxide and ammonia. Color lasts until it grows out, is cut off or is re-colored.
Highlights – Lifts pigments from the cortex. Contains peroxide, bleach and ammonia.
Double Process Color – Cuticle is first opened and hair is lightened 4-6 levels with peroxide, ammonia and bleach. New color is then deposited via a toner into the cortex through the cuticle.
Note: For more details on types of full color check out: Home Hair Color Secrets
There are two basic types of hair color:
1. Permanent
Permanent hair color is always mixed with some type of chemically based lifting agent that literally blows open the hair cuticle so that the current color can be "lifted" and the desired color can penetrate the cortex of the hair to create the final result.
If you go to a professional colorist you may see them mixing powders and/or liquids in a special bowl before they apply it to your strands with a special brush.
Permanent hair color does not wash it. The reason it is called permanent is because it remains on your tresses until it grows out, which almost always causes root lines. In some rare cases, a careful hair cut can help to disguise root lines.
Permanent hair color can be touched up at the roots, can be cut off as the hair grows or can be altered through other chemical applications.
2. Non-permanent
Semi-Permanent Color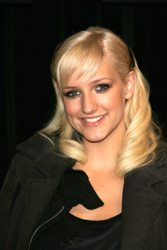 DailyCeleb.com - All Rights Reserved
Also known as semi-perm, this category of color lasts 4-6 shampoos. It basically coats the outside of the cuticle and possibly down to next layer.
Semi perm color is generally is free of peroxide or ammonia. May be more permanent in some situations if hair is overporous and allows color to stain deep into the hair shaft
The semi-permanent family of hair color is designed to have a much shorter lifespan than the demi-perm colors. Most of the semi perm hair color products are designed to shampoo out after 6-8 washes. This category is also known by some as a vegetable color although in most cases vegetable color only lasts for 1-2 shampoo cycles.
Basically the color, which is usually has a natural base with minimal if any chemicals, will simply coat the outer layer of the hair. It is not henna, although it does coat like henna does. Semi perm is designed to add shine and shimmer to pre-existing color or highlights.
Each color manufacturer has their own terms for their semi-perm hair color product lines.
Demi-Permanent Color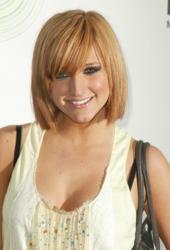 DailyCeleb.com - All Rights Reserved
The demi-permanent family of hair color is designed to linger through up to 20 shampoos.
Demi perm deposits color between cuticle and cortex. May contain some peroxide and/or ammonia.
When a mild form of chemical is used to deposit color, it will not lift the current shade but the chemicals and/or peroxide (usually less than 5% concentration) will help the demi-permanent color to penetrate deeper and thus will last longer in the shampoo cycle.
Most demi-permanent colors will last up to 25 shampoo sessions. You can stretch the life of semi-perms by washing less often, using shampoos designed for colored hair and using lukewarm water.
One professional colorist told me that is you can shampoo just 1-2x a week and use a non-sulfate shampoo or a light conditioner instead of a harsher shampoo, you can stretch demi-color to last a lot longer than predicted by the color manufacturer.
Hidden Dangers Of Semi & Demi Color
Many professional hair colorists understand that one of the downsides of utilizing temporary color is that it can sometimes morph into a permanent effect. What that means is that even though the color is designed to wash out over time. If the hair that the semi or demi is applied to is extremely porous (from previous chemical treatments) or is a very light blonde, the temporary color may permanent stain the hair and become a permanent effect.
DailyCeleb.com - All Rights Reserved
This does not happen on a regular basis but it does occur from time to time. While a professional colorist might be able to reverse the effects of stained strands, it is not always possible to remove color stains except by cutting the tresses.
Again, this is why short hair is a better option for experimenting with home hair color than hair that has been grown out to very long lengths. Imagine how terrible you would feel if you spent many years growing your hair long and then a botched home hair color treatment threw you into a cycle with stained strands?
Short hairstyles can handle damaged hair color situations easier because just as soon as the hair grows a little bit, the stained sections can be cut off.
Hair Coloring Rules
With any type of product you put on your hair there can be rare circumstances that can cause unexpected problems. One complication can be when semi or demi-perm color are applied to hair that is extremely damaged and thus porous.
Even though the hair color is designed to slowly wash out over time, it may seep deeply into the cortex and permanently stain it. Which means that the color then becomes permanent.
Keep in mind that the reason there are different types of hair color is because no one method works best for all types of people and their hair.
Hair color professionals generally agree on the following rules: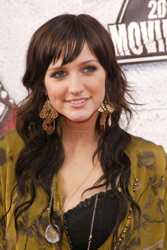 DailyCeleb.com - All Rights Reserved
1. Consider skin and eye coloring when selecting hair color hues. It is generally suggested that you stay within two shades of your natural hair color, either lighter or darker. Extremes in hair color can drain natural color from the eyes and skin.
2. Seriously consider the cost and time factors in the ongoing upkeep. The further you move away from your natural shade, the more frequent you will need to touch up the roots.
3. Evaluate how complicated the process may be for you to handle at home. Overall covering can be fairly simple but when it comes to more complicated steps such as highlighting and low lighting at the same time, things can get very complicated quickly.
What's better - permanent, semi-permanent or demi-permanent color?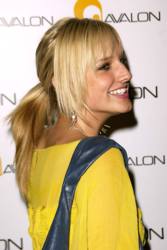 DailyCeleb.com - All Rights Reserved
If a permanent tint is used correctly, you can achieve a beautiful effect. Semi-permanent hues can be efficiently used to maintain permanent treatments, adding extra conditioning power. Semi-permanent color gives your hair a much higher shine and will actually help to condition the strands. The downside is that semi-perms won't lift natural hair color. A semi-permanent tint will not usually cover gray hair when it is equal to more than 50% of your total hair. Semi-permanent color is designed to last through only a few shampoo cycles. It will not cover any gray hair and will only deepen existing hues. In essence semi perm hair color is a more watered down version of Semi-Permanent color formulas.
Will coloring damage hair?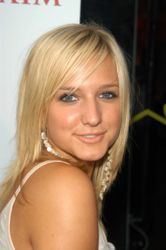 DailyCeleb.com - All Rights Reserved
There is no simple answer to whether damage will occur or not. Many hairdressers believe that any type you use a chemical process on your hair it will cause some level of damage. While the permanent hair colors may in some cases cause damage, the semi and demi-perms are considered much safer overall.
There are risks with all types but the most risk falls with the permanent colors, especially if a two step process is utilized.
Damage can also occur if the wrong level of peroxide is used (for extreme color lifting) or you are over-processing (too many permanent colors are applied) your hair.
If you constantly change your hair color, especially if you go from blonde to brown and back to blonde, you must regularly use deep conditioning treatments to try and counterbalance the potential damage to the hair.
Why does colored hair look dull?
Over-processing with hair color is probably the biggest reason that hair becomes dull looking. If your hair is starting to look dull, use semi-permanent colors where the pigments sit on top of the hair adding plenty of tone and shine.
Hair Hue Choices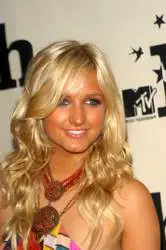 DailyCeleb.com - All Rights Reserved
Many celebrities actually color their hair at home by themselves.
Ashlee Simpson made news a few years ago when she went from blonde to black at home in her bathroom. Of course she had coaching from her regular celebrity hair colorist in New York.
Pam Anderson also is known to color her hair at home. In fact, as the story goes, she applies her desired blonding formula, wraps it in a plastic cap and then jogs on her treadmill while waiting for the color to "cook".
Also, Pam guards the brand of home hair color that she uses because she doesn't want to mislead consumers into thinking that they can re-create her blonde the same way that she does.
Listed below the are basic hair colors that are most often selected for at-home hair coloring of short tresses:
1. Blonde 2. Red 3. Brunette 4. Black
Blonde
If you would love to be really blonde, talk the process through with your colorist (or stylist) before you go for it. This is especially true if you must utilize bleach to first remove your current hair color.
While it should be relatively painless on virgin dirty blonde or very light brown hair, if your hair has been previously chemically treated then the process could become a long saga. Never attempt a major bleaching color process on your own for the first time.
Ruby Red Tresses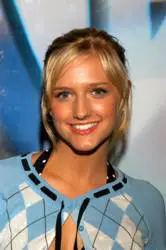 DailyCeleb.com - All Rights Reserved
Red is the ultimate sexy shade. It the hue that cries out for attention. Hair will initially grab onto red-toned pigments easilyl, so going copper-top can be easy for most people. It is important to be warned that if you are naturally blonde you may have to go two or three shades darker with a red hue to achieve a rich red. Once you apply red to naturally blonde hair, it may not be as easy to reverse it.
Brunette
Brunette is always a safe choice for a new hair color. There are so many different variations that it is easy to find a shade that works with almost all eye and skin tones. Varying a brunette shade with highlights and/or lowlights can achieve a huge range of unique outcomes.
From chocolate brown and bronze shades to honey or dark blonde, combinations of natural tones gives incredible shine as darker-pigmented tints add condition to your hair.
Blue Black
This is by far the easiest color to accomplish because the molecules in black tints are larger and will cover all hair types very effectively. Caution is needed when using black as it only tends to look good on people with darker and olive skin tones. it's great for getting the Goth look, but definitely not for your granny.
Summary
At home hair color, when done with careful consideration and planning can be a great option to instantly change a look or an image.
Send this page to a friend..
If you want to talk more about this or other hair care articles on HairBoutique.com or anywhere else, please post a message on HairBoutique.com's Hair Talk Forums.