July 21st, 2002 by Karen Shelton
Introduction
Goldwell Professional Haircare provides stylists with dynamic styles that are defined as "performance with lively looks".
A top British Hairdresser and Styling Expert, David Hooper in this article demonstrates Tempting Angel - one of the latest waving trends for "Goldwell Dynamic Styles". (Photo of David Hooper - Copyright Goldwell - All Rights Reserved).
David is well-known for his ability to "set the scene" on up- to-date styling for leading hair magazines and numerous fashion shows such as Professional Hair 98, Cosmopolitan Hair Magazine Show, Salon International and many others.
Whether it be volume, soft waves or bouncy curls, Goldwell's modern waving techniques offer the opportunity of creating trend styles on almost all hair lengths and types.
Before - Tempting Angel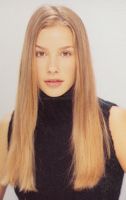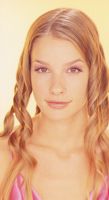 The Tempting Angel weave style shown in this article is described for the benefit of your stylist who can re-create this style from the new Goldwell waving techniques that maintain the best possible protection for your hair.
The Before and After photos above demonstrates the approximate length and style of hair that this soft spiral curl look perm would be applied to and the expected results. Be sure to discuss with your stylist the appropriate starting length and style for your face shape and lifestyle.
Consult with your stylist to make sure that they understand your goals for your perm.
Tempting Angel - Exciting and seductive - a striking style that always attracts attention. Print this article out and take it to your stylist if you would like them to create a similar perm waving technique using one of the Goldwell Natural Energy Perms (NEP). A detailed list of the different Natural Energy Perms is included at the end of this article for the benefit of your stylist.
Step One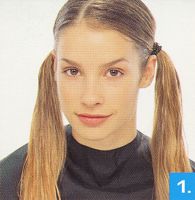 Plaits
Part the hair into two plaits and fix these above the ear using a soft rubber band.
(See Figure 1 to the side)
Step Two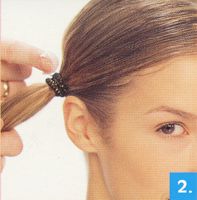 Protective Cream
It is very important to apply protective cream to the bound areas as a barrier to the wave lotion and to avoid pressure marks on the hair.
(See Figure 2 to the side)
Step Three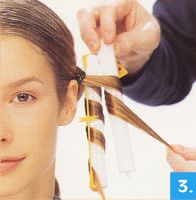 Winding
Connect two Goldwell rods to make one curler. Wind the hair around the curler, starting from the roots working towards the ends. Ensure that the wound strands lie next to each other and not on top of each other, with the curler still being visible in between the twists of hair. The larger the space between the twists, the softer the resulting curl. (See Figure 3).
Step Four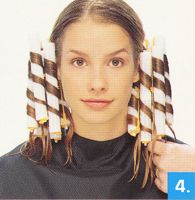 Fixing
It is important to leave about 5 cm of hair at the ends before fixing the rubber band. Apply protective cream to the unwound hair ends. (See Figure 4 to the side).
Next Steps
After your hair is rolled your stylist will follow directions on the Goldwell NEP Natural Energy Perm to apply the appropriate perm solutions.
After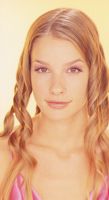 If all your stylist follows the four design steps listed above and then utililizes the Goldwell NEP Perm solution that is right for your hair type and texture (NEP Normal Hair, NEP Color Treated Hair, NEP Resistant Hair) you can expect your hair to look like the After Photo to the right which is a very glamorous soft look of spiral curls.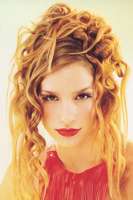 For an alternative look, brush out the curls with a pick for a wild and seductive long wavy do.
Or pin your hair up and let the soft spirals cascade down your back. (Shown to the side)
Be creative and have fun with your fabulous new Goldwell perm.
Definition Wave
Goldwell Definition Perms are an innovation in permanent waving - the first permanent wave line in North America enriched with Alpha Hydroxy Acids (AHAs) to deliver noticeably shiny, defined curls.
AHAs, together with the FortiCurl Complex, create even, true-to-rod sized waves that have a healthy-looking shine.
NEP - Natural Energy Perm
NEP Perms are customized with a combination of natural oils, herbal extracts, proteins and Elastin Polymer Complex. With these formulations, the optimal curl can be achieved on a variety of hair types.
Choose from three formulas:
NEP Normal Hair Acid wave for normal, healthy hair.
NEP Color Treated Hair Acid wave with a low ammonia content for tinted hair with 20 volume peroxide or less.
NEP Resistant Hair Alkaline wave for resistant (fine or coarse textured) and grey hair.
Ask your stylist to utilize one of four Goldwell perm formulas for all hair types:
definition H/2s Acid wave for bleached, highlight tinted or highlighted hair exceeding 50%.
definition C/2 Acid wave for tinted, porous, highlighted hair up to 50%.
definition N/1 Acid wave for normal, fine, slightly porous hair.
definition R/O Buffered Alkaline wave for normal to resistant, grey, difficult to perm hair.
Summary
Goldwell is a leader in creating gorgeous curls and waves. Be sure and visit your Goldwell hair expert to help you achieve the look you desire for your own hair.
If you want to talk more about this or other hair care articles on HairBoutique.com or anywhere else, please post a message on HairBoutique.com's Hair Talk Forums.