Hair Accessories For Every Hairstyle!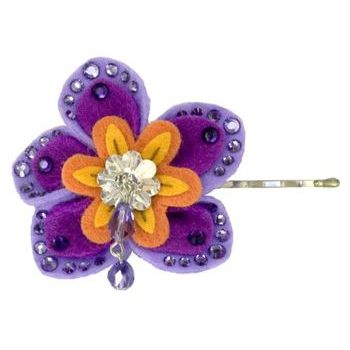 Reader Coupon: Save 20% with GLAMOROUS20
One of the questions I receive on a regular basis is whether or not there are hair accessories for every hairstyle?
Do hair accessories exist which can be worn by every length, every color and every style of hair on men and women of every culture, age and nationality?
The Humble Bobby Pin
The answer? The humble bobby pin. It can be worn for every hairstyle.
Bobby pins were originally invented as functional hair tools to hold pin curls firmly against the scalp. Bobby pins became popular around the time of the 1920s to hold both wet and dry bobbed hairstyles.
From those practical beginnings the bobby pin has become a super hair accessory both in its most simple form as well as combined with other accessories.
In the early beginnings of the humble bobby pin it was considered tasteless to be seen out in public with bobby pins in clear view.
In current times, bobby pins are often worn not only as a functional hair tools to hold back rebellious bangs or random strands, but as edgy embellishments.
Bobby pins are often organized into the following categories:
HairBoutique.com has many different types of bobby pins in our Marketplace which fit into the three categories above
Fashion Show Use Of Bobby Pins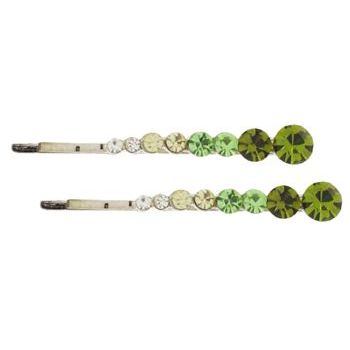 Hair guru Eugene Souleiman glammed up models' buns on Donna Karan's runways with multiple rows of bobby pins in similar, but slightly contrasting shades, to the model's hair color.
Hair maestro Orlando Pita also brilliantly utilized bobby pins for Carolina Herrera. Pita used bronze bobby pins interlaced with small bronze flowers attached to a bobby pin base. The results were spectacular.
The layered rows of bobby pins, both in contrasting or complementary colors looked glam yet edgy.
Well known hairdressers have been depending on bobby pins and hairpins to provide functionality while pushing fashion boundaries since the very beginning of the humble bobby pin's invention.
Bobby Pins In Every Size And Color
Initially bobby pins were basically all one length, width and shape.
Over time they've morphed into a wide range of lengths, sizes, widths, shapes and colors.
One key action of Hollywood hairdressers is to use matted hued bobby pins during filming.
Why? The matte hued pins avoid attracting unwanted lights, shadows or shimmer from the cameras.
Bobby pins embellished with glitter, tiny gems, fabric or other coverings can be a major problem on filming sets due to how they attract and reflect lights.
Carrie Bradshaw, famously played by Sarah Jessica Parker, wore contrasting black bobby pins arranged in rows along one side of her blonding curls in the well-known NY based HBO series.
Well known hair accessory designer Tarina Tarantino has some fabulous hair accessories built upon a Bobby Pin. Some of my favorite pieces from her collections are elegant and edgy.
You don't have to look far to find a wide range of bobby pin options in many popular hair accessory collections today. In fact, bobby pins often are a better selection for people with fine, thin, short or extremely short hair when it comes to selecting a fashionable hair accessory to glam up a style.
Definition Of A Bobby Pin
A bobby pin is part of the hairpin family. Although hairpins and bobby pins are similar in their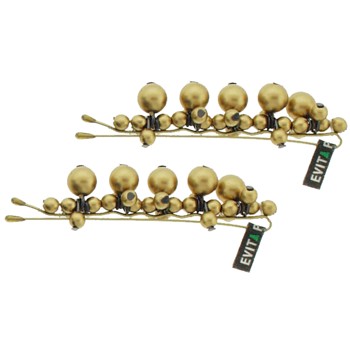 shapes, the key difference is that the two ends of the bobby pin touch while the hairpin ends are open and do not necessarily touch.
The most accepted definition of the bobby pin is that it is a double-pronged hair pin that slides into hair with the prongs open and then the flexible prongs close over the hair to hold it in place.
Bobby pins are also sometimes referred to as hair grips, Kirby grips, pins or simply grips. Sometimes they are called bobbies.
Although the majority of bobby pins are fashioned from metal, they can also be created out of a wide range of plastics, acrylics or similar metals. I have even seen them made from rubber material
Definition Of A Hairpin
Hairpins are often constructed from different lengths of metal or soft wire that are bent in half with a wider u-shaped end and a few well placed kinks along the two opposite sides of the pin.
A hairpin may vary in length from one to eight inches or longer, depending on the manufacturer of the pin. The length of the hairpin facilitates placement in several types of hairdos, such as updos to hold the hairstyle in place. The kinks built into the actual hairpin on either side work to retain the pin during normal movements.
A hairpin patent was issued to Kelly Chamandy in 1925.
For More Information Refer To: Hairpins: History & Practical Application
Bobby Pin Trademarks
According to Wikipedia, a trademark on the term "bobby pin" was held for some decades by Smith Victory Corporation of Buffalo, New York.
A trademark infringement claim made by Smith Victory against Proctor & Gamble regarding their naming their home permanent product Bobbi was settled in the 1950s by a payment to Smith Victory by P&G.
The term is now in common usage and therefore is no longer a valid trademark. Similarly, the British "kirby grip" is derived from the trademarkKirbigrip, used by a Birmingham manufacturer of such pins, Kirby, Beard & Co. Ltd.
Bobby Pin Usages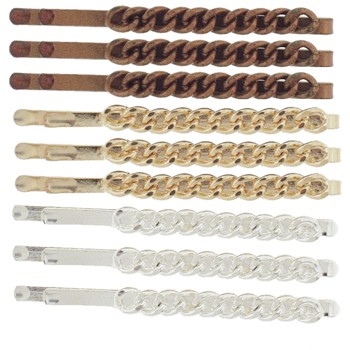 Bobby pins are regularly used by hair consumers and professional hairdressers to secure wet sets when either pin curls or hair rollers are utilized.
Hairdressers and consumers also use bobbies to hold a wide range of hairstyles securely in place and may be alternated with softer hairpins which are slightly different than bobby pins.
Men, especially with longer tresses, may use bobby pins to help hold side or front hair securely in place. They might also use them to help with braids. Jewish men might also use bobby pins to secure their head coverings such as yarmulkes.
Bobby pins are also used to anchor headbands, bandannas and even the base of ponytails. They are used to hold back dreadlocks, braids, updos and to hold back bangs or fringes.
Bobby Pin Secrets
A big no-no for using bobby pins is to put them in your mouth or use your teeth to pop them open. Celebrity Hairdresser Robert Hallowell showed me two wear marks on his teeth that have developed over the years from him putting thousands of bobbies in his mouth to open with his teeth.
In cosmetology school one of my instructors showed a slide demonstrating how many germs and bacteria could sit on the edge of a bobby pin. Trust me, that cured me from every again putting a bobby pin into my mouth every again.
Bobby pins usually have little plastic coverings over the edges. The little covering may or may not correspond with the color of the pin. These little plastic pieces keep from the ripping and tearing of fragile strands when the bobbies are placed into the hair. They also keep from possibly scratching the scalp.
Bobby pins can be used as a concealed anchor underneath a wide range of other hair accessories such as silky or slippery headbands. How? Bobby pins are placed in a X formation at strategic points throughout the head.
The underside of the headband will make contact with the metal of the bobby pins and headbands will remain firmly in place rather than slipping and sliding.
Bobby pins can also be used to anchor floating hair gems such as hair magnets or related items.
Finally, bobby pins can be used to assist in wig placement or in assisting the permanent placement of other add-on hair pieces. Many men use bobby pins without anyone being the wiser.
How To Apply Bobby Pins
If you plan on using lots of bobby pins, be sure to take them off their cards or out of their storage bins and lay them out. Even better, professional hairdressers will line them up for easy and fast deployment.
Use your fingers, not your teeth, to open the pin for insertion into the hair.
Insert the bobby pin where you wish for it to be placed. Always glide the bobby pin into the hair with the bobby's ridges facing outwards in order to secure the desired hair sections.
Summary Hair Accessories For Every Hairstyle
Bobby pins are hair accessories for every hairstyle. Bobby pins are a fabulous hair accessory.
They can be worn as a functional hair tool or they can be worn as non-functional hair decoration.
Bobby pins can be the base used to hold a wide range of toppings including precious or semi-precious gems. Bobby pins, hair accessories for every hairstyle, can also be wrapped in silk, satin, ribbons, fur or just about every imaginable type of fabric covering.
Bobby pins come in every length from very short to very long. Widths can vary from standard to thin or thick.
Bobby pins can be worn by babies to senior citizens. They work for every hair length, type (thin/fine, medium, thick), hair type (straight, wavy, curly, combo textures) and condition.
They are truly hair accessories for every hairstyle.