Bob's Back -
Hair Secrets From Bachelor
by
Karen M. Shelton
Tuesday
September 23, 2003
Revised June 28, 2005
All images & text in this article are strictly copyrighted and owned exclusively by HairBoutique.com & may not be copied, reproduced, or posted anywhere without the prior express written permission of HairBoutique.com. Please honor our copyrights.
Introduction
When it comes to TV Reality Shows like the Bachelor and Bachelorette I am a shameless hussy. Not even the siren's call of work can deter me from my Tivo and its latest edition of the Bachelor shows. (Bachelor Bob - ABC/CRAIG SJODIN - all rights reserved).
While I enjoyed the first three bachelors, I was over-the-moon in reality heaven with The Bachelorette. Not only was Trista my favorite (sorry Amanda) but she was a former St. Louis chica, which is where I grew up. When she had a second life as the first Bachelorette I was overjoyed.
While I thought Trista set the bar for class and elegance as the first Bachelorette, I was immediately smitten with Bachelor Bob. Not only did I dedicate an entire HairBoutique.com article to What About Bob during his stint on the Bachelorette show, I was one of the billions of women in the Universe that thought Bob was one hubba hubba hunk of hot burning guy. Yeow.
Back in January I predicted in article about Bob that the world would be hearing a lot more about Bob in the future. And I was right. (Image above of Bachelor Bob & the 25 new Bachelorettes - ABC/CRAIG SJODIN)
Not only was Bob picked as Bachelor 4, his world has changed dramatically. He has been a frequent guest of Oprah and many of the other TV talk mavens. He has a brand spanking new website (very impressive guys) and probably his own stalkers by now. Even better, Bob breaks the "A" cycle of the former Bachelors who were named Alex, Aaron and Andrew.
You can only imagine my excitement when I was personally introduced to Jen Negrette, the on-set hairstylist and makeup artist for Trista and The Bachelorette show.
When Jen is not busy fluffing and buffing on the set, she designs hair and is an inhouse education director at the Jose Eber salon in Beverly Hills, California.
After a series of appointment mishaps, Jen and I finally hooked up for a long phone chat about her work with Trista, Ryan and of course Bob. (Image of Trista Rehn - The Bachelorette - ABC/BOB D'AMICO - All rights reserved).
Even though Bob is about to premiere as the 4th Bachelor on ABC on Wednesday, September 24, 2003, Jen could not really talk about the show with me. Yes, it is true that she was required to sign the infamous 5 million dollar gag contract which stipulates that she not breathe a word of what happens on the Bachelor or Bachelorette sets until after the last episode airs. (Image of Bob with some of the new Bachelorettes above - ABC/CRAIG SJODIN).
Jen confirmed that the various bachelors and bachelorettes can't even tell their families who their final choice is. Can you imagine how hard those secrets must be to keep for so many weeks after the shoot wraps?
Although Jen can officially discuss what happened with Trista and Ryan and Bob from the Bachelorette she could only tell me that "she did a little bit of the hair styling" for Bob's show. She did say that professional hairstyling and makeup services are only available to the various Bachelorettes and Bachelors for the official rose ceremonies. The rest of the time the guys and gals are on their own with their hair and makeup. This trend was followed with Bachelor 4. This certainly explains why in some of the episodes the various bachelorettes looked less finished than during the major ceremonies, especially the last rose ceremony when the final selection is made.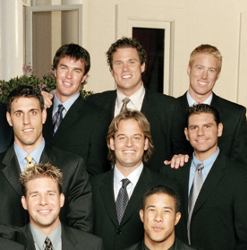 Other than telling me that Ryan stops by to have Jen cut his hair when he is in the LA area, she was tight lipped about any other Bachelor 4 scoops.
Jen said that she got to know Bob during the time that he was on the Bachelorette show with Trista and Ryan and that he is "as funny in person as he appeared on the show".
She also said that he "is a really great guy" and that the bonding of the Bachelors from the Bachelorette show is enduring. Many of the guys that formed friendships and bonds have continued to "hang out and continue their connection." (Photo above - Bob - top row middle - with some of the original 25 bachelors from The Bachelorette - ABC/CRAIG SJODIN - all rights reserved).
Jen commented that "what you see on the show" is what really happens. The show is 100% real which is as a result of all the hard work that goes into capturing the reality of the situation.
She also had the absolute highest praise for the producers and other production staff for the Bachelorette/Bachelor shows. Jen reported that they work extremely hard to give the absolute most realistic "reality" show that they can.
The fan frenzy about Bachelor4 is already building and various message boards across the web are already predicting which bachelorettes are most likely to make it to the finals.
Although some of the new bachelorettes are considered to be obviously not the right types for Bob, already there is a buzz about Shae (image to the side - (ABC/CRAIG SJODIN), a stunningly gorgeous firefighter and part time hairstylist from the South. There is already fan comparison to the fact that Trista found true love with firefighting Ryan and with a need to do her own hair and makeup, hairstylist Shae definitely has an advantage. As you can see from her image, she has a well managed coif.
Besides lots of early handicapping of the new bachelorettes, there is rumors that one of the group dates has a shocking mini-rose ceremony twist. The infamous Smoking Gun website also recently released information that a lawsuit involving black widow spiders has popped up in conjunction with the mansion used for the filming of Bachelor4.
Meanwhile, Bob is currently the man with the big 5 million dollar secret. For Bob the dating is over and the waiting has just begun.
So what we all have to wait for is to find out if Bob found love on Bachelor4? With whom? Did it help that his beloved Mom was a surprise guest on the first Invitation show? Did Bob's lovely Mom (photo to the side) help Bob find his true love?
With that gigantic gag order hanging over his lips, only Bob, the ABC gods and a few others really know what happened in the final episode.
So what are you waiting for? Set that Tivo and get ready for a fun-filled season with Bob. You know where I'll be.
Related Articles Of Interest
If you want to talk more about this or other hair care articles on Hair Boutique or anywhere else, please post a message on The Hair Boutique's Hair Talk Board.
For additional hair care articles, tips and product information check out the following links:
Disclaimer: This information is not guaranteed to be proven, scientific or clinical but is based on my humble opinions and experiences. This article is provided solely for your general information only. It is in no way intended as medical or beauty advice, and should not be depended upon as a substitute for any consultations with qualified health professionals.
HairBoutique.com makes no warranties of any kind regarding this article, including but not limited to any warranty of accuracy, adequacy, completeness, currency, reliability, merchantability or fitness for a particular purpose, expressly disclaims liability of errors or omissions in this information and materials. No warranty of any kind, expressed or implied, is given in conjunction with the information and materials. This information and material is not, and should not be construed as advice in any shape or form.