Hydrating Cocoa Butter Hair Cream

This Week's 20% Off Coupon: HEALTHYSHINE20
One Sunday I went to see my hair colorist of 5+ years. Due to a series of unexplainable events, my hip length hair came out of the 3 hour highlighting session in very bad shape.
Luckily I had my DIY Hydrating Cocoa Butter Hair Cream recipe tucked away for such hair emergencies.
After the highlighting session my scalp felt like it was sunburned, my ends were fried, the roots were orange and the rest of my normally light golden hair was more strawberry orange blonding than any other hue.
Scalp Burning Remedy – NutraSweet + Water
Once I managed to calm the scalp burning with a mixture of Evian water and NutraSweet (the pink packages) I used the New Moon to trim 2 inches off the ends.
I also immediately slathered my hair with HairTopia Beautiful Hair Oil which contains a base of 100% organic jojoba oil. Since that hair color trauma I've been babying my long hair with tons of DIY home hair recipe.
I'm happy to report the orange has mostly faded from the roots and the length. My hair which was super healthy before the hair color disaster, felt incredibly dry, damaged and parched right after the hair color event.
Luckily after several DIY home hydration treatments my hair is almost back to the way it was before the hair color trauma.
My Go-To DIY Hydration Hair Recipe For Damaged Ends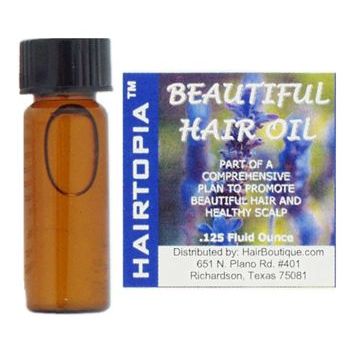 One of the DIY recipes which really helped my hair, especially the dry ends was the Hydrating Cocoa Butter Hair Cream recipe which I kept available to apply to the ends.
I have listed the recipe below which works on most hair types, textures and conditions. It's great for helping split, ripped or dry ends. It will also work well for most people when used to help add hydration to target dry or damaged sections.
It will help heal distressed tresses after a hair trauma of any kind.
Hydrating Cocoa Butter Hair Cream
Ingredients
Use organic oils whenever possible.
1 oz – sweet almond oil or sesame oil (use a light oil rather than olive which tends to be heavier)
2 oz – plain jojoba oil
8 oz – raw cocoa butter chunks
Optional: You may add Essential Oils (EOs) if you wish. HairTopia Hair Oil already includes some excellent hair healing essential oils. If you use the HairTopia Beautiful Hair Oil instead of plain jojoba oil you may wish to skip adding additional EOs.
Rosewood and lavender essential oils are a wonderful addition to plain jojoba oil. A splash of jasmine essential oil will infuse a delicious scent as will vanilla. The addition of vanilla makes this feel like vanilla mousse.
Instructions
Combine all ingredients, and stir well. Pour into sterilized glass container. Allow the mixture to sit until it becomes solid. This treatment will have the consistency of soft butter when stored at 70 degrees. If you wish for it to become more solid you may wish to store in a cool place or even the refrigerator.
Application
Melt a pea-sized amount in the palms of your hands. Use on wet or dry hair to keep ends soft and
free of splits. A little goes a very long way! Keep in a cool place to avoid softening or melting. Some users find the oil absorbs best when applied to wet tresses.
Depending upon your current hair requirements this recipe can be used as a pre-shampoo treatment, rinse-out conditioner or leave-in. It's not recommended this be applied directly to the roots and/or scalp unless specifically required.
If you have dry ends you can apply a tiny bit to newly cleansed, towel blotted hair. Allow hair to air dry for best results.
As always its important to note that this formula may not work as well for all people. This is true of commercial hair products as well. While some love this, it may be too heavy for others.
Alternative Hydrating Shea Butter Hair Cream Recipe
An alternative recipe for the Hydrating Cocoa Butter Hair Cream uses hydrating shea butter.
Ingredients
4 tablespoons of raw shea butter
Option: You may use Shea Moisture Organic Raw Shea Butter Deep Treatment Hair Masque
2 tablespoon of coconut oil (or sunflower oil, or grapeseed oil or EVOO)
4 tablespoons of rinse out or leave-in hydrating hair conditioner of choice
Note: Optionally you may wish to substitute 2 tablespoons of argan oil instead of the hair conditioner. Some people like to use a splash of Apple Cider Vinegar (ACV) as part of the mix to help the shea butter blend well.
Latex Allergens
Some people who have a known latex sensitivity may not be able to tolerate shea butter on their scalp or hair due to the fact that shea butter contains natural latex which may or may not be activated when applied to tresses.
This is a very rare occurrence and usually only occurs when a nut sensitivity is also present.
Instructions
Melt the coconut oil and shea butter in the microwave in a sterilized glass container or in a double boiler on top of the stove.
Stir until all of the ingredients are completely mixed. Add in the hair conditioner of your choice. Stir well. If the mixture separates put into the refrigerator (or freezer) for a few minutes to help all the ingredients solidify. Store covered in the refrigerator.
Application
Apply a tiny bit to the palms of your hands to soften. Apply to damaged ends. Remember that a little bit goes a very long way. If you over-apply you may have sticky, oily or gooey ends.
As an added benefit, this cream can be applied to the face and body to help minimize wrinkles and dry skin. The recipe can also be used mixed with gel or traditional hair cream.
Summary – Hydrating Cocoa Butter Hair Cream
Many people with damaged ends or middle sections of hair find that butters and creams work better than straight hair oils. This is because damaged tresses which tend to be protein deficient may not be able to easily grab or absorb oils.
Coconut oil and shea butter as well as hydrating hair conditioners help raised cuticles flatten and soften better than many plain oils.