The Coveted Octopus Clip!
Special Reader Coupon Code: CAPTIVATE20
Save 20%!

I remember when the Octopus generation of hair clips were first introduced several years ago.
At the time they had a completely new shape compared to the traditional jaw, claw and related salon style hair clips.
Although some consumer hair wearers think a hair clip is a hair clip is a hair clip, it's not exactly the case. There are many different shapes that perform differently in the hair.
As the popularity of the uniquely designed Octopus hair clip took hold, it morphed into slightly different designs, colors and sizes as hair consumers clamored for more options.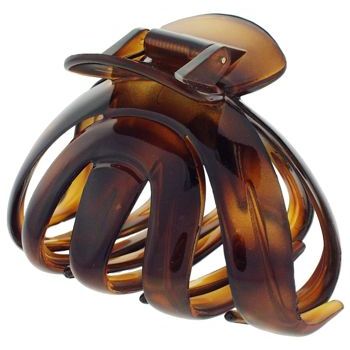 Octopus hair clips were named because they do have a similar shape to a real octopus. Of course a real octopus doesn't usually have a spring mounted at the top of their head like the hair clip variety. Ironically many types of hair clips are named after animals they favor such as Alligator Clips, Crocodile Clips, Spider Clips to name just a few.
A traditional octopus hair clip has a rounded top with multiple curved "arms".
The octopus clip has several advantages for different hair lengths, textures and types.
They can provide a beautifully professional look since when tucked in appropriately the octopus clip will keep hair completely contained.
Although the first generation of octopus clips were mostly black and tortoise colored, they are now available in multiple colors and with patterns.
It is important to note that the octopus hair clip family does share some similarity with other hair clip families by the fact that most octopus clips, like jaw and claw clips, have a spring clip embedded in the top.
Some Octopus hair clips have what is known as a "covered" spring where the metal piece is notobvious from a distance. Others have an obvious spring.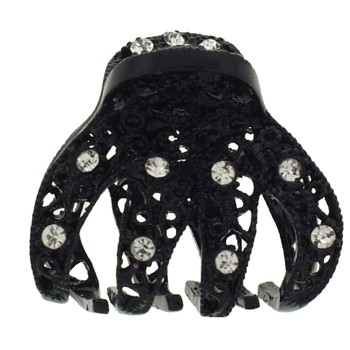 The key difference between an octopus and a jaw, claw, banana or salon clip is in the shape of the clip and how hair is held captive. Octopus hair clips are often made of molded plastic but the shape is available in metal and sometimes wood.
Karina makes a very popular Octopus Hair Clip. The Karina Octopus updo clips was designed for thick to medium thick hair.
Eight (four on each side) specially designed long arms hold hair in many different styles. This claw measures approximately 2″ from top to bottom and is approximately 2 1/2″ long. It comes in black and tort nd is made of plastic.
How To Wear An Octopus Clip
The octopus clip can be worn in a multitude of ways from completely enclosing a bun and holding it in place to acting as a type of bun cage or to hold a portion of hair in a half up/half down hairstyle.
It can also be used as a type of ponytail holder.

The possibilities are endless.
Images courtesy HAAP Media. All Rights Reserved.