Tiaras, Always In Style!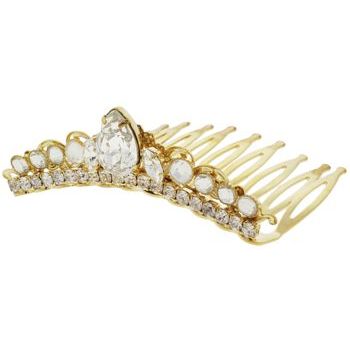 Reader Coupon: Save 20% with TIARASTYLE20
The never ending popularity of tiara hair accessories was showcased recently on Bravo's reality series Miss Advised co-starring Emily Morse, Amy Laurent and Julia Allison. The reality show follows the lives of three single relationship experts who are dealing with their own dating challenges.
Julia Allison, who lives in Los Angeles recently went on a custom designed Prom date where she proudly showcased one of her own tiara hair accessories.
During audience peeks into Julia's closet it becomes obvious that besides loving the color pink, Julia has a vast appreciation for tutus as well as tiara hair accessories.
Value of Owning A Few Good Tiara Hair Accessories
The transplanted Chicago native, Julia obviously understands the value of having at least a few tiara hair accessories on hand for specialty occasions such as a date, Prom night or even a wedding.
Although the ruby haired Julia doesn't go into major details about her private tiara hair accessories collection, she obviously has the secrets for wearing the beautiful hair jewels down pat.
Tiara Hair Accessories Tips
Listed below are some tips to consider when purchasing, owning and wearing tiara hair accessories:
1. When possible, try a tiara on before buying it to make sure it fits comfortably on your head and with your hair type and texture.

2. If you can't try a tiara on before purchasing it, make sure that you can return it if it doesn't work with your head and face shape.
Additional Tiara Hair Accessories Tips
3. When you buy a tiara online or through a catalog, make sure you completely review and understand all return policies.

4. Coordinate your tiara to your hairstyle. The bigger your hairstyle, the bigger your tiara can be.

5. The more elaborate your hairstyle, the more simple your tiara should be. Avoid a clash between your hairstyle and your hair accessories.

6. If you wish to wear ornate tiara hair accessories opt for a more simple hairstyle which allows the tiara to shine.

7. Tiara hair accessories can be worn with any length of hair from super short to very long. Tiara hair accessories can also be worn with every hair type and texture.

8. Tiara hair accessories tend to be worn for formal hair events such as weddings, proms, Red Carpet events or similar formal hair happenings. However, tiara hair accessories can be worn with jeans and tees or for any type of event you wish.

9. Tiara hair accessories range from small tiara combs to full sized tiaras. Besides combs and traditional tiara hair accessories, it's possible to find a wide selection of hair accessories embellished with tiara motifs. These hair accessories include tiara slides, barrettes, hair clips and even pony clips.
10. Tiara hair accessories span a very wide price range from a few dollars to many thousands. Tiaras made from inexpensive metals or metal coated plastic retail for much less than tiaras which are hand crafted from precious metals and embellished with Swarovski crystals or semi precious gems.

11. Tiara hair accessories can be secured into any hairstyle through a series of criss-crossed bobby pins in the same color as your hair, placed to form an invisible anchor.

12. Tiaras can also be sewn into any updo, hair twist or similar hairstyle with invisible hair thread or similar.

13. It's possible to position tiara hair accessories either at the hairline, at the base of an updo, or in the center of the head. Tiara hair accessories hair clips or mini combs can be positioned along the seam of a French Twist or to one side of a hair loop.

14. Tiara hair accessories are available in a wide range of designs and colors. Select the type (combs, open looped ends, elasticized) and design which works for your hair type, texture, length and hairstyle.
Summary Of Tiara Hair Accessories
Tiara hair accessories are some of the most popular and versatile hair accessories available in the marketplace today.
Tiara hair accessories never go out of style and have been worn by men, women and children of all ages and races since the first tiara was crafted from sticks, stones and flowers.
Tiaras and related hair accessories are very popular with royalty, celebrities, brides, prom goers and anyone who loves a whimsical, yet elegant, hair accessory. Of course the well-known Kate Middleton wore a tiara for the royal wedding.
Remember, you can never have too many tiara hair accessories and everyone should have at least one.