Couture Styling With French Hair Combs!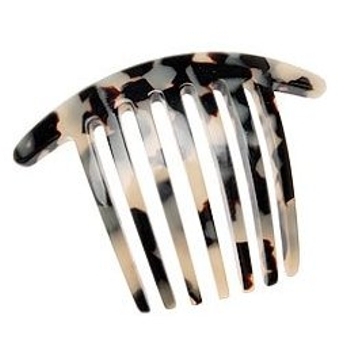 Reader Coupon: Save 20% with EUROCOMBS20

Decorative hair combs can be crafted out of a vast number of materials ranging from natural materials such as wood and stone to ivory and real tortoiseshell. As concern for the animals was raised, some materials were outlawed.
When tortoiseshell became prohibited a faux tortoise shell was developed from cellulose and plastic. Ivory is also forbidden to be used in combs or other types of hair adornments.
The best quality combs are hand crafted and polished by hand. Such is the case with the The France Luxe Classic European Side Combs which offer timeless beauty. I've personally owned and worn these gorgeous combs for over 10 years.
Depending on your hair type, texture, length and desired hairstyle, these European style combs can be worn as a decorative accessory for a classic French twist or a more modern twist with a fanned out top tail or similar. These combs are also functional and can be used to hold hair in place.
Depending on how much hair you have, the combs may or may not work best as an adornment or an anchor. You can wear one or more of these combs with straight, wavy, or curly hair.
Usually you will need enough hair to be secured by the combs, but if your hair is fine or slippery you can use the bobby pin secret to anchor the combs into your hair (see below for details).
The France Luxe European combs are hand crafted in France out of traditional cellulose which is a faux tortoise shell material.
The combs are much higher quality than plastic or other similar materials which are more at risk for fast wear and tear or broken teeth.
Since the European combs are hand polished there is less risk of sharp teeth or rough spots on the combs which can snag delicate hair.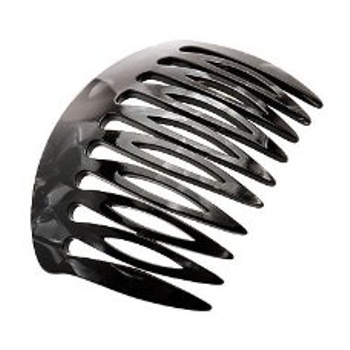 Hand Cut Versus Poured Into Molds
One key difference between the hand crafted, hand polished cellulose and the more inexpensive plastic comb versions is the pattern used to create the combs.
The France Luxe combs are hand cut by craftsmen from families with generations of experience in cutting hair accessories from the large slabs of cellulose. Similar plastic combs start life as hot liquid plastic which are poured into identical molds.
Shape And Color Differences
Another difference is the shape and color. Hand crafted combs are cut to take advantage of the luxurious color of the cellulose and to highlight the beautiful curve of the design. Plastic combs rarely are multi-hued and are usually lacking in multi-dimensional shapes.
The European combs from France Luxe are truly a work of hair accessory art. With proper care the beautiful combs can last for a very long time.
Hairstyle How To
This comb falls into the side comb family of hair accessories. You can wear this comb stand-a-lone or as part of a set of two combs. There are no rules, right or wrong when using these combs in your hair.
Use this comb for a fine hair French Twist or for a side partial twist.
How to Create A Comb Embellished Hair Twist
1. Start with newly cleansed hair (use product of choice in desired cleansing methodology) which
has been blowdried or ironed straight and prepped with styling cream, gel or similar products of your choice. When possible use products which will provide grip and hold.

2. Direct all of the hair back into a low based ponytail. Hold the pony tail base with your prominent hand with palm facing towards nape of the neck with fingers forming a V shape around the base.

3. Close fingers together making sure to keep hand in V position. Do not close into a circle as you would with a traditional ponytail.

4. Use free hand to reach over the head and grab the tail and begin twisting the entire ponytail in a clockwise direction.

5. Continue to loosely twist the tail until you have reached to the very end of the hair.


6. Loop the twisted tail completely around the base of the tail one time. You should have a section of loose tail which you can fan out.

7. Secure the newly looped twist along the edges.

8. Use fingers to fan your tail in a triangular shape at the back of the crown.

9. Glide one or more side combs into the sides of the newly formed twist to accent. Or use combs as an anchor to hold hair in place. If you prefer you can place the comb at the top right below the hair fan.
For an alternative look, once the twist is pinned, use your fingers to gently loosen the shape of the twist. You can play with adding a larger hair fan at the top or you can pin the twist completely down and forego the hair fan.
By skipping the hair fan you will be creating a traditional French twist hairstyle.
Use your imagination to decorate your finished hairstyle.
The Bobby Pin Comb Anchor Secret
The comb's thick teeth provide a strong grip for alternative styling. If you hair is slippery, fine or thin and the comb doesn't anchor as tightly as you might like you can try the crossed bobby pin trick.
Position two bobby pins in one or two X formations in your hair where you wish to wear the beautiful comb or combs.
Gently slide the comb so that is is over the bobby pins and they will help to anchor the comb in your hair.
For some hairstyles the combs will serve to hold the hair in place. Whether you wear a traditional French Twist, a pineapple style twists or just wish to hold one side of your hair back with a comb, the France Luxe comb will do the trick beautifully.
The France Luxe Euro and French Combs are available as a single comb in Black, Mojave, Nacro Black (black with white accents), Opera Silver, and Ivory Tokyo.