February 21st, 2002 by Karen Shelton
Introduction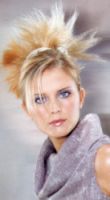 Smart new hairstyles come and go. One thing is for certain, there will also be a fascination with high-rise hair that is twisted, curled or backcombed into place.
(Photos by Freddie D'Isola, Alta Moda, Jemel Hempstead, Herts w/ L'Oreal & TIGI)
Long hair specialist, Barbara Lhotan, co-author of the wildly popular 5 Minute Trendy Updos book believes "that anyone with hair that is at least 6 inches on top and 3 inches at the nape can wear a fabulous updo." The key to high hair success rests, according to Barbara "in the hands of your stylist".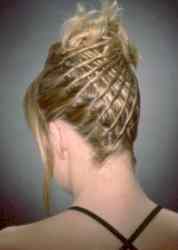 Whether you lust after the hot pineapple style (shown to side), a funky twisty knot or the traditional French Twist, keep in mind that not all salons or stylists willingly cater to weaving updo magic for special events like weddings and proms. There are many reasons for their updo styling reluctance.
(Photo copyright Patrick Cameron - all rights reserved)
Bob Steele, master stylist and owner of the fabulous Bob Steele Salon in Atlanta, Georgia explained, "Prom and wedding looks can be some of the hardest styles to create". Why? "Many people specifically want an updo for their prom or wedding and in many cases it may be the first time they have ever worn their hair up in their entire life. Most people just don't wear these type of styles on a regular basis".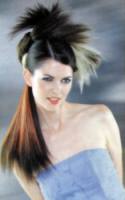 Unusual challenges definitely result when clients arrive at a salon as an updo virgin. Often they have unrealistic expectations of how they will look in multi-level hair sculptures.
Even worse, according to curly hair expert Shelley Pryor, "they don't have any idea what styles are appropriate for their hair type and texture".
(Photos by Freddie D'Isola, Alta Moda, Jemel Hempstead, Herts w/ L'Oreal & TIGI)
Although, "some clients should definitely opt for the updon't but are unwilling to accept their hair's limitations".
Updo/Updon't Steps To Success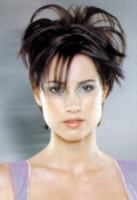 Are you right for an updo or does your hair dictate that you go with a downdo? Anything is possible with the right circumstances.
(Photos by Freddie D'Isola, Alta Moda, Jemel Hempstead, Herts w/ L'Oreal & TIGI)
If you have your heart set on a great updo follow these key steps:
Pick out your special event gown first before you decide how to wear your hair.
Select an updo-friendly stylist you know. Florida hair master Henry Amador is "constantly motivated to craft fabulous hair designs ranging from simple sleek styles to twists with bold new styles". Henry is successful because "he works with regular clients that have been coming to him for years from childhood through their proms and eventually their weddings". A stylist that knows and understands your hair will have better success at turning out a beautiful look than a stylist that has never worked on your hair before.
Plan, plan, plan! Stylist Barbara Lhotan cautions, "many updo fiascos occur when the client does not try out styles before the big event". Guarantee a happy hair happening by allowing plenty of time to pick out some sample images to show your stylist during an updo practice session. If appropriate, take photos of your dress along with desirable hairstyles. Give the stylist as much information as possible about the look you wish to create.
Remain flexible. Lhotan also points out "a successful updo requires team work between the client and the stylist". Be willing to discuss styling options for your hair. Take into consideration that thin or fine locks cannot carry off the same type of hair sculptures as thicker hair. Trust your stylist to help you find the best look for you and your gown, whether it is an updo or some other fabulous finished style.
Be prepared. Lhotan recommends arriving at the salon with "clean, dry hair". Even though Lhotan is OK with "hair washed earlier in the day", some hairdressers prefers hair that is "washed the night before to prevent excessive softness." Every stylist will have their own preferences on how they want the client to prepare for an updo visit. Make sure that you discuss these issues and follow your stylist's suggestions.
Express yourself. Steele and Lhotan all stressed the importance of the client speaking up during the creation of the updo. According to Steele "many clients wait until the updo is finished and then they may not like the look, but they don't know why they don't like it". While a trial run will minimize this risk, it can still happen. Lhotan suggests, "if a client communicates during the actual creation of the style, it prevents an unhappy hair ending".
Relax and enjoy. All the stylists quoted in this article pointed out that being relaxed and enjoying the experience is key.
Have Reasonable Expectations. Although you may have visions of leaving the salon looking like one of the Jessicas (Simpson, Alba) be realistic about your own hair type, texture, length and updo-ability. Expect to look your best but to look like you and not a fantasty superstar.
Whether you decide on a sophisticated Hepburn-esque updo, a rock chick silo or a combination, remember to smile and let the hair pampering begin.
About The Stylists
Listed below are all the stylists referenced in this article and their contact information for appointments. Please note that all of these experts work by appointment only and are not available for phone consultations.
Henry Amador - The Elite Group, Fort Lauderdale, Florida (954-779-2821)
Barbara Lhotan - Elie.Elie Salon in Tysons Corner, Virginia (703-893-2711).
Bob Steele - Bob Steele Salon in Atlanta, Georgia, (404-262-9499).
If you want to talk more about this or other hair care articles on HairBoutique.com or anywhere else, please post a message on HairBoutique.com's Hair Talk Forums.