April 8th, 2006 by Karen Shelton
Introduction
Sophina Brown, known by her friends as Sophie or Sophia, was born September 18, 1976 in Saginaw, Michigan. From the time she was a little girl she has dreamed of being an actress. With that goal firmly planted, she worked as a waitress her senior year of college to save enough money to move to New York.

Once there, she slept on a lot of couches and went on a lot of auditions until she landed the plum lead in Lion King playing Nala. This happened just two years after arriving in New York to follow her dreams of being on Broadway.

Among the lovely brunette's theater credits are the role of Carmen in the national tour of "Fame -- The Musical" and roles in regional productions of "Jesus Christ Superstar," "As You Like It" and "A Midsummer Night's Dream."

Although she had her start on Broadway, Sophina has moved into acting on TV and in films. She became well-known to TV audiences with her role as Raina Troy on the hit CBS drama, Shark.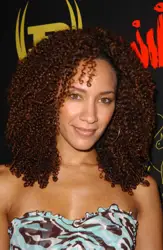 DailyCeleb.com - All rights reserved.
As part of the legal team on Shark she played a very strong yet compassionate woman who was the conscience of Sebastian Stark played by James Woods. Raina constantly challenged Sebastian to do the right thing and was the moral compass for the entire team of attorneys.
Curls By Numbers
Sadly Shark ended in the Spring of 2008 but Sophina landed on her feet with the role of strong and sassy junior FBI Agent Meghan Reeves on NUMB3RS. The hit CBS Show recently lost actress Diane Farr who left the show to have twins.
Although is has been reported that Sophina's role will be recurring at first, at some point it is expected she will be become a regular member of the FBI Team. Ironically, back in 2005 Sophina appeared on NUMB3RS as a guest star. She played Diana Styles for one episode.
Introducing a new character on the established CBS show offers a wide range of new plot lines including potential romantic interactions with some of the FBI male agents.
The NUMB3RS show currently consists of a range of strong male personalities. This is especially true of lead character Don Eppes played by Rob Morrow, who is the FBI's team leader. Rob Morrow has a prestigious acting background which includes work on Broadway.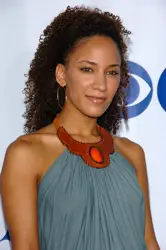 DailyCeleb.com - All rights reserved
The show's writers could create a wide range of plots involving Don Eppes and the new junior agent who are both passionate and driven. Sophina's character might become the voice in the head of Rob Morrow's character, much like she did on Shark. Whether this become reality or results in a romance, is unknown at this point.
First Love - Broadway
In a 2007 Interview with Kam Williams Sophina reported her first love is "the stage". She told Kam "as an actor, you're in charge of the storytelling once you step out on that stage. You take the audience on a journey. It's truly an actor's medium.
She told Kam "with film and TV, there's so much that's out of your control. You have to give it over to editing and post-production. It goes through many different hands before it is enjoyed by an audience. It was hard for me at first. It's kind of like letting someone hold your baby, and hoping you recognize it when you get it back".
Sophina has also had guest-starring roles in the CBS series "Without a Trace", "Hack", "The Education of Max Bickford" and the daytime drama, "As the World Turns". She has also guest starred in "Law & Order," "Law & Order: SUV,", "Strangers with Candy" and "Twins."
Her feature film credits include "Because I Said So" which is one of my all time favorite films starring Diane Keaton (Daphne) and Mandy Moore (Milly). Although she had a small role, Sophina played one of Milly's assistants and appeared in the film with natural curls.
Steal Sophina's Lush Natural Curls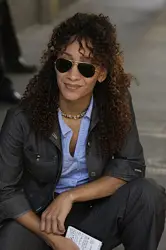 CBS All rights reserved
Sophina has what is most likely characterized by natural curl experts as Type 4 or Kinky Curls. Regardless of the rating that is applied her dark brown curls are small and tight and absolutely breathtakingly beautiful.
Note: Depending on what curl typing system you subscribe to ranging from Andre Walker, Lorraine Massey or other, Sophina may be categorized as a category (added post-Andre) known as 3C. She might not. It is very hard to tell due to the photos exactly how tight her curls are. There is also the consideration of her hair's dryness pattern and spring to mention just a few variables.
Most of the time Sophina wears her hair au natural although she has been spotted on the Red Carpet with her natural curls coiffed in loose waves and barrel style curls.
For her roles on Shark and NUMB3RS the actress has worn her natural curls with pride. On Shark she alternated between wearing her curls full around her face or half up and half down.
Sophina has told the media she embraces and loves her natural curls because they fit her personality and make her feel "carefree".
Kudos to Sophina and her TV hairdressers for showcasing her stunning ringlets on both Shark and NUMB3RS.
Note: Please also note that this is not just my "token attempt" to give a nod to African American, mixed or other races and hair types. I have curly hair myself and am a huge fan of curly hairstyles for all ages, races, ages, genders. If anyone is offended by my discussion of Sophina Brown's gorgeous hair please note it is not my intention to offend anyone or be "clueless" in my curl discussions.
Step By Step Instructions
Although it's possible to achieve a similar curly look for those with naturally straight or wavy tresses, it would take a lot of time, energy, styling products and hot tools. Ultimately Sophina Brown's hairstyles are best suited for those lucky ladies born with natural curls.
Follow the steps listed below to steal Sophina's natural curls: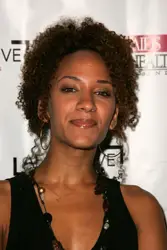 DailyCeleb.com - All rights reserved
1. Natural curls require special TLC. To duplicate Sophina's naturally curly style, shampoo tresses with a product designed to address your hair's special curl needs.
Depending on the texture of your natural curls you may wish to either cleanse with a diluted shampoo formulation (1 part shampoo to 3 or 4 parts water) or wash with conditioner only (CO). Choose the best historical cleansing steps for your curls.
If you color, highlight or chemically treat your curls, select a shampoo that supports those treatments as well as your natural curls.
Note: One to try - Ken Paves gentle moisturizing Healthy Hair Daily Shampoo
2. Apply the appropriate rinse-out conditioners. (Avoid if hair is super thin, fine or tends to flatten easily). Rinse out or deep conditioners are excellent steps to take for curls which may be damaged.
Note: One to try - Ken Paves Healthy Hair DailyConditioner.
If you wish to amp up your hair color like Sophina's use 1-2 pumps of Ken Paves Boost Up color with your daily conditioning rinse. Select from a variety of colors from Black to Platinum depending on your current hair hue.
3. Finish with a cool/cold water rinse to close cuticles and encourage natural shine and to help close the cuticles.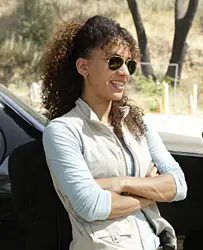 CBS All rights reserved
4. Towel blot and apply very light cocktail of desired leave-in detangler, conditioner or other styling products (firm holding mousse or gel). Ken Paves Boost Up color can also be added to your leave-in or other styling products for extra color oomp.
If hair frizzes easily, apply a defrisant balm like Phytodefrisant or similar to damp strands to prevent frizz while still allowing soft curls to naturally form.
5. For extra control around the face, crown and sides, apply a firm holding hair cream or sculpting gel.
Note: One to try: Ken Paves Healthy Hair Curl Balm.
6. Separate hair into individual 2" sections. Working from side to side around the entire head blow dry hair with blow dryer with long finger diffuser.
Avoid touching your strands with your fingers as you work to avoid frizz. When possible, use the slowest, coolest setting. Allow curls to rest in the base of the diffuser cup as you direct air flow through the strands.
7. Once each section of curls is 100% dry, clip or pin the section into a twisted ringlet pattern against your scalp and continue drying the next section.
8. When hair is completely dry and pinned against the scalp, spray entire the entire head with a firm holding spray like PhytoPro Strong Finishing Spray or Ken Paves Healthy Hair Shaping Finishing Spray. Allow spray to dry completely before removing pins or clips.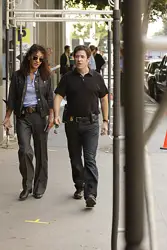 CBS All rights reserved
9. Right before leaving the house unpin all the hair sections and use fingers to tousle waves. If desired, use a medium barrel curling iron to touch up any disconnected curl sections.
10. Finish with a swipe of Ken Paves Healthy Hair Shine Serum. Apply one drop of the Shine Serum to the palms of your hands, rub together and then lightly brush over the top of your gorgeous new soft waves.
Top off your lush natural curls with a crystal encrusted headband, or attach an accent flower or crystal clip.
Summary
Sophina's ultimate dream is to build up her acting credits on TV and in film to the point where she can move back to New York and focus on theatre.
While she is currently living in California and has a sizzling new role on a hit TV series, there is no doubt that this determined actress will eventually follow her heart back to Broadway.
Note: If you would love to try the Ken Paves Healthy Hair products check out his convenient Healthy Hair Try Me Kit which includes 2 oz of the daily shampoo, conditioner, shine serum and shaping hair spray. All Ken Paves Healthy Hair products are available at the HairBoutique.com Marketplace.
If you want to talk more about this or other hair care articles on HairBoutique.com or anywhere else, please post a message on HairBoutique.com's Hair Talk Forums.