December 11th, 1999 by Karen Shelton
Introduction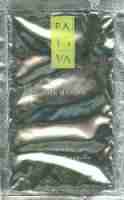 I have to confess that I am a sucker for "packaging" and have a hard time passing up a new product that triggers that hidden "it will make you beautiful" fantasy that is buried so deep inside my soul.
So I was in prime "sucker" mode when a visited my favorite Dallas beauty supply store and spied a "new product".
Hmmm, I had never heard of it before and it had very sexy packaging (see above). A shiny silver metallic envelop with very elegant writing that looked a little like Greek letters. I also loved the way that the product name, Pativa, was on an elegant lemony colored banner.
As a bit of background, I am always looking for "portable" deep conditioning products that I can just throw into my suitcase when I travel on business, which is fairly often.
I have found that ARTec's Moisture Pak is perfect for my ongoing business trips. Many times the water in other cities will be very different from Dallas water. The combination of ARTec's Smoothing shampoo and a Moisture Pak treatment will keep my long hair in great shape when I travel on business.
I pay $2.95 for 1 ounce of Moisture Pak and if I buy lots of them I get a 5% discounts at the beauty supply store that I go to. I usually clean the store out of Moisture Pak when I stop in for my regular visits.
I have to admit that I had never heard of Pativa before. I read every about every hair and beauty magazine I can find every month. In fact, the local Dallas SuperStand Magazine store on Campbell (thanks Roland) keeps his eyes open for any hair magazines that I have not seen and always points them out to me when I pop in for my magazine fix.
I was surprised, and excited to find this product. Is it new? The clerk was not sure. I asked a few of my hairstyling contacts about it and they had not heard of it either.
I asked the sales person at the beauty supply store if she could tell me anything about it. The first thing she said was "it was designed for long hair like yours".
I could feel the little hairs on the back of my neck standing up. If I had a dollar for everytime a sales clerk told me that Product XYZ was designed for "long hair like mine" I would be a very rich lady.
Dead Sea Mud
I asked her why Pativa was specifically designed for long hair and she told me that it had a high concentration of Dead Sea Mud.
When I quizzed her more about the Dead Sea Mud, she said it would soften and add shine. I specifically asked her how it would compare to ARTec's Moisture Pak (my all time fav). She did say that she didn't know but felt I would love the Pativa.
So I plucked down $2.95 for 1 ounce of the shiny silver packet. Actually I bought a handful so I could try the product several times.
Test of Time
I have found over the past few years of testing products for Hair Boutique that a product must stand the test of time. If I have great results the first time I use a product it does not mean that the product will work the same over time.
In all fairness to Pativa, produced by the Salon Division of Lamaur, the product does very specifically state that "the product quality is guaranteed only if purchased in a professional salon".
ARTec Moisture Pak says the same thing. That is a fair statement to keep in mind. When I have chatted with Arlene Benza of ARTec in the past she has reminded me that most consumers may not be as informed about hair as I tend to be and need the advice and supervision of a professional stylist when they use special products.
My First Experience with Pativa
The first time that I tried the product I washed my hair with my standard ARTec Smoothing shampoo. I rinsed well and then squeezed as much water as I could from my hair.
I had a bit of a problem opening the slippery silver package. I made a note to cut it open next time before I got into the shower.
Even though the packet looks a little on the small side, it was packed to the gills with a wonderful sweet Apricot smelling green gel that had the consistency of thick oatmeal. Actually, it reminded me of green mud.
There was plenty of the conditioner in just one packet to cover my entire hair.
Although the product does not specifically tell you to towel dry your hair first, it does specifically say "apply generously to clean, damp hair."
I decided to apply the conditioner right in the shower as I do with all my other deep conditioners.
I discovered the errors of my ways immediately. As I tried to apply the conditioner it would slide right off my hair back onto my hands and my arms. I decided to try something different.
Instead of squeezing the conditioner out of the package, I ripped it completely open with my teeth and then used my fingers to carefully scoop out little amounts. I carefully plastered it on my hair.
I set my trusty egg timer for 4 minutes and then proceeded to enjoy a wonderful body shampoo with the ARTec shower gel (incredible stuff).
When the 4 minutes ended I carefully rinsed my hair, did a cool water rinse (brrrr) and towel dried my hair.
First Results
I let my hair airdry like I normally do. The results were disappointing. My hair felt almost sticky. Not quite, but almost. I guess a better word is tacky.
Had I rinsed it enough? I know that I really rinsed as much as normal. Maybe it was the cold water rinse?
I will say that I enjoyed the aroma. The smell of sweet apricots lingered all day but my hair felt dry, sticky and nothing like after some of my other deep conditioner experiences.
I always give any product more chances. So I waited a few weeks and decided to try the product outside of the shower. After all, it is possible that I had not done something correctly.
My Second Experience with Pativa
I decided after 2 weeks to try the product again. This time I made the decision to towel blot my hair and apply the product to hair that was not so drippy.
This was a major improvement in terms of getting the product onto my hair. Also, I cut the little silver pack with a scissors and didn't need to resort to my trusty teeth.
The product again had a fabulous aroma and easily covered all of my hair. I turned on the egg timer for 6 minutes to give the product every opportunity. I sat down and read a book.
I rinsed the product out making sure that I really did a good job of rinsing. I finished with a cool rinse and then towel dried and finger picked my hair, letting it air dry.
Second Results
The results were still somewhat disappointing. My hair still felt slightly sticky. I almost had the feeling that I had gotten mud in my hair and not gotten it all washed out.
The product just was not working for me. It was not terrible like some products I had experienced but it also did not leave my hair full and shiny and soft like some of the other deep conditioners that I have tried and loved (including Moisture Pak).
It is possible that some of the ingredients are not well suited to coarse or color treated hair like mine. It is also possible that I was still missing something?
Try & Try Again
I decided not to give up after two tries. I tried the product on towel dried hair and using a blow dryer. It actually worked the best of all the times. I concluded that maybe to really work the products needs that heat from the dryer.
Since I try to avoid using a blow dryer except in rare circumstances, this was not a product that could work for me long term.
I passed on my extra envelopes to some Hair Boutique staff members and asked them to try the product and let me know if they had different results.
Moral To This Story
I must conclude that there are several lessons I learned from testing this product.
1. Never buy a product because the packaging looks sexy or exciting. Check it out first and get some information on how the product is designed to work and on what type of hair.
2. If you have questions call the 800 number on the package. They may be able to help you with a better way to experience the products.
3. Don't give up after 1 time. It takes a product a few times to really take effect.
4. Follow the directions as closely as possible.
5. Cut any packaging before you get in the shower and save wear and tear on your teeth.
6. Be fair but if the products don't work, they don't work. It doesn't mean it is a bad product, just that it is not right for your hair type. Every hair type responds differently to different ingredients and products. Know your hair and what works and what doesn't.
7. Add any results to your hair journal so you can track different ingredients and figure out what works and what doesn't for your hair type. I personally believe that there two ingredients in the ARTec Moisture Pak that are great for my hair (Coffee Bean Extract and Aloe Vera Gel). Don't ask me why, I just know that these two ingredients seem to make a difference for me and my hair type.
If you find something that really works stick with it. I am always pushing the envelope so that I can share my results with Hair Boutique visitors and also because deep in my soul I believe "the perfect product for my hair is out there".
Aptiva Product Description
According to the package: "Replenishing Hair Masque is a deep penetrating clay treatment specially formulated with Dead Sea mud to absorb excess oils and residue from the hair and scalp. Wheat proteins combine with nutrient rich humectants to infuse amino acids and vitamins deep into the hair shaft, equalizing porosity and restoring strength and moisture. Hair is left looking and feeling smooth, soft and natural, with replenished body and shine."
This product is not tested on animals.
Product Directions
According to the package: "Replenishing Hair Product Directions: Apply generously to clean, damp hair, and distribute evenly. Leave on hair 2-4 minutes. Rinse thoroughly.
Product Ingredients
Contains: Water, Quaternium-18, Kaolin (Dead Sea Mud), PEG-100 Stearate, Glyceryl Stearate, Isopropyl Alcohol, Cetyl Alcohol, Lecithin, Lauryldimonium Hydroxypropyl Hydrolyzed Wheat Protein, Cocamidopropyl Betaine, Panthenol (Pro-Vitamin B5), Propylene Glycol, Kelp Extract, Apricot Kernel Oil, Linoleamidopropyl PG-Dimonium Chloride Phospate (Natural Lipids), Lactic Acid, Imidazolidinyl Urea, Fragrance
Product Quality Guaranteed Only If Purchased In A Professional Salon!
Call toll-free, 1-800-827-2839 for additional information on PATIVA products.
Salon Division 1995 Lamaur Minneapolis, MN 55440 USA
Suggested Retail: $2.95 for 1 ounce or 28 grams.
If you want to talk more about this or other hair care articles on HairBoutique.com or anywhere else, please post a message on HairBoutique.com's Hair Talk Forums.