Last updated on April 7th, 2002 by Karen Shelton
Introduction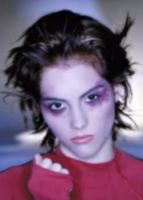 Straight locks, well-crafted curls, long looks and classic bobs never go out of style, but within any basic look, there are always forces in the wind. Right now, continuing Post Millennium Mix Up is showing up in the tendency to change hairstyles every day and in everyone's enjoyment of using three or four different products to get one style with the qualities you want, where you want them.
For instance, mousse for root lift, working spray for textured ends and a pomade for surface shine. (Photo copyright Mario Tricoci/Elizabeth Arden Day Spas - all rights reserved).
Changing your style and your texture is where it's at! Whether you're looking for the hottest variation on the classic bob or the newest way to style long locks, the only fashion dictum today is that you create a look to suit yourself.
Bold New Bobs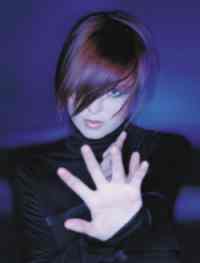 Bobs aren't simple and blunt anymore. Now, they range from classic with a twist to cuts you'd barely recognize as a hob.
It all starts with texture changes. Add bangs or not, choose a variety of parting ways. What remains: They' re always easy to style. (Photo copyright Mario Tricoci/Elizabeth Arden Day Spas - all rights reserved).
Beveled Ends
Instead of cutting hair straight across, stylists are curving it over their fingers as they cut to add natural bend to ends. Because beveled ends have extra mobility, you can turn them under, flip them up or let them move subtly on their own.
Pair beveled ends with a bob and you've got a cut that's easier to style than ever. Dry hair any way you want, then curve ends under with a curling iron.
Convertible Bangs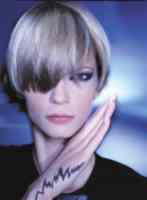 Once, either you had bangs or you didn't. But by creating piecy, partial or brush-aside bangs, you can have it both ways. Long side pieces can be used as layers (if you add a few extra ones) or be sniped a touch shorter into partial bangs.
When a short cut is worn asymmetrically, you can get the illusion of bangs without the bother. Just pull a few pieces down onto your forehead. (Photo copyright Mario Tricoci/Elizabeth Arden Day Spas - all rights reserved).
Jagged Ends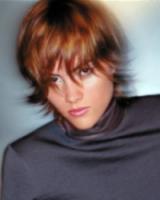 They're still the hottest trend in years! Instead of asking for blunt ends, get them chipped, razored, shattered or chopped into irregular lengths.
The technique plays up texture or even conceals the fact ends are thin because the tact is intentional. To enhance the feeling, try out the new working sprays that let you spray, style and spray some more. Lift the ends of surface strands for super volume. (Photo copyright Mario Tricoci/Elizabeth Arden Day Spas - all rights reserved).
Illusional Parts
Does she or doesn't she part her hair? By bringing pieces across an imaginary part, hair appears to break out from a certain point, but there's no single part in sight. Locks continuously flow from the center or side.
Ultra-Short Cuts
TV's Felicity, Keri Russell, surprised everyone with it and bold Gen X'ers everywhere are making it theirs by letting go of long locks in favor of short. (Pictured: Keri Russell as Felicity Porter - Photo Credit: The WB/ Jeffery Thurnher - All rights strictly reserved).
Now, ultra-short cuts are the signature style of a generation of individuals who know that feminine comes in many forms.
If you need or like bangs but want to go super-short, Frances DuBose of London Hair in Mt. Pleasant, SC, suggests hair that's cut into a face-framing curve, paired with a longer nape.
Add highlights for extra depth and the fact your hair is fine is barely apparent. Or, make ultra-short a fashion statement by adding layered tuffs that you can wax, gel or smooth into various shapes.
Kirsten Dunst recently went short as shown at the 2002 Academy Awards. (Photo courtesy: ABC/NELSON MACHIN).
Big Hair
Not just for Texans anymore, big hair is back in a big, beautiful way. Velcro sets started the trend, but texture and curls made a contribution. Now, big hair is everywhere as witnessed by JLo's big hair at the 2002 Academy Awards.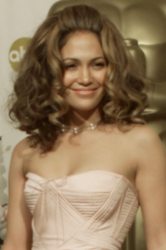 (Courtesy of ABC/CRAIG SJODIN- Copyright - All rights reserved).
For fuller, short locks, Jamie of Papillon Salon suggests a perm. Multiple, near-uniform layers make the look work best. Scrunch styling, roller setting and iron curling make permed locks full and fluffy; add backcombing and style them as high as you like.
Make mid-length locks bigger with setting smarts: spiral-wrap the sides and leave the top smoother. For extra fullness, comb hair from underneath and avoid using heavy styling products on the surface. The idea is to make hair fuller, but let it move freely.
Shoulder-Length Allure
Women who've always favored short cuts are discovering a new joy in the versatility of shoulder-length hair.
Baby boomers in particular, who spent their youth in ultra-long locks, equate super-short with Mom-and getting old. (Barbra Streisand at the 74th Annual Academy Awards- Courtesy of ABC/CRAIG SJODIN Copyright - All rights reserved).
A happy discovery: shoulder-length also conceals neck and chin problems.
The versatile, simple-to-style, shoulder-length bob is right for almost everyone. When the collar-bone supports ends, even super-fine hair looks great at this length.
Streak Chic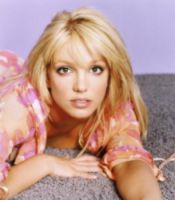 Subtle highlights became a thing of the past when colorists re-discovered streaks and color chunks, which first showed up in the movie classic, "Breakfast at Tiffany's." (Pictured: Britney Spears. ™2001FOX BROADCASTING CR:FOX - Copyright: 2001/FOX).
Today, you can position bold streaks anywhere. Face-framing is the most popular use of streaks, just like it was in the old-time movie. Younger women like streaks all over and at ARTec, colorists use color streaks to create texture. Blonde is positioned against dark brunette and streaks are thicker near the face, finer at the back. The natural progression gives hair a totally new dimension.
Incredible Curls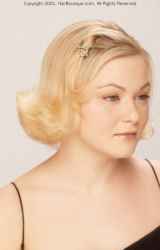 Ample texture showed up on Spring 2002 runways and now, the trend is evolving into full-blown curl. Paired with long locks, curls are ultra-feminine; when worn with short hair, they provide volume and lift. What are you waiting for?
Pair true curl with lots of layers for a fluff-and-go style. Add mousse, use your diffuser attachment and scrunch your way to a fabulously free look. Anyone can have curl for a day with the right roller set. Comb gel through barely damp hair and spiral set most the length on large rollers. (Leave the top smooth.) Dry, unwind curls and fingercomb for curl that doesn't quit.
(Photo copyright HairBoutique.com. Style by Barbara Lhotan - Photography by Eric Von Lockhart).
Easy Waves
An offshoot of the textural trend is the movement toward deep waves. The best ones come from old-fashioned techniques like finger-waving and pin curl sets, but you can also create subtle waves with roller sets and blow-drying techniques. They make waves easier to have than ever.
Or try soft, tumbling waves with Pamela Anderson Lee's styling technique. Spiral set hair on hot rollers; after removing the rollers and brushing locks, twist large pieces around your fingers and mist on finishing spray. As an added bonus, hair looks lots thicker. For subtle waves, blow-dry them in. The technique works best with short or mid-length hair that's lightly layered. To create waves in front, push hair up or forward at the hairline and hold into in place with your round brush as you dry. Curve ends under for a soft finish.
If you want to talk more about this or other hair care articles on HairBoutique.com or anywhere else, please post a message on HairBoutique.com's Hair Talk Forums.