Last updated on July 27th, 2005 by Karen Shelton
Introduction
When the hair gods decided to bestow on me the good fortune of interviewing celebrity hairdresser, Laurent Dufourg, known by his many celebrity clients as "Laurent D", I was beyond thrilled.
I've been following the grand master's celebrity styles for many years with great admiration.
(Image of Laurent D - David Edwards - DailyCeleb.com - all rights reserved).
When the time came for my appointment, I was definitely nervous and certainly star struck.
Afterall, Laurent D is the man that is famous for taking blonde goddess Gwyneth from long to short and for weaving a dizzying array of sizzling new looks for the likes of Tea Leoni, Terri Hatcher, Sharon Stone, Uma Thurman, Johnny Depp, Joely Fischer, the Hilton Sisters and scores of other "names".
One of the world's most famous hairdressers, Laurent is full of warmth, charm and kindness. Punctuating many of his statements with "darling" I felt completely at ease with this uber famous hair icon, as if I had known him for years.
Laurent keeps his work in proper perspective. And that's not easy considering his jet set lifestyle. Yet Laurent proclaims in his melodic French accented voice that "it's all about his client, no matter who they are, and not about him". Whether Laurent is sniping the locks of a harried hausfrau that saved for one year for the privilege of sitting in his chair or the latest "It" girl, this Sultan of Snip puts total focus on the person blessed with his appointment.
If anything, Laurent understands that the hausfrau needs him more than his celebrity clients like Sharon, Joely and Uma "who always look amazing, no matter what". For him, it is pure joy to "turn a woman that struggles daily to look good, into a person who leaves his chair feeling totally beautiful."
To Laurent D, hanging out with Terri or Tea and their respective families for a fun-filled dinner, is just his normal everyday life.
Vanity Fair & InStyle Parties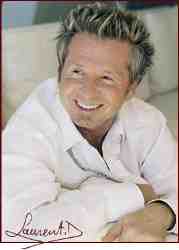 So how does a man with a stable of the best and brightest celebrity clients juggle them during the busy award's season?
It's quite simple, as Laurent explained "whoever books first wins".
Yes, even those unknown starlets-on-the-rise that want eye-popping shimmering tresses for that first red carpet stroll can sneak to the front of Laurent's famous line by being the early bird that snares the hairdresser's undivided time and magnificent attention.
Can Laurent be persuaded to switch celebrity heads at the last minute? "Absolutely not", confided Laurent. He has "been there and done that and will never go there again".
Explaining a near disastrous experience from some years ago, Laurent confided that somehow he had wound up, due to unusual circumstances , "scheduled to do two celebrities on the same day for a major LA awards show". As the day played out, "the first actress was horribly late for her appointment", forcing Laurent to "cut it extremely close for his appointment with the second celebrity, a long time valued client".
An extremely loyal man, Laurent would never dream of ever causing any of his celebrities even the slightest tidbit of red carpet trauma. After that hair raising experience where a trusted relationship might have been torpedoed by time mismanagement, Laurent swore he would never do more than one head for any major event. Period.
Does he stroll the red carpet with his favorite clients? Yes, sometimes he does. However, he utmost concern is that "the very last thing that happens before his famous clients carefully climb into their limos is to make sure that every single strand is in perfect placement".
As he pointed out, "the history of his work for every award show season will play out over and over again in the media as celebrity red carpet retrospectives are rolled". In some cases, his work adorning the heads of major stars like his world famous Gwyneth or Sharon Stone cuts are printed for years.
Fear Factors
There are many secrets to Laurent's spectacular success and eternal popularity. One is his expressed concerns was that as a result of his work that any of his clients would ever make it to the "worst coiffed" lists of Joan, Melissa or other talking heads.
Of course even the very best plans can go awry but Laurent believes "the red carpet is not the place" to take a major departure from a celebrity's normal hair style. Working closely with the celebrity stylist that will architect the celebrity's total look from gown to accessories, Laurent strives to work within the total framework creating "hairstyles that enhance rather than detract". His favorite words when it comes to describing his cuts and styles are "soft and sexy".
So what if one of his famous clients wants him to do something totally crazy that might risk that dreaded "what did they do to their hair" comment from Joan? Oh, well, he pauses, "of course the client should always look amazing", but "I would do my best to talk everything through with them to make sure that any style that they wanted to wear, would not cause them any type of media regrets".
This charming man is so obviously protective, supportive and loving of his clients that it is crystal clear why they all absolutely adore him and his work.
Vanity Fair & InStyle Parties
I asked Laurent if he had even been to any of the award parties like the splendid InStyle or Vanity Fair Academy After Parties. "But of course, darling" he laughed. "I attend every year". I was green with envy and told him so. "Well you must go then", he laughed, making it seem like all I need do is dial up someone and tell them that I wanted to go. Hmmm, if only it were that easy.
Besides attending the most desired celebrity parties of the year and strolling arm in arm with his celebrated heads past the paparazzi Laurent "travels all over with Teri", goes on "vacation with Sharon" and "traveled to Japan with Uma during her Lancome days". Those experiences are just at the tip of Laurent's fabulous and hectic lifestyle.
You might think that a man who has a mind boggling array of the biggest celebrities on his speed dial might be, well, affected. Nothing could be further from the truth. When I asked Laurent who his own hair heroes were he told me "there are so many great hairdressers that do amazing work" that it is difficult to pick just one. When pressed he told me that he was a huge fan of the recently deceased John Sahag who did "amazing dry cuts and inspired styles". He also had high praise for Orlando Pita "who does fantastic runway hair" and Enzo Angileri who Laurent proclaimed "a very dear friend".
This amazingly talented, world class hair star exhibited no signs of ego. He was generous with his praise of his two Prive expert hairdressing teams and singled out several for specific kudos. He mentioned that Steven Tapp was "incredible with color" and that Steven did all of Madonna's color, sometimes at the Prive Salon, sometimes around the world.
We also talked briefly about Frankie Payne, who I had the pleasure of interviewing. Laurent had high praise for Frankie and his work including his long term styling of Rachel Griffith of HBO's Six Feet Under. It seems that Frankie, who works out of the Prive Salon in Los Angeles, has been working with Laurent for "over twenty plus years".
Celebrity Roster
Laurent's press package includes a list of all the celebrities that he has worked with over the years. When I started to read the names off to Laurent, he explained that he will not allow any celebrities that he has not worked with at least "two times" to be included on his official client list.
Afterall, he pointed out, there are many times where he will work with a celebrity for magazine photo shoots like he did with Marissa Tomei and might not work with them again. "That doesn't really count them as my clients" he clarified.
A lot of celebrities that come to Prive to see many of his team members, like Charlize Theron who visits the Los Angeles Prive for her color, or other celebrities that might have other services like hair extensions, do not necessarily see Laurent. If they don't work directly with Laurent "he doesn't want to add them to his list". Which is very ethical and admirable in a world where some hairdressers will take credit for celebrities that they might have only touched once.
Does Laurent care that some of his long time clients work with other celebrity stylists? "But of course not". Laurent understands that he is "not always available for his clients when they need him to be or they are traveling to places he can not go" or a variety of unexpected situations occur. Laurent does not get upset or take it personally. For him, the bottom line is that his clients "always look beautiful" and are properly taken care of, if not by him, someone that will make them look "amazing".
Life Altering Events
Ironically the world of hairdressing is not where Laurent first set his sights. Forming a "very successful" band with his brother, Laurent was literally thrust behind the scenes of a hair show while sitting perched atop his drummer's platform on a balmy summer evening. What started as just another gig playing live music at a local show for Laurent and the much-in-demand band, ultimately changed the young man's life forever. From his elevated drummer's stool he could peek behind the curtains and watch the hairdressers as they styled the model's tresses.
He was thrilled by the experience finding the way that the stylists touched the models hair to be "magical". From that day forward he was completely hooked. Taking a job at a local hairdressing salon to make "after school money" he fell "madly in love with the business" and his fate in the hair world was sealed.
Wanting to aggressively pursue this fascinating world, Laurent, with the encouragement of his parents, traveled at age 15 from his home in Biarritz to Paris to study with one of the then-masters. Moving into a small "housekeeper" room with just a bed and a bath, the young Laurent set to work learning everything he could about hair from one of the masters. Learning "how to do everything", Laurent worked very hard at his craft.
By the time he was the ripe old age of 20, Laurent was dispatched from Paris to the South of France to work with his first "celebrity" who just happened to be blonde bombshell, Bridgette Bardot. Laurent confessed to being "very excited" and a "little in awe" of the famous movie star, who arrived with a complete entourage, that required the shop be closed for her visit.
Laurent set the famous blonde's hair on "lots of big rollers". He didn't "tease her hair" which was popular at the time, but instead "styled her strands by brushing them into a soft, shiny, sexy look" that the actress "really liked and looked amazing".
Although you might think that Laurent was bitten by the celebrity bug at that point, he wasn't. Why? Well Laurent in his own words pointed out "it was thrilling to work with Bridgette, but he was too young, just twenty, to totally appreciate the significance of working with a celebrity" of that magnitude.
Shortly after his encounter with Ms. Bardot, Laurent made his way to Marbella on the Spanish Riveria, where he proceeded to open his own salon which immediately became popular with the rich and famous jetsetters that vacationed in the gorgeous coastal area.
Setting Up A Celebrity Salon In Los Angeles
After enjoying a beautiful and successful life working in his salon in the Spanish resort town where he met his lovely and multi-talented wife, Laurent was invited to visit a business partner who had moved to Los Angeles. Always the adventurer, Laurent popped in for what he thought would be a brief stay. Instead, Laurent discovered "a new world of opportunity in the world of hair" and decided to embark on a new adventure. In 1979 Laurent settled in Los Angeles where he focused on working in the expanding movie industry.
His first celebrity client after he arrived in LA was Shannon Doherty, who was starring in the TV hit series 90210. Shannon, who is still his client some 25 years later, opened doors that resulted in Laurent eventually being the hairdresser for the entire cast of Melrose Place. Laruent reminisced about working with Melrose alums such as Josie Bissett and Lisa Rinna, to name just a few.
Jet Setting To Perform Hair Magic
Jetting from coast to coast "every two weeks or so" Laurent works at the Prive Salon in Los Angeles and at the SoHo Grand in New York. Juxtaposing the laid back drive-everywhere Southern California scene with the hustle and bustle walk-everywhere Manhattan scene, Laurent admits that he "enjoys the best of both worlds". Whether living in his Tribeca loft or his Hollywood home, Laurent "loves his life" in both locations.
Although Laurent has a charming gift of gab when it relates to hair styles, textures and new looks of his celebrity clientele, he admirably and staunchly subscribes to the hairdresser creed of discretion when it comes to his client's personal and private lives. While Laurent would be most honored to discuss the time that he cut all of Gwyneth Paltrow's hair off (for a movie role) and might throw in the fact that Brad Pitt came to the salon to watch the transformation, that is all he will say regarding that now infamous relationship.
For Laurent, any information that might harm his clients in any way is regarded as the "holiest of holy" and never divulged. This is admirable since Laurent jets back and forth between two cities where people just love to leak any and all celebrity information.
Laurent admits that he actually enjoys his travel time between coasts because it afford him the down time to catch up on "all his reading". Armed to overflowing with the latest fashion, beauty and celebrity rags, Laurent admitted that he "settles in on his long flights to catch up on all the coverage of the hairstyles of his clients". He also does "research" on the latest fashions and upcoming hair and beauty trends.
Since the hairdresser to the stars in intimately involved in the lives of his celebrities and their media events, he puts in a lot of his time doing his homework. Besides reading Star, Celebrity Living, People, US Weekly and all the other major tomes, he watches all the relevant television news and talk shows to keep up his hair wards and make notes. What kind of notes? "Ahhh, maybe their hair color is too bright, too light or too dark under the lights or possibly their bangs need to be softer or fuller" or a myriad of other strand possibilities.
Laurent is "constantly monitoring and checking" his celebrity heads to make sure that he is keeping them coiffed to perfection in any performance or media related situation.
Uma In The Coat Check Closet
Working with celebrities whose lives are often unpredictable, madcap and somewhat chaotic, Laurent is used to being spontaneous with his clients. When asked what was one of the most unusual places he has coiffed a celebrity, he laughed and mentioned the time that he and Uma, who was the face of Lancome at the time, were rushing from one Red Carpet Event to a late night meeting with world famous former Gucci design guru, Tom Ford.
Laurent explained that Uma's hair was still done up as a result of the award show, but need a new look for meeting with the famous designer.
Not having anywhere else to go, Laurent and Uma snuck into the coat check room of a fabulous New York luxury hotel and they both literally plopped down on the floor where Laurent set to work. He laughed and said that because it was "so last minute and time was of the essence" he had, through a series of mishaps, neglected to bring any of his styling tools with him.
Being resourceful, he scrounged around and luckily discovered a hair brush that he was able "to borrow" to quickly smooth out Uma's original updo into a new style for her meeting. He described how he "quickly popped out all the pins, holding her hair and brushed her strands into a brand new look, in mere minutes".
Once he was finished, he returned the brush to where he had "discovered" it and Uma looked absolutely amazing.
Tea In The Limo
His need for speed came in handy when he was accompanying his dear friend and long time client, Tea Leoni (Mrs. David Duchoveny) to a live appearance on The View. Horrendous traffic and a confused limo driver was running down the clock. With less than 12 minutes to air time as Tea struggled to change her clothes in the careening limo, Laurent worked on removing her hot rollers and arranging her hair into a TV appearance worthy coif.
So how did that all turn out? Tea made it just in time for her appearance and "her hair looked amazing" courtesy of Laurent's ability to calmly juggle hot rollers, brushes and styling products whipping up a tress masterpiece.
Debra Messing In Chicago
While Laurent often vacations with many of his famous clientele, he also will travel with them for major appearances that might take place outside of his LA or New York home bases. He mentioned that he had "flown with Debra Messing" to Chicago for her appearance on Oprah so that he could personally coif her famous ringlets. And while he was, of course, working with Debra, he really enjoyed traveling with her as well.
Master Of All Hair Techniques
Which accounts for Laurent's reputation for being able to work, as he puts it "really really fast". When required by timing or other circumstances, Laurent can transform the tresses of his celebrities in a "matter of just minutes". Since he was trained as a European hairdresser "he can do anything and everything to hair" and because he has been doing it for so many years, can do it instantly.
Besides working with celebrities for both on and off camera work, Laurent adores his work with the major fashion designers. Although he does "lots of hair for runway shows", he would love the opportunity to work on even more runways, like his highly respected peer, Orlanda Pita. "I can do everything to hair and very quickly" he commented and "would love the opportunity to work for the European fashion designers".
Dream Clients
His abiding love for making all of his clients beautiful is formidable. Both of the Prive salons are testaments to Laurent's passion for making his visitors feel that they have absolute privacy. No coincidence then that anyone, famous or not, who makes their way to his plush chair, receives his undivided attention.
So who would the hairdresser who has coiffed an eye-popping list of Hollywood's biggest stars like to still work with? "Nicole Kiddman would be a dream to work on" says Laurent, because she has such gorgeous tresses and she always looks so amazing.
Secrets For Average American Hair Consumer?
For the millions of Americans that can't hop a jet to New York or Los Angeles to consult with the hair maestro, what advice would he give them about their strands? Quite simply, he said "always get the very best haircut you can afford, since that is the foundation". Secondly, "use the very best products that your budget can support, because the difference between hair that looks OK and hair that looks great is the products that are used".
Life In Progress
You might think that this amazing man who has gone everywhere, done everything and knows, it seems, just about anyone who is anyone, would be ready to take life slower. Not so. Laurent's life is a work in progress. He became newly invigorated as he talked about the fact that he is in serious negotiations to take his Prive franchise to the Far East in the very near future. Really? Of course, darling, what a great opportunity, he laughed.
Melissa Joan Hart
Melissa's blonde tresses were styled in a romantic-arrangement by hairdresser to the stars Laurent Du Fourg - Laurent D.
Prive Salons
Apart from tending to hair, Prive in Los Angeles serves healthy snacks and teas and have a tranquil Buddha Garden Caf. Upstairs is Ona Spa, an oasis providing massages, facials and body scrubs
Prive Salon 7373 Beverly Boulevard Los Angeles 90036 323- 931-5559
This large, popular salon entices customers with its relaxed Mediterranean feel and terrific haircuts. No surprise that it draws a celebrity-heavy clientele: It's in the SoHo Grand hotel. Cuts are $90 to $300. Prive Salon 310 W Broadway New York, New York 212-274-8888
If you want to talk more about this or other hair care articles on HairBoutique.com or anywhere else, please post a message on HairBoutique.com's Hair Talk Forums.