Last updated on May 7th, 2000 by Karen Shelton
Introduction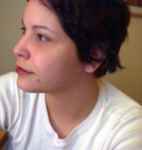 Ever since my hair all broke off about 5 months ago (we won't go into WHY it broke off) I have been considering hair extensions. (Before photo to the side)
I knew at that time that my hair was too short for them (it broke off about 1/4" from my scalp) but of course all that meant was I had plenty of time to research and think about hair extensions as an option for me.
While I waited for my hair to grow long enough (most hair extension professionals won't attach them until hair is at least 4-5" long) I looked on the net for more information. The HairBoutique.com site by far had the most information, with articles on the different types of hair and the different methods of attachment. They also offer many different opinions from many different experts who don't necessarily agree.
I chose to go with real human hair, because it looked the most real, and to have the hair extension expert recommended by HairBoutique.com in Dallas do the actual work.
My total cost was around $1,600.00. I realize that might be very expensive to some, but this is my hair I was thinking about. I wasn't going to skimp, and of course I had 5 months or so to save up for it :). After coming to a decision about those points, what I wanted was personal accounts. What did it feel like to have extensions? Could I brush my hair, wash my hair, sleep with them comfortably?
Alas, there are few places that have the answers to these types of questions.
So, before I relate my own experience of the actual attachment, I will address a few issues relating to hair extensions that others might be interested in.
Can I brush them?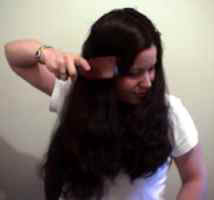 Of course you can. I recommend using any soft bristle brush. In fact, I personally brush it thoroughly at least twice a day to prevent tangles and help distribute the scalp oils along the extensions to keep the hair shiny.
Basically, you can brush the hair, sleep on the hair, pull it up in a ponytail or a bun, anything you can do with hair that grew out of your head.
How long does my hair have to be?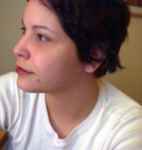 My hair varied from 3-4" all over my head when I had mine attached, and this seemed plenty long. My hair is very thick, so I was lucky that they were able to attach additional extensions very far up on the crown of my head, which looks even more natural, as if it grew that way. If you are unsure, visit the extension artist you plan to use or send pictures, and they will tell you whether your hair is ripe for extensions.
Do I need to use special shampoos?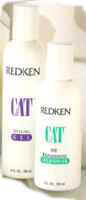 I was advised to avoid Redken CAT shampoo. For some reason this brand deteriorates the attachment bond that keeps the extension on the hair. All other shampoos were declared fit for use. I was told to add conditioner to the ends of the extensions, then comb through any tangles gently, follow with a shampoo on the scalp letting the suds rinse through the ends, then end with conditioner before a final rinse. My hair still feels great so far.
Do they start falling out?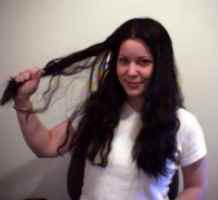 It is normal to lose a few of the attachments as time goes on. A mass exodus of extensions leaving your head signals a problem, usually stemming from improper care or your own hair being too short to have extensions in the first place. If most of your extensions are falling out in large chunks, visit your extension artist to identify the problem. From my own experience, I am able to tug on the extensions quite fiercely and they stay quite attached.
What is they best type of extensions to get?
This is strictly a personal choice. I chose to use the HairBoutique.com hair extension expert because of his reputation as recommended by HairBoutique.com I chose real hair because the look I was going for was a natural, grew-out-of-my-head look. Different methods and different types of hair result in different looks and are available in varying price ranges. Shop around, and do some research to help you decide what is best for what you are trying achieve.
"Let's do this!"
I got off the plane at 12 noon and my dad picked me up. We were on our way to the hair extensions studio (located off 635 in Dallas, normally about a 20 minute drive from DFW airport) when ACK! Traffic jam! I was terrified I was going to be late but everything worked out fine and I made it on time.
When I came in the hair extension expert was probably more excited than I was! He greeted my father and I with a large smile and bundled me off into the studio while my father (who is not really interested in hair, bless his heart) escaped to I know not where for the duration of my appointment.
First my hair was washed clean of conditioner and styling products, then blow dried straight by a wonderful woman who would be doing one half of my head while the hair extension expert did the other.
The hair extension expert showed me the hair he planned on using and explained how the hair extension attachment method works. The hairs are grouped in little pieces of about 50 hairs a section, and attached close to the scalp.
He asked me how I usually styled my hair, and where I parted my hair so that he could assess how best to attach them so they would be hidden well. I told him I usually let my natural part (straight down the middle) go its own way and that I very rarely styled my hair in any type of updo.
He parted my hair down the middle, brushed it, then handed me the hair so I could see how nice it was, and to make sure I was pleased with the quality. I was, so we began.
The hair extension expert and his assistant sectioned my hair on each side and began the attachment process. They took small sections of about 50 hairs and attached the extension to these sections with a special device used to bond the hair extension to my own hair.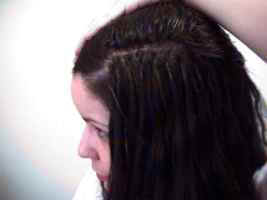 It did not hurt at all. He assured me that the bonding process DID NOT harm my own hair in any way. I was glad to hear this since my main motivation in getting the extensions is to cover up my own multi-length hair while I grow it out.
We took a break about two and a half hours into the session to grab coffee and stretch our legs. I looked rather comical walking around with half a head of long hair and short hair on top.
After we resumed, the hair extension expert and his assistant took stock of their progress and discussed how best to proceed. It was decided that since my own hair is so thick, they could continue to place extensions far up on my scalp and they would still be well hidden.
By doing this, they explained, it would help make it look more natural because I would have less blending to do with my own very short hair.
Another two hours of hair-adding later, they began to finish up my extensions. They added a few 'half pieces' around the top - pieces that are half the thickness to help blend in the line of where my own hair stopped and the extensions began.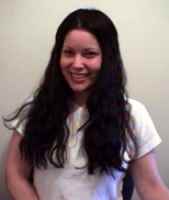 This completed, he turned me around and... Wow! I had hair! Long hair! NICE hair!
He had me stand up and asked me how I would like it cut and/or styled.
I explained that I wanted to keep most of the length, so he cut a diagonal line across the front of the hair to add a little depth. Then a few well placed layers were added to help blend in the extensions, I received a good brushing, and then I was done.
In just four and a half hours I had hair that would normally take around two years - or more - to grow naturally.
I was very pleased with the work. I found that the hair extension expert and his assisnt were very interested in my hair. Their chief concern was my happiness with the outcome.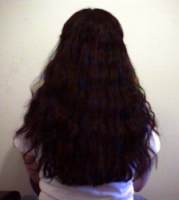 All during the process they instructed me on the care and feeding of my new hair. They also instructed me in the maintenance of my hair extensions which would be required if I wanted to continue to keep them after this set was removed.
I would absolutely recommend that anyone thinking about extensions, if you can afford it and you can get to Dallas, go there and have it done.
My only wish is that it didn't take so long! It took around 4 hours to do my entire head working from the bottom up, but of course with my thick hair I couldn't expect it to go quickly.
When I got home everyone at work couldn't believe how natural they looked, and I actually had to point out where the attachments were!
Some people thought it was rather weird that I would want some unknown person's hair on my head ("You don't know where that hair has been!" they cried) but I don't even think about it. In my mind it is just as much my hair as if it grew on its own.
I am really glad I did it, and can honestly say it was worth the money and the jet lag! If you decide to visit our recommended hair extension expert, we would love to hear about your visit. Please email us.
If you want to talk more about this or other hair care articles on HairBoutique.com or anywhere else, please post a message on HairBoutique.com's Hair Talk Forums.