Last updated on April 25th, 2002 by Karen Shelton
Introduction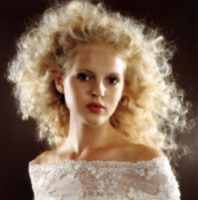 I had so much fun with my Suds-o-Scope article that I was willing to try my hand on other hair related astro articles. I originally thought that trying to select various shampoo brands by Sun signs was quite a challenge.
I quickly learned that picking shampoos for sun signs was not nearly as challenging as writing about hair colors. I really pulled my Matrix SoCol blonde hairs out on this article.
One of the biggest challenges I faced was the fact that there are so many different kinds of hair color from the traditional permanent to the "change in a minute" spray-on colors and color shampoos.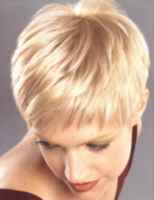 There is also the question of professional lines (Goldwell, Wella, ARTec, Aveda, Framesi, Matrix, Paul Mitchell, Clairol Professional) and non-professional lines from L'Oreal, Clairol (who straddles both communities) and Breck. Lets not forget the hot and edgy colors from Tish & Snooky, the pioneers of punk hair color at Manic Panic. There are the punky colors that followed after Manic Panic including N' Rage, Clariol, and Jerome Russell's Punky. Finally there are the hues. Even though there are the basic colors of blonde, brunette and redhead, there are also the hot pinks, electric bananas and purple hazy shades.
Whether you color your hair or not and whether you go to the salon, do it at home or only color for special events, please keep in this mind that this is an article written for fun and entertainment.*
In reality, hair color products should always be selected according to individual hair types, texture (straight, curly, wavy, combination) and condition (normal, dry, oily) rather than by birth date. It is also very wise to consult with a colorist or do extensive research when possible before submitting your hair to foreign colors.
After a few weeks of letting my imagination run wild, I did put together some whimsical hair color recommendations based on general sun sign characteristics.
Please be warned that you should also factor in your own hair care requirements before throwing out your old faithful color routines and fav products in order to hue by the stars.
Aries - March 21st to April 20th
You're always game for wild adventures in hair color, yet another aspect of your passion for fearless life experiences. Yes, you crave individuality but you also demand ease and convenience for your blow and go lifestyle. Since you bore almost as quickly as you ignite, opt for temporary or demi colors that quickly fade into hazy memories. Crank up your sexy yet bratty shock appeal with Jerome Russel's fun and funky Punky Colors in Congo Red, Flamingo Pink or Purple Python. Garner new attention with a more subtle punch from Clairol Natural Instinct's Rio Red Ginger, Toasted Almond or Tahitian Honey.
Taurus - April 21st to May 20th
Earthly, sensual and hedonistic you consider Kool-aide a food group rather than a messy, stress altering coloring device. Most Venus ruled Bulls aren't easily tempted by hot hue fads that threaten to alter your luscious natural color and healthy tresses. Conservative as well as practical, you tend to be attracted to herbal hue solutions that provide gentle and wholesome shades. Natural color formulas like Avigal Henna in shades of cognac, hedonistic champagne or sinful burgundy might crack your resistance. In a moment of weakness you might be seduced by yummy colors with names like French Vanilla or Cookies In Cream.
Gemini - May 21st to June 21st
Your ever roving mind craves an exciting mix of colors that will keep you and your millions of friends happily entertained. Fun loving Manic Panic (MP) semi-perm hair colors were designed for your burning need to curb your hair hue curiosity. Tickle your imagination with multi-layered shades of black light glowing MP shades of Pretty Flamingo and Bad Boy Blue. Blah shades of blonde or boring brunette are a big yawn for many adventure seeking Twins. Go classic and if you dare, more permanent with Clairol's Hydrience in sensual colors like Mocha Splash, Amber Sunrise or spectacular Absolute Blonde.
Cancer - June 22nd to July 22nd
Your life ebbs and flows by the changing moon. Crabs may heed the siren's hue change calls during memories of carefree childhood days. Always storing trinkets for a rainy day, you may have already socked away a queen's ransom of hair color products in your bathroom vanity. When the mood strikes, weave a web of sensual shades with your hidden stash. Start slowly with rich non-lifting temporary shades like Clairol's Natural Instinct's Sunlight Sand or Nutmeg. Satisfy your need for permanence with salon crafted Matrix Socolor highlights. Splurge on Mine's color shampoos to keep your new hues rich and sparkling.
Leo - July 23rd to August 22nd
A modern version of the goddess Aphrodite, you magically know how to weave a tapestry of beautiful hair hues to showcase your magnificent mane. L'Oreal's famous advertising tag line "because you're worth it" was probably invented with you in mind since you deserve only the best in life and you know it. Transform yourself into a sophisticated blonde with Feria's permanent head-turning shades of Pure Diamond or Champagne Cocktail shades that will quench your thirst to be pampered. Feria's Chocolate Cherry or Copper Shimmer will add instant transform your luscious lioness locks into a smoldering brunette or fiery red brilliance.
Virgo - August 23rd to September 22th
Discretion, dignity and purity are key when it comes to any consideration of new hues for your wholesome locks and ageless beauty. Consider embracing Special Effect's Virgin Rose or Cherry Bomb to let your inner kinky side out. Give Mother Nature a big nudge with Herbatint's Semi-Permanent Hair Color in shades of Swedish Blonde, Copper Chestnut or Henna Red. For an more natural colors, try the temporary ammonia free Herbavita Vegetal colors. Stay true to a chemical free existence and whip up your own batch of chamomile, red zinger or Earl Grey homebrewed color teas for minimal impact.
Libra - December 23rd to December 22nd
You are the beautiful people of the Zodiac known to ooze charm and personal magnetism. Balance and harmony are important pre-requisites for everything that you do from the fashions you wear to the color or your make-up and hair. Enhance your natural beauty and love for the finer things in life with Clairol's award-winning, top-of-the line, Ultress with special color maximizers. Select from several vibrant permanent shades including Copper Penny, Champagne Blonde or Milk Chocolate Brown. For high class color pampering head to your favorite colorist for professional color options followed by deep conditioning treatments to leave your hair feeling soft as silk.
Scorpio - October 23rd to November 22nd
Eternally intriguing, you instinctively understand the mysteries of passion and how to attract the rapt attention of the opposite sex. You either fascinate or frighten with your powerful magnetism and raw sexuality. Playing off your innate darkness you may gravitate towards shocking or unsettling strand colors like Punky's post-bleach Color Gels in Jet Black or Blood Red. Sinister or sci-fi shades like Manic Panic's Atomic Turquoise or Ultra Violet would empower your strands and allow you to reinvent yourself on the fly. Opt for extra conditioning L'Oreal's Preference shades for a more seductive sensual look with diminished shock value.
Sagittarius - November 23rd to December 21st
Ongoing personal liberation and expansion are key to your overall philosophy of life. Your always-inquisitive mind loves a good adventure including outrageous experiments in the world of hair color. Never pompous, you are comfortable with experimenting, having fun and letting nature its course. Rich, playful and uplifting hues like Fudge's Blueberry Hill, Orange Crush or Lime Spyder or Manic Panic's Electric Lizard might be just right to crank up your level of excitement. Let your Renaissance side dominate by selecting La Riche shades of Poppy Red or Violet. Go with Clairol Natural Instincts for temporary shades without long term commitment.
Capricorn - December 22nd to January 20th
Although you are willing to reach beyond the rainbow in many areas of your life, when it comes to hair color you tend to value the traditional and classic shades and colors. You are naturally sophisticated and do everything with class and style. While some Capricorns might be willing to mix and stir their own hues, many of you will find the master colorist of your dreams and form a lifelong bond that nets you gorgeous shades that evolve with your age. One thing is certain, whether you select Clairol, L'Oreal or a professional color line, you will gravitate towards exclusivity and quality.
Aquarius - January 21st to February 19th
Although you often appear to have a need for control, life does not always co-operate. Hidden inside your soul is a big show-off trying to get out. You are very comfortable rotating your hair color hues and are drawn to shades that are designed to shock and thrill. While you love to have fun with your locks, you also love to look sensational. Play with Jerome Russel's Punky colors in wild shades of Purple Python, Flamingo Pink or intense Blue Nile. For a total change go with a total bleached blonde look with a rainbow of colored tips.
Pisces - February 20th to March 20th
Full of magic and mystery you vibrate with a silvery glow and posses a whimsical heart. A gentle soul, you wear rose colored glasses and shun unpleasantness whenever possible. Select a soft gentle shade from Clairol's Natural Instincts line that offers beautiful color without commitment or potential strand damage. Consider enhancing your calm by trying on shades of Redwood with its deep cherry beauty or the sensual Amethyst with its magical plum hues. Pay homage to your love of the sea with Blue Hawaii from Fudge or Punky's Lagoon Blue. Take a temporary detour with "N Rage Temporary Color Spray in "N Tense Blue.
If you want to talk more about this or other hair care articles on HairBoutique.com or anywhere else, please post a message on HairBoutique.com's Hair Talk Forums.