Last updated on July 12th, 2006 by Karen Shelton
Introduction
In our recent phone interview the charismatic Cheryl Bautista Burke (winner of ABC's Dancing With The Stars 2nd edition) told me "her dancing style is unlike anyone else's" and for that matter, her hairstyle "is very unique". In fact, Cheryl admitted "she has yet to meet anyone that has a hairstyle that is anything like hers".
Although the gorgeous 22 year old Taurus born May 3, 1984 makes her sensational dancing look effortless, it's the result of years of extremely hard work, zillions of hours of practice (at least "3 hours per day") and careful planning.
Such is the case with her spectacularly sexy hairstyle. Cheryl explained her hair "was specifically designed to showcase her entire look by her dance coach - Allan Tornsberg - who helped her design - and yes "he cut" her "championship winning look".
I asked Cheryl how she might describe the style and she admitted it's "hard to describe" since "it consists of hundreds of different lengths and wispy pieces all cut at different lengths all over" her head.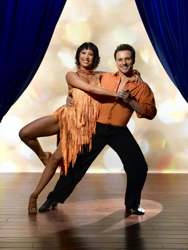 ABC- All Rights Reserved
Cheryl agreed "it's definitely not a bob because of all the different pieces" and "actually combines a couple of different hairstyles" such as a bob, chop and cap, although it does not exactly fit into any of those hairstyle categories. She noted the closest accurate description might be a "fringe" cut to extends all along the perimeter of her head.
Indeed, after she mentioned the fringe factor, I studied her photos and it really does look like a beautifully handcrafted fringe that you might find on a couture gown or a beautiful suede jacket.
Ultimately the goal was to infuse her hair with "maximum movement", whether she is "moving or not". Since the champion dancer is famous for "breaking all the rules" with her dancing, she also wanted to create a hairstyle that was completely unique.
Because her dance style is a combination of Latin and ballroom, which she describes "sexy and sensual" she wanted her hair to have a similar feeling. In fact, Cheryl confessed that she used to wear her hair "long and with blonde highlights" but wanted to "break all the traditional ballroom hairstyle rules".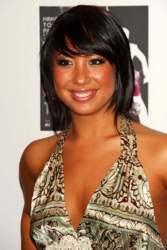 DailyCeleb.com - All Rights Reserved
The bubbly natural brunette explained "ballroom dancers more often than not slick their hair up and back into a bun or other updo that doesn't move when they dance". For her, strand movement is key when she dances. She wants her hair to move along with the rest of her body.
To give her hair an even more dramatic flair, it was actually dyed black for Dance With The Stars. Since the end of the show, which required Cheryl to live in LA for four months during filming, she has "let her still-fringe enhanced hair grow "from her chin to "just below her shoulders" and let her "natural brown hue" show through. Unsure whether she will again dye it "black" I mentioned that it really did give her an exotic look. She agreed and added it "make it look super shiny".
What's next for the dance diva? Cheryl was brimming with joy and excitement when she announced "I just found out that I was nominated for two Emmy awards for the choreography on Dancing With The Stars." She emphasized "it's such a tremendous honor to be nominated" that she is just "thrilled beyond words".
As for the future, she plans to do a lot of dancing. For years her "true core" has been dancing and that will "not change anytime soon". In fact, she believes "her greatest achieves in dancing are still on the horizon of the future". Although it hasn't been definitely decided whether she will dance on next season's show, she "is open to the possibility".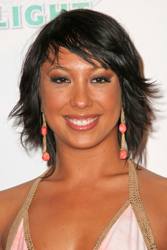 DailyCeleb.com All Rights Reserved
Yes, of course she is pursuing other opportunities that are popping up as a result of Dancing including acting (she recently appeared on Fox's The Suite Life Of Zack and Cody), which is "totally out of her dancing element" but a definite "worthwhile experience to continue to explore".
Although she originally moved to LA from New York specifically for the Dance show, she has fallen in love with the city and plans to stay, at least for the current time.
A native Californian, she was raised in the San Franciso area where her extremely proud mom is actively involved in running nursing related ventures.
She also dreams of "having her own dancing show" because so many people really do "enjoy dancing and want to learn more about it".
Since her original cut was crafted by her dance coach, I figured that she had since located a Los Angeles hairdresser to maintain her signature hairstyles. Yes, she confirmed, her dancing partner Drew and his wife go to Chris at Je-Jeune Salon and hooked Cheryl up. Of course a style with so many layers and pieces requires regular visits for maintenance cuts and Cheryl reported Chris "does a great job".
Note: Chris can be contacted at Je-Jeune Salon located at 1610 N. Las Palmas Avenue, Los Angeles, California 90028-6112, 323-464-1384.
Steal This Look - Step By Step
Cheryl pointed out that because she has such a superb haircut, it literally took her "two minutes to do my hair before the Dancing With The Stars shows".
No surprise there, a great haircut is always the basis for styling success or challenges and Cheryl has a precision cut.
Cheryl noted she "put a lot of product into it before the show - usually mousse - and then she would tousle it to give it the full and messy look".
She also commented "she didn't like her hair too soft for a performance, so she would often skip a day of shampoo to make sure her hair had more body, volume and oomph. She likes it to be full and sexy when she is performing.
The celebrity hairdresser pointed out the importance of starting out with the right haircut. Either print out photos of Robert or similar cuts that achieve the same look.
Work with your favorite hairdresser or barber to craft a haircut that works with your face shape, hair type, texture and current condition.
This style might not work as well for some hair textures as others. Be willing to modify the look to work for your own hair and features.
1. Shampoo hair with a product designed for your hair type, texture and current condition.
2. Use a rinse-out conditioner if your hair is dry or damaged. Hair that is fine, thinning or straight should consider a leave-in conditioner as optional.
DailyCeleb.com All Rights Reserved
3. Finish with a cool/cold clear rinse.
4. Towel blot hair and detangle. Apply Dream Cream or a similar product to the palms of your hands. Distribute through your hair with your fingers making sure that all the strands are covered and tousle strands as you apply the Dream Cream.
5. Air-dry for a natural tousled look.
If you prefer more volume, apply a volume enhancing product to the roots and blow dry the roots, tousling the hair with your fingers as you dry. Finish with an optional spritz of hairspray.
More Finished Look
For an more finished look apply a gel or mousse and blow dry hair completely. For more lift at the forehead apply a volume enhancing product right at the roots. Finish with hairspray.
Summary
As we were winding up our phone conversation I felt like I was ending a conversation with a lovely friend. Cheryl is ever gracious and sweet and truly thankful for her fans, her family and everyone that has helped her with her career. In fact, I asked her if she had any closing comments to which she said " please print a very special thank you to my wonderful family, friends and my fabulous fans who have supported me every step along the way with my dancing journey. Without them I would not have the fantastic opportunity to inspire people everywhere to embrace dancing and enjoy it.
Send this page to a friend..
If you want to talk more about this or other hair care articles on HairBoutique.com or anywhere else, please post a message on HairBoutique.com's Hair Talk Forums.