Thursday, December 18th, 2014
Introduction
Bazinga! When the adorable Penny (Kaley Cuoco-Sweeting) of The Big Bang Theory made her first appearance on Season 8 of the most-watched series on all of television, her hairstyle was dramatically cut in a very short layered crop.
The Big Bang Theory narrowly beat out NCIS to be named the most-watched series in all of television.
Bang averaged 23.1 million viewers for the season ending May 24, 2014, while NCIS averaged 22.4 million.
Kaley Cuoco's Hair HowTo
Fans wanted all of Kaley Cuoco's hair howto secrets ranging from why she ditched her trademark extensions, why she went with a very short cropped hair cut and how to copy her styling secrets. Kaley told the media she removed her long extensions and went with a short layered crop for a movie she filmed during the Summer break from Big Bang. In several post chop interviews, the actress confessed to loving her new shorter hair.
Penny's Short Haircut For Season 8
Kaley's hair created a major sensation not only with fans, but with Sheldon (Jim Parsons) who commented about Penny's new very short haircut as part of the season premiere.
Sheldon had left on unknown travels at the end of Season 7 because he was upset about too many changes in his life.
Imagine his unhappiness at finding Penny's hair changed when he returned. As Season 8 began, it was revealed Penny has permanently abandoned her job at The Cheesecake Factory along with her long held acting dreams.
She accepted a job as a pharmaceutical rep at Bernadette's company while planning her upcoming wedding to Leonard. A short cropped hairstyle is well-suited to Penny's more professional career.
A Variety Of Short Hair Styling Options
Although fans have reacted to Kaley's short hair crop with both love and hate, she's been showcasing a variety of styling options which range from sassy and sexy, to professional All of the short hair styles Penny has been wearing are well-suited to the character's evolution on the show.
Showcasing A Variety Of Headbands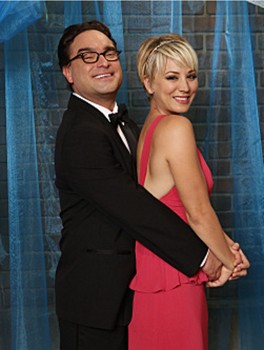 Penny The Big Bang Theory Sonja Flemming/CBS ©2014 All Rights Reserved
Recently Penny and Leonard attended an adult Prom. The beautiful blonde character's hair was tousled and showcased an elegant crystal embellished headband.
Penny also attended a company related event with her boss played by the amazing Stephen Root. She again wore a beautiful headband appropriate for her attire.
Kaley Cuoco's Short Hair Tips
Not everyone has hair which is well suited for Kaley's short crop. It's most compatible for fine to medium thick hair which is naturally straight or has just a slight bend. The cut can be worn by those with naturally textured hair although the fringe might not be appropriate for naturally curly, wavy, kinky or coily tresses. Kaley's short crop was cut with a longer layered fringe, tapered sides and graduated layers from the crown to the nape of the neck.
While the short haircut is basically wash and wear, it does require trims every 6-8 weeks to maintain the desired shape and length.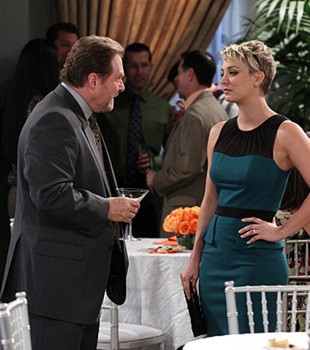 The Big Bang Theory Sonja Flemming/CBS ©2014 All Rights Reserved
Kaley has medium thick tresses which she wears long and lush with just a slight curl, wave or bend around the perimeter of her hairstyle. If your hair is naturally curly, kinky or wavy and you wish to exactly copy Kaley's straight hairstyle, you may need to temporarily straighten it with a brush, blow dryer and/or iron. Optionally you may wish to investigate a relaxer, Keratin smoothing or straightening treatment.
To copy the same haircut and hair color you'll need to take the following steps:
Print out several large images of Kaley's hair so you can show it to your professional hair colorist.
When appropriate, have your hair colored to match Kaley's buttery blonde hues.
Note: It's important to keep in mind that depending upon your natural base color, you may or may not be able to get a perfect hair color match.
Kaley Cuoco Short Pixie – How To Style
It's important to utilize professional hair services whenever possible. Kaley's hair color and cut is always spectacular and obviously of the highest quality. Follow the steps below to re-create Kaley Cuoco-Sweeting's gorgeous hairstyle.
1. Wet wash detangled hair in lukewarm according to your normal routine (Shampoo, Diluted Formula, Water Only, Conditioner Only).
For added fullness use a volumizing shampoo.
2. Rinse well and optionally you can apply rinse-out conditioner appropriate to your hair length, type, texture and condition.
Unless required due to damage, avoid applying conditioner right at the roots. Detangle with your fingers.
3. Rinse out all the conditioner. Finish with a cool or cold water rinse which adds natural shine and closes the hair cuticle.
4. Towel blot to remove excess moisture. Styling products work best when applied to damp, but not dripping, strands.
5. Apply styling cocktail including a volumizing product to pump up roots.
If your hair tends to frizz include an anti-defrisant product to the cocktail. Detangle from ends to roots.
6. Create desired part with tail comb. 7. To add volume to the roots, pull individual 1-2″ strands up with your fingers. 8. Use a blow dryer and direct air flow from the ends up to the roots. This will build in more fullness. 9. Smooth bangs using a flat brush and a blow dryer. Wrap it left to right using the curvature of your head.
Note: Once hair is 100% dry, if you wish for a sleeker look, use a small barrel flat iron and run it through individual sections.
9. Finish with a spritz of shine enhancing hairspray. If you prefer, apply a drop or two of shine serum to the palms of your hands, massage them together and then lightly gloss them over the top of your hair.
Summary – Hair HowTo
Kaley Cuoco-Sweeting is famous for her gorgeous silky white chocolate blonde strands which she recently chopped off to a short tapered croppy hairstyle. The newlywed star of The Big Bang Theory on CBS has easy access to all the best professional and on-set hairstylists in Hollywood. They keep her recently chopped tresses always looking fantastic, both on and off screen. If you start with the right short cut and color and follow the hair howto tips above, anyone can copy Kaley's short sassy hairstyle.
Original Publication Date: 12/17/2014 – Revised Publication Date: 12/17/2014
Send this page to a friend..
If you want to talk more about this or other hair care articles on HairBoutique.com or anywhere else, please post a message on HairBoutique.com's Hair Talk Forums.