August 10th, 2001 by Karen Shelton
Introduction
Before the invention of the modern hair dryer, known as blow dryers, which revolutionized the hair care industry, anyone that wanted to speed dry their tresses had to sit under the old fashioned hood or bonnet heating devices.
The blow dryers of today are a far cry from the very first portable dryers that evolved basically from a vacuum cleaner so many years ago.
As the blow dryer industry has blossomed, so too have the available models and dizzying array of special features. Today's blow dryers come in a mind blowing assortment of sizes, shapes, colors and prices.
In some ways, buying a blow dryer can be as complicated as selecting a car.
Basic Facts About Blow Dryers
Consider the following facts when selecting a new blow dryer:
1. One size blow dryer does not fit all. 2. Models are designed specifically for either professionals or consumers. 3. You generally get exactly what you pay for. 4. There are no such things as "the best" blow dryers. The reality is that what is best for one person may be the worst for another. 5. The majority of all blow dryers, both professional and consumer are imported. Just like some car models, the same engine will be packaged in different casings with different options and different price tags. 6. Blow dryer models should be selected to match the best fit for your hair type, texture, styling needs and lifestyle. Do your research before you buy. 7. Prices on blow dryer models have fallen over the years allowing consumers to select more than one dryer for different needs such as home use versus travel. 8. Only purchase blow dryers with tons of special features (cold button, multiple heat settings, diffuser attachments, concentrators, etc.,) if you plan to use all of the features.
One Size Blow Dryer Does Not Fit All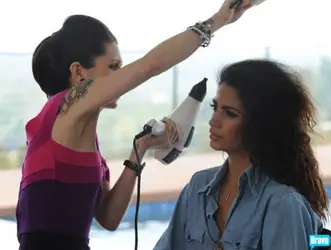 Bravo/TV All Rights Reserved
Hairboutique.com's Marketplace has been carrying consumer based blow dryers for over ten years.
As a result, I have personally poured over stacks of catalogs as well as trying out literally hundreds of models. Blow dryer technology continues to change and evolve at a rapid rate.
Over the years blow dryers have morphed through new technologies that include ceramic, ionic and turbo charging. The traditional hair dryers of even ten years ago, are long gone.
If you are looking for a blow dryer with hurricane wind speeds and heat wave temperatures, you will may have to look long and hard.
As each new drying technology is introduced, the old standby models have faded away.
Professional Versus Consumer
Most consumers do not need to invest in a professional model hairdryer unless they have very unique blow drying needs or plan to have at least 8-10 people use the dryer every day for long periods of time.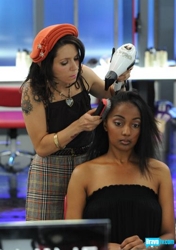 Bravo/TV All Rights Reserved
Licensed hairdressers use their professional models all day long on anywhere from 10 to 15 clients. They also push the envelope on their dryers, switching them on and off and changing temperatures from hot to cold and back again.
Professional hair dryers are designed for intense wear and tear. As a result, the price tag reflects this fact.
If you're the type of person who names your inanimate objects and hates changes, you may want to invest in a professional model and plan on keeping it for many years to come. The downside to this plan is that you will miss out on any new advances in the blow drying industry, which changes rapidly.
You Get What You Pay For
Remember that the traditional companies like Conair and Remington offer warranties on all of their blow dryers. The cheaper, no name models available at discounters may or may not offer warranties of any kind.
Check this fact our carefully. While you might save $5 or $10 bucks initially, in the long run, you could lose if your new dryer conks out after just a few months.
Conair and Remington, depending on the model, offer anywhere from 6 months to 2 years for their different units. Always check the outside of the box before you buy to make sure a warranty is included.
The Best Blow Dryer Is A Fallacy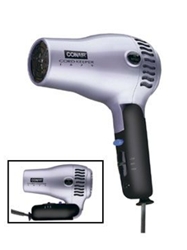 HairBoutique.com All Rights Reserved
Because the same identical blow dryer engine can be packaged by competitive companies, many blow dryers appear to be very similar. This makes it less clear for consumers to which model or models are the "best".
In reality, the very best blow dryer is the model that provides the best features for your hair type, texture, length and styling needs.
Not everyone needs a blow dryer with all the bells and whistles. Someone with medium hair that utilizes their blow dryer to style their hair may not benefit as much from ionic features as someone that needs help with frizzy or damaged tresses.
Whether you buy a striped down model or one that is fully loaded, the key is to buy based on your individual hair care and styling needs.
Special Features - Buy Only What You Need
Heat settings vary widely. For most consumers a hair dryer that puts out 1500 to 1875 watts is fine.
The length of the cords on the dryers can range from very short to very long. Most consumer experts recommend that you select a dryer with a cord that ranges from 6-9 feet. Of course if you already have an over abundance of extension cords you can make do with a short cord.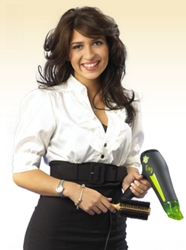 Empire Schools All Rights Reserved
Some models come with the automatic cord keeper which allows you, with the push of a button, to instantly snap the cord up into the handle of the dryer.
This is a great feature for neat freaks or for pet or baby proofing.
Attachments usually work best with designed for the specific hair dryer. While it is possible to buy add-on pieces, there is always the risk that the add-on will not fit as snugly as the model designed specifically for one of the blow dryers.
Weight and portability is key. Some blow dryers are very light while others are much heavier. Depending on how long you spend anchored to your blow dryer, you should consider the ease of lighting and waving of the unit.
If you have naturally curly or wavy hair that tends to frizz, make sure your blow dryer has the appropriate finger or short diffuser attachments. You might wish to invest in both.
Majority Are Imported
The majority of all blow dryers, both professional and consumer are imported into the United States from other countries such as Italy, China, Southeast Asia and South America.
Just like some car models, the same engine will be packaged in different casings with different options and different price tags.
Buy For Your Hair Type, Texture & Styling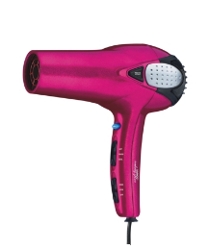 HairBoutique.com All Rights Reserved
Get the proper motor strength for your hair. Thick or long hair requires a dryer with enough power to get the job done in a reasonable amount of time. 1500 watts is sufficient.
Less strength is needed if your hair is thin, fine or just dries fast.
When I work I use high heat to finish the task as quickly as possible, unless the hair is very fragile, then I use medium or low heat.
Prices Have Fallen Over The Years
Blow dryer prices have fallen over the years so take advantage and select more than one dryer for different needs such as home use versus travel.
Wide Range Of Conair Blow Dryer Options
There are a wide range of highly rated Conair dryers which include:
The Infiniti Cord-Keeper™ by Conair™ is a great option! Tourmaline Ceramic™ technology fights frizz to leave hair lusciously smooth, and at a push of a button, the cord retracts right back into the handle!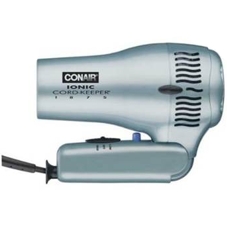 HairBoutique.com All Rights Reserved
- 1875 Watts - Cool Shot - High Torque DC Motor - Heat/2 Speed Settings - Removable Filter - Retractable Line Cord - Concentrato - Diffuser
The Conair 169RL with a folding handle and a retractable cord. It the next generation of the Cord-Keeper and contains the following features:
- Mid Size - 1875 Watts of Drying Power - Retractable Line Cord with Push Button Control - Cool Shot Button Locks Style in Place - 2 Heat/Speed Settings - Dual Voltage for Worldwide Travel - Folding Handle - UL Listed - Two Year Limited Warranty
Feature Creep
If you use your blow dryer every day and depend on it to be a primary source of styling assistance, you may wish to purchase a fully loaded model which includes all the latest technologies from ions and ceramic heat flow to a turbo charging option.
One thing you can count on it is that blow dryer technology will continue to advance with new features constantly being added.
- Revised Publication Date: 11/24/11
If you want to talk more about this or other hair care articles on HairBoutique.com or anywhere else, please post a message on HairBoutique.com's Hair Talk Forums.