Last updated on March 7th, 2004 by Karen Shelton
Introduction
The color of anyone's natural hair is directly linked to the type and amount of pigment that is contained in the hair's cortex. The typical pigments include melanin which may be either a black or brown and pheomelanin which is a type of reddish/yellow in hue.
When Melanin and Pheomelanin are mixed together within the cortex, they product a combination of colors that can cover an infinite range.
Chemical removal of the Melanin and Pheomelanin pigments is known as bleaching. The process of changing the natural pigments to completely colorless compounds inside the hair shaft is what bleaching accomplishes.
The bleaching process takes place by adding oxygen to the hair pigment and thus a chemical reaction occurs which is defined as oxidation.
Black and brown pigments are more easily bleached or oxidized than red or yellow pigments. This is why people with a dominant red Pheomelanin pigment will create orange hair if they do not allow the bleaching process of oxidation to proceed completely through all the levels.
Oxidation takes place in three unique stages:
1. Oxidation of the black and brown pigments resulting in reddish and yellowish tones.
2. Oxidation of red pigments leaving a yellow tone.
3. Oxidation of the yellow pigment resulting in clear or white tone.
The actual oxygen that is required for successful bleaching is obtained from salon quality hydrogen peroxide. Hydrogen peroxide is a known oxidizing agent.
Note: Do not use standard drugstore hydrogen peroxide to attempt bleaching as the results will not be the same as using a salon quality formulation.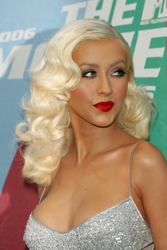 DailyCeleb.com - All Rights Reserved
Added to the hydrogen peroxide is often ammonium hydroxide which acts as a catalyst to speed up the release of the oxygen. The ammonium hydroxide speeds up the reaction time of the hydrogen peroxide, but remains unchanged itself at the end of the reaction.
When available for salon use, hydrogen peroxide, which is a colorless liquid, is available in various volume strengths that range from 10 volume to 100 volume. The volume strength is the actual number of parts of free oxygen obtainable from one part of the hydrogen peroxide.
The strength of hydrogen peroxide may also be expressed as the percentage or pure hydrogen peroxide in the solution. The percentage strength corresponding to other volume strengths are calculated by proportion.
The volume strength is measured by a special type of hydrometer that is called a peroxide. This is floated in hydrogen peroxide and the volume strength is read directly on the scale at surface level.
30 volume is recommended for hair that is resistant to color or bleaching. It is also recommended for those whose color is blonde to light brown or for those who already have processed or damaged hair.
The 40 volume is for those whose hair is very dark or very resistant to color or bleach of any kind.
If you want to talk more about this or other hair care articles on HairBoutique.com or anywhere else, please post a message on HairBoutique.com's Hair Talk Forums.