May 12th, 2004 by Karen Shelton
Introduction
The dazzling Simpson sister duo was a feast for the celebrity lenses at the recent Vivendi Universal Gales E3 Kickoff Party.
Putting their gorgeous Ken Paves coiffed heads together, sisters Jessica and Ashlee, or Jess and Ash, as they call each other, sizzled as they provided some high-spirited mugging for the frenzied Papparrazi.
The party sightings of the famous sibs comes right on the heels of their recent April 26th joint appearance at Hollywood's Knitting Factory for the TSM show where Ashlee opened the show and flexed her vocal chops with six songs.
Also in attendance at the show was Simpson parents, Joe and Tina, and two completely different MTV camera crews.
Did I say two? Yes indeed. Not only was Jessica and hubby Nick being filmed by their Newylwed team but Ashlee's every move was chronicled by her own MTV reality crew for her new show debuting this summer.
Slated to air right after the new season of The Newylweds, Ashlee will share the reality of her life as a brand new shooting star destined to explode as a uber talented singer, dancer and actress.
Jessica has captivated the world with her impressive singing, dancing and acting skills. Her ability to laugh at herself while goofing off and falling down for the cameras has won over even the most hard hearted fan holdouts.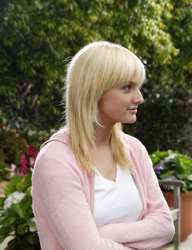 The WB All Rights Reserved
While big sis Jessica (July 10, 1980) has been busy wowing the world with her mega talents, Ashlee (October 3, 1984) has kicked the imposing shadow of her older sibling to the curb with her recent recurring role on The WB's 7th Heaven, the impending release of her first CD, titled Autobiography, and her busy solo appearance schedule.
A successful supporting part in last year's Rob Schneider "The Hot Chick" and guest spots on Malcolm In The Middle and Saved By The Bell lead to a successful tour on the major talk show circuits with chair stops at Jay Leno and The View.
Baby Sister Simpson is no slouch in the talent department. Although four years behind her big sis, Ashlee, got her first big break at age 11 when she became the youngest person to be accepted to the prestigious School of American Ballet.
At the tender age of 14 she turned her passion for movement into a gig as a dancer on Jessica's national tour.
That Special Bond Of Sisterhood
Jessica and Ashlee, together, are in the process of spinning an unstoppable web of sisterly success in the entertainment arena. Does that mean that they compete against each other? To the contrary. Both sisters are extremely close and very supportive of each other's careers.
The Simpson sisters can often be spotted in attendance at their sibling's performances to lend support and comfort. Ken has confirmed that Jessica and Ashlee would do anything for each other. Indeed, Ashlee has told the media more than once that Jessica "gets nervous" for Ashlee when she's performing because Jess wants the best for her baby sister.
(Image below courtesy of Ken Paves - Ken Paves with Ashlee Simpson - 2003 - all rights strictly reserved).

It has also been reported that when they are hanging out and bored, they may even engage in burping contests. Who wins? Maybe we will get a better glimpse this summer when Ashley unveils more of herself on MTV.
From a personality standpoint, Ken reported "they are both sisters are a lot of fun and each is a joy to work with".
While Ashlee tends to be high energy, open and friendly, Jessica, who is also loving and kind to her fans, can sometimes be a little standoffish, which is attributed to her natural shyness.
From Vanilla To Chocolate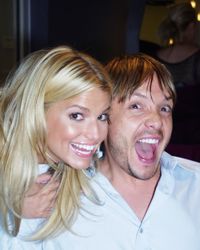 HairBoutique.com All Rights Reserved
Ken Paves, who has coiffed the Simpson sisters since Jessica was barely 17 and Ashlee was 13, was on hand to do their hair honors for the Vivendi event. He also confirmed he had created his signature Paves hair styles for "his girls" for their "current Pizza Hut Buffalo Chicken commercial and for their new Icebreakers ad".
In fact, on the very day that Ashlee traded in her vanilla blonde palette for deep sultry chocolate tresses, I heard the sizzling scoop directly from Ken.
As he chatted with me about a myriad of things he suddenly reported the hot Ashlee brunette scoop. Like a proud parent, Ken was bursting with excitement over the fact that Ashlee had sauntered into the nearest drugstore, picked out a permanent home hair color kit and did the color deed all by herself.
And no, don't bombard me with emails asking the brand of brunette mix because it will forever remain Ashlee's little secret.
So what was behind Ashlee's sudden splurge with the chocolate hair dye? Was it driven by some need to make a statement about her own identity? According to an article in the May 17th US Magazine Ashlee's song "Shadow is about finding my own identity." So was the reason for the sudden swift from light to dark? "Not really" according to Ken. The hair maestro told me, "Ashlee, like Jessica, is very experimental with her tresses and she goes with what feels good and hits her in her gut". Her current color transformation from blonde to brunette "just felt right" to the free spirited Ashlee at this stage in her life and her career".
Ken reminded me that "neither Jessica nor Ashlee are naturally blonde" and both have "medium to dark dishwater, dirty blondes". Both sisters also share fine textures along with a wave gene, although Jessica's pattern is slight while Ashlee "has a lot of wave to her hair". And even though Jessica and Ashlee's hair textures are fine, they both have "a lot of hair" with Ashlee being blessed "with tons and tons and tons of hair".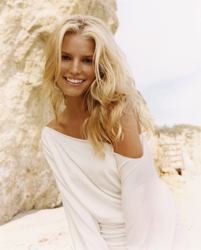 Courtesy of Columbia Records/Tony Duran & The WB All Rights Reserved
I questioned Ken about the fact that a few years ago during the time that Jessica was ironically being lumped in with all the other blonde-at-the-time popsters like Britney, Christina and Mandy, she suddenly went brunette to make her own statement of pop independence.
Ken confirmed that Jessica did briefly play on the brunette team but that "it is unlikely that she will ever be brown again since Jessica loves being blonde".
However, according to Ken, don't expect Ashlee to be permanently lightening up anytime soon, well at least with her own locks.
Not only did Ken report that Ashlee adores her sultry, edgy new look, it appears that her hue is a smash hit across the boards with both her own and her 7th Heaven TV families. Another fan of her sizzling urban look is Ashlee's current guy, the sizzling hot songwriter/singer Ryan Cabrera.
And yes, I have actually had honor of meeting, interviewing and watching Ryan perform. He is another star in the making.
Uptown & Downtown Girls
Since Ken Paves is has been working with Jessica and Ashlee since the beginning of their careers, he knows better than anyone what the sisters are really about, including the secret 411 on their fashion, hair and style likes and dislikes.
Ken confirmed that while Jess and Ash are extremely close and share some similar personality traits, opinions and attitudes, Ken outlined the differences by classifying Jessica as "the absolute Glamour Girl" and Ashlee as "a classic Glam Rock Girl".
We already know from the MTV "isn't this cute" Newylweds epic that Jessica and her mom Tina love to shop. Not surprisingly, so does Ashlee. The difference? Ken explained that Jessica is an "Uptown Girl" who might be found browsing for those cute designs in the most fashionable couture shops while Ashlee is a "Downtown Girl" who would be found wandering through eclectic Vintage shops.
Ken defined Ashlee as "London meets Soho" while Jessica could be classified as Paris meets 5th Avenue. Ken described Ashlee's current brunette looks "as a cross between a Joan Jett and a Chrissy Hynes" Ken has, in the past, described blonde Jessica as a cross between a young Bridgette Bardot and a Laugh-In's Goldie Hawn.
Their different fashion styles spill over into their unique musical styles.
Although I adore Jessica's magical pop style that centers around beautiful ballads, after listening to a cut of her new Pieces Of Me single, I found Ashlee's smokey voice and contemporary style reminded me very much of Melissa Ethridge or Patty Smyth, two of my own personal favorites. This girl has the chops and she is going to be a huge star in her own right. Mark my words.
Future Hues For The Sisters?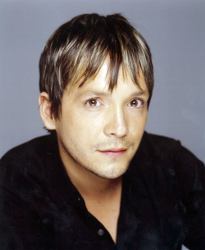 Courtesy of Ken Paves All Rights Reserved
So while Ken promised "Jessica will continue to be the Beautiful Blonde It Girl" covered in couture and gems, Ashlee is committed to long term channeling of Brilliant Brunette with sass.
Both sisters adore experimenting with a dizzying array of extensions, wigs and alternative styles. As I reported previously, Ken used bang extensions to help Ashlee instantly ditch a previous fringe.
Now she's back with bangs but Ken confided "she is currently wearing extensions to giver her super choppy style more length and softness".
Whether she is wearing bangs or not, there is no denying that Ashlee shares the Simpson "big beautiful eyes" genes. The combination of the darker hues and the choppy fringe of hair flirting across her forehead makes her eyes totally pop.
Officially One Of "Ken's Girls"
Ken confided that he recently did a photo shot with Ashlee where he coiffed the new brunette babe in a series of 1960s classic looks with the help of short wigs. According to Ken "Ashlee looked amazing" and will definitely blow everyone away. Not surprising since Ashlee is quickly becoming a major force.
In a truly touching gesture, Ken recently presented Ashlee with a special gift of a Paves designed and custom coifed platinum wig created specifically for Ashlee.
Summary
Ken explained to me that when he gives "one of his girls" as he calls his many celebrity clients, a wig, it means that they are "one of his girls forever". And who might be some of Ken's girls you ask? The Paves Girls include the likes of Jessica, Carmen Electra, Christina Applegate, Pamela Anderson, Celine Dion, Jennifer Lopez and Marley Shelton, to name just a few of Ken's beloved girls.
Now that Ashlee has received the official Pave's wig trophy, she will be forever part of the special group of girls that Ken dedicates his creative heart to.
If you want to talk more about this or other hair care articles on HairBoutique.com or anywhere else, please post a message on HairBoutique.com's Hair Talk Forums.