March 22nd, 2002 by Karen Shelton
Introduction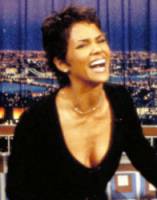 Celebrity bride Halle Berry embraced her individuality, style and creativity by wearing her short layered hair in a shimmering halo of soft messy curls for her recent fairytale wedding. (Pictured: Halle Berry on the Conan O'Brien Show -- January 7, 2002-- NBC Photo: Dana Edelson)
The key to creating beautiful, bridal styles for short hair is being willing to embrace your hair's best features. Whether you have straight, wavy or curly hair, design your dream style around the tresses you were blessed with. Don't fight your strands, enhance them.
Avoid Brand New Dos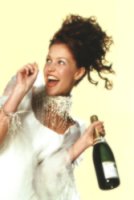 Hair Master Bob Steele of Bob Steele Salon in Atlanta, Georgia understands the unique hair concerns that any bride faces before her big day. Bob cautions brides visiting his salon "to avoid the desire to adopt a brand new hairstyle that takes them too far away from their normal look".
The best bet, according to Bob, "is for a bride to strive to achieve a more polished, finished look to her everyday style." Bob noted that "adding sparkly pearl or rhinestone gems or beautiful flowers can instantly dress up just about any bridal hairstyle of any length."
Walk on the bridal hair wild side and you may live to regret it. Remember that whatever style you wear down the aisle may haunt you in photos for years to come. If you can't quiet an itch for a brand new do Bob suggests "that you wear the new style for several weeks before your nuptials." This will guarantee "that you feel comfortable in the new hair design and there are no last minute hair shocks on your wedding day."
Faux Updos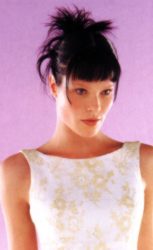 Bob wants all brides to "remember that they are creating an entire look that includes their hair. Bob recommends that you "focus on creating a style that allows you to be a beautiful bride rather than having a hairstyle that dominates the day."
If you have your heart set on an updo, a version may be possible, even with short hair. Bob reported on the creation of "a faux updo for a bridal client with hair that was only 3 inches long". Carefully placed "tiny knots were created from the nape of the neck up towards the crown and then fanned out to give the bride the vision of a twisted updo". While this type of style may be possible even with short hair, don't forget to try on the style several weeks before the wedding to make sure you like the look longer than in the salon.
Ride Your Waves To The Magnificent Mane Event
If you are blessed with natural waves you have one of the most sought-after short hair looks for 2002. Soft, sensual "barely there" waves are the desired shape to create.
Enhance your existing mass of super soft waves by using old fashioned rag rollers to give form and definition. Wind small sections of damp hair onto strips of rags or other soft fabric and knot at the scalp to secure. Leave the hair to set overnight for longer lasting results. If you prefer, sit under a hood dryer for a quicker rag set.
If rag rollers are not your forte use jumbo curlers or rollers specifically designed for creating waves like Conair's Wavemaker Hot Curlers. It's a good idea to blow-dry your hair perfectly smooth before you create waves with either hot curlers or waving irons. This step ensures neater results and your hair will be easier to style. Remember that the more time and patience you spend winding the hair onto a hot roller or waving iron enhances the ultimate results.
Soft Romantic Curls Add Instant Elegance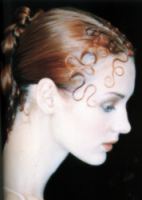 Simple yet shiny soft curls add instant glamour. Create a spectacular contrast like celebrity bride Anne Heche by mixing straight strands at the crown with soft curls nestled around the perimeter of the style.
Naturally curly girls can celebrate the beauty of their tresses with a dollop of mousse, a finger diffuser and a curling iron to form perfect ringlets or tiny spiral curls all over the head.
Whether you decide to curl your entire head or mix it up, romantic curls are easy to create on all hair types with hot rollers or curling irons. Remember that the smaller the barrel of the iron, the tighter the curls you will create. Always let your curls completely cool. Opt for finger styling to avoid frizz inducing brushes or combs. Finish any curly girl look with a tiny drop of serum for spectacular shine and hair spray for all day movement and hold.
Attach real or faux diamond hair snaps strategically around the perimeter of the curls for megawatt sparkle. Experiment with a different look by strategically placing an Austrian Crystal encrusted headband at the crown, letting your curls softly cascade over the top.
Messy Is Dressy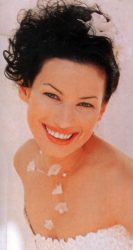 Textured styles offer simple yet elegant options. The key to messed up tresses is starting with the right cut. Aim for a razor sliced shape that has edgy layers.
Styling texturized hair is a snap. Use the layers to experiment with lots of different looks. Blow dry hair using a finger diffuser to build fullness and lift at the roots. Apply a little styling paste to your fingers and use it to twist small sections of hair around the edges.
If you prefer a more natural look let hair air dry, emulsify wax in the palms of your hands and then lightly rake through the lengths. Use your fingers to tease and mold the hair into place.
Soft, Sleek And Polished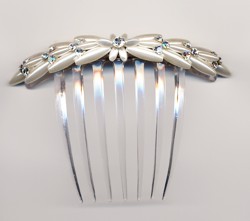 A retro asymmetric shape complete with sultry bangs that fall Veronica Lake style over one eye will add an air of mystery and sophistication. If you prefer full vision clip your luscious long strands back with a jeweled hair clip, comb or barrette. For added dazzle add a rhinestone encrusted headband.
Comb one side of the hair behind the ears for a sleek style. Give your style instant glamour by popping in an elegant silk flower ala Sarah Jessica Parker at the 2002 Golden Globes. Accentuate a super sleek finish by smoothing gel over the surface of hair.
Let Accents Be Your Guide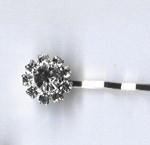 Braid tiny sections of your hair for subtle accents. Play with the hottest bridal hair accessories for 2002 including rhinestone comb tiaras, Austrian crystal barrettes and faux diamond hairpins. For a special look of elegance invest in one of the new rhinestone combs with white marabou feathers.
Conclusion
The key to creating any dressy short bridal styles is to start with the right cut crafted by a skilled stylist that is compatible for your hair type and lifestyle. Styles with interesting depth and movement will make a soft but classic statement for your special day.
If you want to talk more about this or other hair care articles on HairBoutique.com or anywhere else, please post a message on HairBoutique.com's Hair Talk Forums.