April 15th, 2006 by Karen Shelton
Introduction
Cynthia Basinet (Bas-in-nay), also known to her friends and loved ones as "c" started her career as a very successful fashion model in San Francisco.
She eventually made her way into the world of International modeling. She spent time in Paris, London and Milan.
She eventually returned to Los Angeles where she used her beauty and modeling success to step up into the world of music. She appeared in music videos for Roy Orbison and The Babys.
She also created a unique entertainment medium that allowed millions of people to download her music. She created a famous rendition of "Santa Baby" and has a CD "For Your Love" which can be purchased via Amazon and over the web.
Cynthia continues to model, sing, perform and make lots of public appearances on various Hollywood and International runways. She is famous not only for her spectacular long legs, but her gorgeous natural red hair, porcelain skin and stunning eyes. She is blessed with a sprinkling of natural freckles.
Besides her major career success in modeling, singing, acting and performing, Cynthia has been active in raising awareness for refugees in camps in Western Sahara.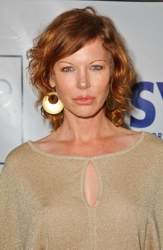 DailyCeleb.com All Rights Reserved
The beautiful redhead, depending on the angle, appears to have an oval shaped face. Historically she keeps her tresses shorter in length. At times she will actually let her hair touch the tops of her shoulders, but generally her hair is to her chin. Although she sometimes wears her hair pulled off her face into a short twisted style, she more often is photographed with a side swept fringe.
Cynthia's various short hairstyles can best be described as short shags with graduated layers from the back of her crown down towards the nape of her neck. Her sides also have the sassy tousled look that she can achieve from finger arranging.
It appears that her short shaggy hairstyle has been created with a scissors and/or a cutting shears but it does not appear to have the wispiness you would expect with a razor cut.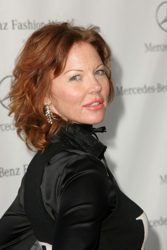 DailyCeleb.com All Rights Reserved
A variety of styling products could be utilized to easy create this sexy style. Shampoo hair with product designed for hair type, texture and condition.
If your hair is naturally red or is colored red, consider using a shampoo that will enhance and protect the delicate hue. Use a rinse out conditioner if your hair is dry or performs better with a good rinse-out product.
Towel blot and then use a combination of leave-in conditioner, styling mousse, gel or glaze to give hair silky shine and movement.
Use a long finger diffuser to create soft natural curls. Or if hair has natural wave, scrunch to create the tousled curl look. When hair is 100% dry, use a curling iron or hot rollers to touch up the curls. Finish with a spritz of shine spray or use a few drops of shine pomade or product to add shimmer. Add a light blast of hairspray and you are ready to play.
Summary
Former Ford model, Cynthia Basinet is a talented performer and big hearted humanitarian. Her songs are sultry, sensuous and great listening.
Stop by and Cynthia's site on the Web at" www.cynthiabasinet.com. All of the songs from her CD "For Your Love_ can be legally downloaded via links on her site. You can also buy her fabulous CD through Amazon.com.
Social Media Network Information
Please follow me on Twitter at: http://Twitter.com/HairBoutique. I look forward to meeting new people
from all walks of Twitter and learning from their Tweets. Visit us at Hairboutique.com located at: http://www.HairBoutique.com, on Facebook, MySpace and YouTube. We would love it if you would Friend us or Favorite us.
Thank you for visiting us at The HairBoutique Blog and for leaving your comments. They are very much appreciated. We apologize in advance but must remove any direct advertisements or solicitations.
If you want to talk more about this or other hair care articles on HairBoutique.com or anywhere else, please post a message on HairBoutique.com's Hair Talk Forums.