June 7th, 2011 by Karen Shelton
Introduction
Selena Gomez is almost as famous for her long lush naturally wavy hair as she is for famous boyfriend Justin Bieber who's no slouch in the hair department.
Selena who often works with celebrity hairstylist Jamal Hammadi has has told the media in the past that he often likes to style Selena's hair with "length around her shoulders" since it really makes her gorgeous face stand out and look striking.
More Info: To see more of Selena's hairstyles visit her celebrity hairstyle gallery.
Hammadi also studies Selena's fashions before creating a hairstyle for the popular singer. Why? He wants to make sure he can balance her hair with the fashions.
Since Selena's hair has natural waves Hammadi likes to glam it up. Natural wavy hair offers so many options. It can be easily straightened to amp up the shimmer and shine or it can be worn with beachy waves or even curls.
Hammadi has told the media that Selena is very involved in selecting the hairstyles she likes.
The famous hairstylist told the media that "once I suggested we leave her hair down and make it Veronica Lake-ish, Selena was totally already pulling up pictures she picked out," Hammadi says. "Her photos showed sideswept hairstyles also, so there was nothing more to discuss! It was like we had studied the look together. I love when that happens."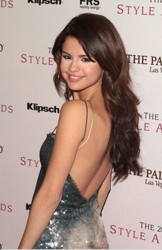 DC Media All Rights Reserved
How To Steal Selana's Beautiful Hair Waves
1. Detangle hair from ends to roots with a hair friendly comb or similar.
2. Cleanse hair in lukewarm with product designed for your hair type, texture, condition and length. Use desired cleansing methodology such as shampoo, low poo, no poo, Diluted Shampoo (DS), Conditioner Only (CO), water only (WO).
3. Rinse out shampoo or similar. Apply a rinse out conditioner from the bottom of the ear lobes to the ends. Detangle with fingers or smooth toothed comb or wide tooth comb.
4. After detangling rinse with a cool/cold water rinse.
5. Towel blot to remove excess moisture.
6. Apply styling leave-in cocktail consisting of leave-in conditioner, defrisant, styling mousse or similar. Hamadi uses his Shea Cream on Selena's hair because her hair is thick and naturally wavy. Select a product based on your hair type, texture, length and needs.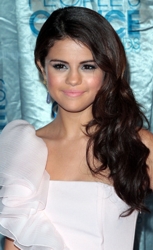 DC Media All Rights Reserved
7. Use a comb to separate hair into 4-6 sections in a pie-slice style pattern.
8. Blow dry hair with a 100% boar bristle round brush and a blow dryer. To enhance natural waves you may prefer to use a long finger diffuser set on a medium speed with a cool setting.
9. When hair is 100% dry use a 1" curling iron to create S-shaped waves (not ringlets) on individual 2" sections. After curling hair wrap around fingers and pin to the scalp to allow hair to set and completely cool.
10. After hair is completely cool and set unpin each individual curl. Bend over at the waist and lightly shake out the curls. Use fingers to tousle and arrange.
If you prefer you can also use a boar bristle style anti-static brush (Hamadi has a similar brush) to deconstruct curls and sweep them back over the shoulders or to one side.
11. Finish with a drop or two of shine serum massaged into the palms of the hands and lightly brushed up and over the top of the finished hairstyle.
Other Selena Gomez Hair Secrets
DC Media All Rights Reserved
Selena is a natural brunette. Although her stunning brunette base color has been highlighted with a slightly lighter milk chocolate, Selena has remained true to her natural hair hues. She looks gorgeous as a brunette.
Adding highlights and lowlights to add dimension, movement and shine is a great decision, especially if it means she resists the temptation to endanger her healthy hair by going to a drastic new color base.
Summary
When in doubt be sure to consult your hairstylist for any questions about styling products, concerns about the appearance of your hair, or other issues.
Social Media Network Information
Please follow me on Twitter at: http://Twitter.com/HairBoutique. I look forward to meeting new people
from all walks of Twitter and learning from their Tweets.
Visit us at Hairboutique.com located at: http://www.HairBoutique.com, on Facebook, MySpace and YouTube.
Thank you for visiting us at The HairBoutique Blog and for leaving your comments.
They are very much appreciated. We apologize in advance but must remove any direct advertisements or solicitations.
- Revised Date: 10/04/11
If you want to talk more about this or other hair care articles on HairBoutique.com or anywhere else, please post a message on HairBoutique.com's Hair Talk Forums.