December 18th, 2003 by Karen Shelton
Introduction
Every seasoned hairstylist who is talented at crafting fabulous updos, chignons and special party styles has their own little bag of secret styling tricks they consistently use.
If you would love to cheat when you create your own fabulous twists, chignons and sizzling updos check out some of the top tricks that all the hair pros from Robert Hallowell and uber celeb stylist Ken Paves to Paul Mitchell's Barbara Lhotan use.
Afterall, Robert, Ken and Barbara are often in situations where they have limited time to whip their celebrity clients into shape.
1. Do The Dirty Deed With Day Old Hair

Barbara Lhotan has worked on Broadway Babes, runway models and has done hundreds of updos for her best selling book, "5 Minute Updos" and 5 Minutes Fun Finishes.
Barbara believes the "secret to keeping an updo in place is to either work with hair which has accumulated some natural oils or is slathered with styling products.
Hair which is too clean will slip and slide, thus more difficult to control. Barbara, Robert Hallowell and Ken Paves agree properly dressed hair makes all the difference.
2. Pony up. Start With One Or More Ponytails
A ponytail serves as the perfect anchor for any twisted or updo style because it creates a foundation for the rest of the look. Some of the most spectacular twists and curly styles are actually built around a base of one of more firmly placed ponytails. (Image courtesy of Clairol - 2003- all rights reserved).
Any stylist that specializes in updos understands that the key to creating any complicated look is to divide and conquer. A series of well placed ponies provides uniformity and sleekness.
3. Take A Leap With A Bungee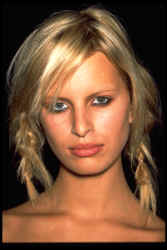 Celebrity stylist Ken Paves can be found creating a spectacular high volume Audrey Hepburnish beehive bun on singing sensation Jessica Simpson or creating a hot new chic twisted look for the likes of Kirsten Dunst or Carmen Electra.
(Image courtesy of Clairol - 2003- all rights reserved).
Although some stylists will cheat by creating the hidden ponies with Blax bands in the same color as the strands, Ken loves "to use Bungee bands".
Ken believes "Bungees are more flexible and easier to control because they have cool little hooks to allow for instant hair adjustments".
Whether you prefer to use Blax or Bungees to create your ponies, they will add another element of control to runaway tresses.
4. Form A Relationship With Your Pins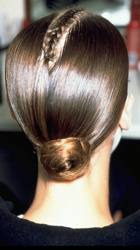 A great updo can instantly be lost with the use of the wrong types of pins. A hairpin is just a pin. Right? Absolutely not. According to Barbara Lhotan it is important to use pins that same color as the hair to camouflage their existence.
(Image courtesy of Clairol - 2003- all rights reserved).
Also, use the very smallest hairpins that are available because they provide a better hold and can be squeezed into all sorts of tight hair spots that the bigger pins can't fit. Spend the time in advance to find the small bobby pins that will grip and hold a stunning hair masterpiece in place all night long.
5. Avoid Tendrils Like The Plaque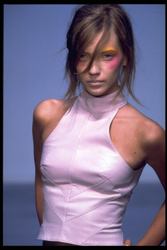 As Ken Paves put it, "no one should wear any sort of tightly curled side tendrils unless it is part of their religion". Not only do random side tendrils instantly date an updo, they are hard to control and often will droop, pulling the entire style down.
(Image courtesy of Clairol - 2003- all rights reserved).
Barbara Lhotan agrees that the days of the wispy tendrils have passed. Opt instead for a long sweep of fringe or a gorgeous roll of soft hair that loops up and over the sides of your head. Or pulls some soft pieces of hair out around the sides to give the style a chic messy cachet.
6. Do An Instant Switcheroo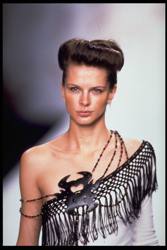 Some simple flicks of the wrist can instantly change an updo. If you want a softer loopier look, twist your updo strands in a counterclockwise direction and let them follow their own form. Pin into place.
(Image courtesy of Clairol - 2003- all rights reserved).
If you prefer a tighter twisted look, continue to twist the hair until the strands overlap into a tight formation. Anchor for a completely different style.
An updo can change in a second by altering the amount of hair that is selected for curls or loops and how tightly or softly the hair is twisted.
7. Go With The Flow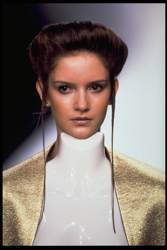 Although most updo experts have a general plan for the type of style that they will ultimately create, many go with the flow and let the type, texture and condition of the hair they are working with guide them towards the ultimate hair sculpture.
(Image courtesy of Clairol - 2003- all rights reserved).
Allow yourself a lot of rehearsal time to experiment with different shapes and looks. Have fun and let your hair guide you to the right look and style.
8. Extend Yourself

Many of the hottest celebrity twists, chignons and updos are carefully created with a series of add-on strands in a myriad of hues, lengths and textures. Updo experts like Ken Paves and Barbara Lhotan both understand how to completely craft a brand new look with the right addition of add-on hair.
If you envision yourself decked out in a high beehive creation, consider adding some pin-on strands or braids. Even better, recruit the help of a good friend or favorite stylist to add new strands for your ultimate dream-do.
8. Hair Spray Is Really The Glue

Once the updo of your dreams is finished, be sure to use the right type of hairspray to keep your strands in place. Celebrity Stylist Ken Paves swears by the Phytolaque sprays in

light and medium hold.
Ken often uses the soft hold non-aerosol Phytolaque Soie (Red Bottle) for a lighter hold on Jessica Simpson's fine strands. The Phytolaque Soie is also ideal for chemically processed hair. He uses the Phytolague (Blue Bottle) for medium hold for more texture and definition.
9. Layers And Layers
Many stylists layer their products. They will layer a styling gel over a defrisant, apply a good hairspray and finish with a shine serum. Don't be shy about mixing and matching products that will give your updo hold and structure along with shine and texture. Although less is more, judge your usage amounts by the needs of your hair.
10. Accessorize Wisely
Stylists understand that it is important to let all the layers of hairspray and shine serum dry before affixing that gorgeous beaded comb, crystal encrusted condor clips, hairsticks, barrettes or pins. The products, if they make contact with the accessories can leave a film on the crystals or other gems. Barbara Lhotan points out "any updo can be instantly transformed with the right bling bling". Ken Paves agrees, "the right spectacular accessory can look amazing".
Summary
Whether you decide on a sultry side slung array of curls, a sophisticated twisted chignon or an elegant bun, cheat just like a celebrity stylist.
Social Media Network Information
Please follow me on Twitter at: http://Twitter.com/HairBoutique. I look forward to meeting new people
from all walks of Twitter and learning from their Tweets. Visit us at Hairboutique.com located at: http://www.HairBoutique.com, on Facebook, MySpace and YouTube.
Thank you for visiting us at The HairBoutique Blog and for leaving your comments. They are very much appreciated. We apologize in advance but must remove any direct advertisements or solicitations.
If you want to talk more about this or other hair care articles on HairBoutique.com or anywhere else, please post a message on HairBoutique.com's Hair Talk Forums.