July 24th, 2006 by Karen Shelton
Introduction
I have been writing this article since 1999. This article has been "borrowed" all over the web but this is the original article that was first published long before the other bloggers and hair sites copied this basic prom hair planning concept.
You may find summaries of this article at various hair sites but known that the original info is still here at HairBoutique.com.
At the beginning of every Prom season, I spend several days talking to hair and beauty experts to get their take on what styles are most likely to be hot for the coming Prom year.
I also update photos and tips in this article so that it provides the most current information available.
I completely understand that your Prom is probably a day you have been dreaming about for a long time. You are going to want everything to be as perfect as possible from the top of your hair to the tips of your toes.
Trying to decide what is the best hairstyle for your big night and making it happen can be a real nail biter.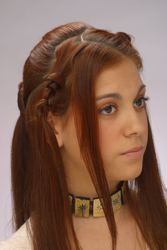 HairBoutique.com
The more time you have to plan for everything, the better it will be and the more options you will have. (Uneven Loop Braid style shown to the side from HairBoutique.com - all rights reserved)
How do you decide the best hairstyle for you? Listed below are some simple suggestions that you can follow: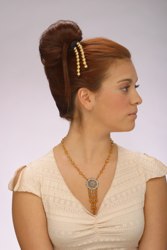 HairBoutique.com
No matter what type of hairstyle you select or whether you do your hair at home or not, it is important to take excellent care of your hair. Besides your gorgeous gown and jewelry your hair can either make or break your look.
Sit down and plan what hair care tasks you will need to complete before the big Prom day: Make up a Prom Hair To Do List and write down all the things you need to do to make your prom hair a success.
Tape your list on your mirror and check off the items as you accomplish them. Don't leave anything to chance.
Three Months Before The Prom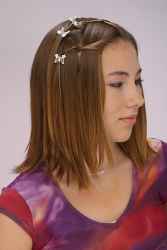 HairBoutique.com
While I don't advocate drastic hairdo changes such as a major switch (from super long to super short or from super straight to super curly) if you must experiment, this is the time to do it.
If you have your heart set on new curls, less curls, a different color or more hair, now is the time to get the perm, the straightening, the highlights or the extensions.
If you don't like the results, you still have time to make some changes in your ultimate Prom do and possibly recover from the changes you just made.
It is important to remember that the only way you can "instantly regrow" newly cut hair is with extensions, add-on hair or wigs. Think carefully before you undertake anything you may regret.
Make A Special Appointment With Your Stylist
If you are not going to do your Prom hair at home, make a special appointment with your regular stylist to have a pre-Prom consultation.
Be sure when you book the appointment to tell the stylist that you want to consult about your Prom. This information will allow the stylist an opportunity to block out an appointment slot that will allow them to devote plenty of time to working with you on this consultation.
It is very important to tell your stylist that you want extra time to talk about potential styles. If you don't tell them, they will probably book you a normal appointment timeslot and you will be rushed.
Take your time and ask for a special appointment. Even if you have to pay for the extra time, it is well worth it.
If You Don't Have A Regular Stylist
If you don't have a regular hairstylist and want help with your ultimate Prom style, ask your friends for recommendations on a good hair care expert that you can work with.
Remember that if you go to a brand new stylist to do your Prom style you will be risking "pot luck" hair. It usually takes some time for a stylist to learn about your hair and what styles work best.
While miracles can happen, don't expect to walk into a salon and have a new stylist create the hair of your dreams.
Get the name of a few stylists and set up pre-Prom appointments with them and have them do some practice styles on your hair.
It is always good to take photos of hairstyles (check out all of the HairBoutique.com Galleries as a good starting point for getting ideas for your style) that you like so the stylist can get a visual image of what your are trying to accomplish.
Work Out A Plan For Your Hairstyle
Ask your stylist to help you work out the best hairdo for your overall Prom look.
Some stylists may even encourage you to bring your dress and any hair jewelry or hair adornments that you will be wearing.
This will help the stylist understand what you are trying to accomplish. Depending upon your dress, you may want to adorn your hair with a simple tiara, headband or other hair adornments.
If you have a general idea of how you want to wear your hair but are not sure of the exact details, spend some time looking through fashion and beauty magazines and select several photos of hair that you like. Discuss the styles you have selected with your stylist to get their feedback.
It is also best to bring a trusted friend who can help give an objective opinion of the style that you select. You may want to ask your friend to take several photos of your hair so that you can see how well the style looks in photographs.
Don't wait until right before your Prom or your regular stylist may be already booked up and not be able to work with you.
If you don't have a regular hairstylist and want help with your ultimate Prom style, ask your friends for recommendations on a good hair care expert that you can work with.
Regular Trims & Deep Conditioning Treatments
Starting now, have your hair trimmed every 4-6 weeks. A regular trim will help avoid unsightly split ends and keep hair manageable. It will also help maintain the style you want for your Prom.
Be sure to tell your stylist exactly what you mean by "a trim". Some stylists view a trim as 1 inch or more. Some view a trim as 1/4 of an inch. Tell the stylist exactly how much you want trimmed.
Plan your hair trims carefully so that you will have your last trim about 2 weeks before the Prom. You don't want to trim your hair right before the Prom day. Hair goes into "shock" after a trim or cut and needs about 1 week to fall back into shape.
Resist any sudden urges to "chop it all off". You may live to regret it.
Begin a deep conditioning regimen that you do every week. Shiny healthy hair doesn't happen overnight.
Try using a deep conditioner, like for hair that needs extra intensive conditioning.
If you prefer, you can whip up your own hot oil conditioner using extra virgin olive oil.
Two Months Before The Prom
As the day of your Prom approaches you need to continue to follow your hair care plan and make sure all your hair care needs are included.
Book Your Prom Day Appointment Early
If you need an appointment with a stylist on your Prom day, be sure to book now. The best stylists will be booked as much as 6 weeks in advance of the Prom. Ask for a written confirmation card and hold on to it. While it doesn't happen often, appointments do get lost and you can claim you rightful appointment if you have a written confirmation card.
Keep in mind that several schools may be having Proms the same day as yours so you will be competing with lots of other hair for an appointment. Plan your appointment so you can allow as much time as possible between the time that the stylist finishes and you have to get dressed.
Pay attention to how long it takes your stylist to do the practice hairstyles and then add extra time to your appointment.
If your Prom date is picking you up at 8 PM, you may want to make sure that you are out of the Salon no later than 4 PM to allow you time to get home, relax, apply your makeup and get dressed without rushing.
Many a Prom attendee has been late to the Prom because things got backed up at the Salon.
Since Prom season is very busy at most hair salons, the earlier your get your hair done, the better, in many cases.
If you want to wear special hair jewelry be sure to order it now. While some online stores or retails locations can guarantee overnight deliveries, you may find that it takes longer for other items to arrive.
You may also want to allow some time once you get the jewelry to play with different looks and styles to see what looks best with the piece. If a stylist is doing your hair, ask them to incorporate the jewelry into the final style and apply it for you.
If you are going to do your hair at home for your Prom now is the time to buy any special equipment you will need from a special curling iron to a new blow dryer.
If you are going to experiment with new hair care products such as gels, mousses or other styling aides, do it now so you can learn to use the products properly.
Experiment with different combinations of shampoos and conditioners. Your desired style may require a soft, sleek look. Or you may want more body and texture. Most shampoos and conditioners are designed to accentuate a different aspect of hair.
One Month Before
Do a complete dress rehearsal. If possible, go back to your stylist and have them do your hair in the style that you have selected.
After you arrive home carefully put on your makeup, your dress and any accessories to view the overall look. If you like, have some photos taken of your dress rehearsal. This gives you a chance to look at the finished photographs and made any adjustments before Prom day arrives.
Make any other beauty appointments that you will need besides your hair appointment. Are you having a manicure or pedicure? If so, schedule these events now and make sure they don't conflict with your hair date.
Hair At Home
If you have decided to do your own hair, do at least one complete practice run on your hairstyle. Time how long it takes to wash, dry and set your hair. It is even better if you can practice this a few times so you have a good idea of any problems you may potentially encounter.
This practice will also provide you with a chance to evaluate the results. Some updos and other styles work better on hair that is not newly shampooed. You may want to take into consideration how your desired style works if you wait some time after the shampoo.
Depending on the style you have selected, sometimes it is better if your hair has had a chance to "age" a little. Newly washed hair can often be more difficult to work with then hair that has had time to settle.
Two Weeks Before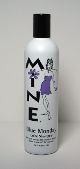 If you highlight your hair, now is the time to visit your stylist for a professional touch it up to eliminate any roots.
While this is the time to touch up your hair, it is not the time to experiment with a brand new hair color. If you must experiment, use only the temporary hair mascaras or colors that wash out after each shampoo. If you try it and hate it, you can easily dump it.
Maintain your new highlighting or hair color with Phytocitrus Shampoo or similar formulas that protect delicate colors.
Call your stylist and confirm your appointment on Prom day. Accidents happen and appointments can sometimes get lost. Make sure you are still on the books for your big day. If you aren't, you still have time to remedy the situation.
The Day Before
If you are doing your hair at home, put together a special hair emergency kit. Include your regular shampoo & conditioner and any styling gels or mousses. You want to make sure that you don't run out. Check your blow dryer and heated curlers and make sure they are working fine.
I had a friend have her blow dryer go out 30 minutes before her Prom. Luckily the next door neighbor had a blow dryer she could use and the hair day was saved. Not everyone has a nice neighbor that offer that kind of assistance.
Your emergency kit should include any extra hairstyling aides, bobby pins, clips or anything else that you may need to use if your hairstyle doesn't turn out exactly the way you want it to.
The Emergency Hairstyle
It is also wise to always have an "emergency hairstyle" that you can fall back on in hair emergencies.
While you may have a hot knotted look all planned out, if the look flops you can also move to Plan B which is your hairstyle #2. That may be a modified messy French Twist or a ponytail pinned into some big loopy curls or the hot new one fat banana curl look.

While you may not need your "backup plan" it is always nice to have one.
Even if you go to a professional hairstylist, there is no guarantee that your hair will work out the way you want it to.
One year I paid a lot of money to have my long hair done up in romantic curls for a special party only to hate the look. Luckily I have 2 emergencies updos that I always can fall back on. I spent 25 minutes brushing and pinning but I recovered from a Shirley Temple gone wrong and emerged with a sleek chignon with curled tendrils.
Be prepared for anything on your Prom day.
Prom Day
If your professional stylist is doing your hair, remember to wear something that unbuttons so that you won't mess up your hair by trying to pull a T Shirt or other top over your finished hairstyle.
It is also best to take your shower or bath before you have your hair done so that your hair will not be affected by any unnecessary heat or moisture.
Be sure to call the Salon before you leave your house to make sure your stylist is running on schedule. If not, ask the Salon to give you an adjusted arrival time.
Make sure you are on time as a courtesy to your stylist and be sure to take any hair jewelry or clips that you want incorporated into your style. If you don't like the final style, tell the stylist and ask them to adjust it for you. Most stylists want you to like the finished product.
If you want a manicure be sure to plan in advance. If you are doing your nails at home, you may want to have them finished before your go to the salon.
Don't forget to thank your stylist and leave them a tip (10 - 15%) for their efforts. Stylists often feel the pressure to make you look special and they will go out of their way for you.
Prom Hair At Home
Allow plenty of time to wash, dry and set your hair so that you are not rushed in any way.
Depending on the style you have selected, sometimes it is better if your hair has had a chance to "age" a little. Newly washed hair can be slippery and h Remember to plan for the fact that newly washed hair can often be more difficult to work with then hair that has had time to settle.
If you are applying fresh flowers to your hairstyle, wait and pin them in right before you walk out the door. This prevents the flowers from wilting.
If you are going to use flowers to adorn your style, be aware if the flower you have chosen will "shed" petals or buds. Some flowers like roses, daisies and baby's breath are better choice than other flowers that leave a trail of buds or seeds.
Once you have your hair in place, you can relax and enjoy every minute of your special evening. Have a wonderful time.!
Summary
For many people, Prom is a very special event. Follow some of the tips provided in this article and you will have a fabulous evening to remember for the rest of your life.
Social Media Network Information
Please follow me on Twitter at: http://Twitter.com/HairBoutique. I look forward to meeting new people from all walks of Twitter and learning from their Tweets.
Visit us at Hairboutique.com located at: http://www.HairBoutique.com, on Facebook, MySpace and YouTube. We would love it if you would Friend us or Favorite us.
Thank you for visiting us at The HairBoutique Blog and for leaving your comments. They are very much appreciated. We apologize in advance but must remove any direct advertisements or solicitations.
Original Publication Date: 1999 - Revised Publication Date: 04/20/11
If you want to talk more about this or other hair care articles on HairBoutique.com or anywhere else, please post a message on HairBoutique.com's Hair Talk Forums.