January 27th, 2007 by Karen Shelton
Introduction
What's more alluring than long, bombshell blonde shimmering tresses cascading in waves of deconstructed ringlets and waves?
Whether your hair is naturally to your waist or just to your chin, with the many fabulous hair extension options available, it's possible for many to wear this sexy style without spending months or years growing out your tresses.
With the proper styling products and hot tools most hair textures from naturally straight to wavy or curly can recreate this lush style although it is ideal for naturally wavy hair.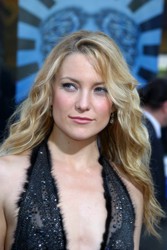 DailyCeleb.com All rights reserved.
Not only does this glamorous hairstyle look amazing when worn with an elegant sleek gown, it's a favorite style worn by some of Hollywood's hottest young celebrities like Kate Hudson, Ashley Tisdale, Vanessa Ann Hudgens and Ashlee Simpson.
Whether you re-create this Prom Pretty Hairstyle on your own strands or utilize clip-in, fusion or weave extensions the style can be easily created at home with a little pre-Prom practice. If you prefer to be pampered your favorite hairdresser can also whip up this beautiful style.
Although this hairstyle looks more dramatic when worn with long side-swept bangs extending from a deep side part like Kate's or the model shown above, it can be changed up with any customized type of bangs or part.
The advantage to wearing the hair draped over from a deep part is how seductively the side-swept bangs drape over one eye in Veronica Lake fashion.
Note: For more tips on straightening bangs read Bangs - The Straight Scoop.
Step By Step Instructions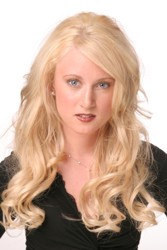 Tom Carson All rights reserved.
In this gorgeous long Prom hair style, the side-swept bangs and the upper panel of hair flow together in perfect harmony.
What is fabulous about this Prom hairstyle besides the perfect symmetry of the side-swept bangs and hair panels is the way the hairstyle combines sultry sophistication with sassy sexiness. This side-swept long style is pure Hollywood.
Could this style be any more gorgeous? Even better, the side-swept bangs balance the face shape. This style works well with all face shapes ranging from oval and round to square, rectangular, heart, pear, diamond and triangular. If a particular face type seems incompatible, with some tweaking, the style can work perfectly.
How can this hair style be re-created?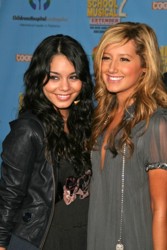 DailyCeleb.com All rights reserved.
Follow the steps listed below to recreate this sophisticated style:
1. Shampoo hair and apply rinse out conditioner. If hair is highlighted or colored be sure to use shampoo designed to protect delicate strands.2. Finish with a cool water rinse 3. Towel blot to remove excess moisture. 4. Apply appropriate detangler and/or styling cocktails (defrisants, mousse, cream). 5. Detangle hair completely working from the ends up towards the roots. 6. While hair is still damp, create deep side part using rattail end of comb. 7. Separate bang hair into individual sections and blow dry with a round boar's brush and a blow-dryer. Roll hair around brush to enhance wave formations. 8. Separate the remainder of the hair into individual 2" sections and blow dry with a long finger diffuser. Allow strands to nestle into the basin of the diffuser for maximum wave formation. 9. When hair is completely dry separate into 2" sections and curl with a medium barrel curling iron. For tresses that don't hold a curl well spritz each strand before curling with a setting spray or hairspray. 10. Pin newly created curls to scalp with bobby pins to cool. Continue to curl all sections of hair around the entire head, including the bang area, making sure not to curl bang area too tightly. 11. After curls are completely cool, remove pins and arrange loose ringlets and waves with fingers. Gently pull bang strands to loosen and deconstruct into loose waves 12. Apply finishing products such as shine spray or serum and light mist of hairspray. 13. If you wish, go for max glamour by adding a gorgeous silk flower or jeweled headband or barrette to the finished style. 14. Remember to play with your long and enjoy the final results. Afterall, it's your Prom so don't stress, have fun.
Highlighted Tresses And Long Layered Haircut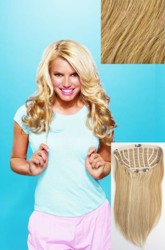 HairBoutique.com All rights reserved.
This hairstyle is designed to show off the face and gorgeous eyes.
Carefully applied ribbons of highlights and lowlights intertwined throughout the hair and bangs have a spectacular effect.
If you look closely you will also notice that the style is based upon a layered haircut with short layers framing the face.
Steal This Prom Hair Style In An Instant
If you love this Prom hairstyle and wish to re-create it in an instant but have hard to wave strands or hair that is much shorter, consider popping on one of Jessica Simpson's HairDo cap extensions which easily integrates with your existing hair to instantly create a glamorous Hollywood hairdo.
The Jessica Simpson HairDo are available in a wide range of colors in either Human Hair or synthetic with the entire collection available here at HairBoutique.com by calling 1-866-469-4247 or shopping online at the HairBoutique.com Marketplace 24 hours a day.
From red carpet events to magazine covers or a paparazzi filled trip to the supermarket, hair extensions - created by celebrity stylist Ken Paves, are the very same styles Jessica wears every day.
Ken's unique ability to bring out every woman's individual beauty has A list celebrities relying on him for their world class looks...and now he brings the same expertise to you..he's made it so easy... you just clip them in... so now you can change your hair as often as you change your mind!
Summary
This alluring long, bombshell blonde Prom hairstyle is a combination of sassy sexiness with edges of Old Hollywood.
Whether your hair is naturally to your waist or just to your chin, with the many fabulous hair extension options available, it's possible for many to wear this sexy style without spending months or years growing out your tresses.
Social Media Network Information
Please follow me on Twitter at: http://Twitter.com/HairBoutique. I look forward to meeting new people
from all walks of Twitter and learning from their Tweets. Visit us at Hairboutique.com located at: http://www.HairBoutique.com, on Facebook, MySpace and YouTube.
Thank you for visiting us at The HairBoutique Blog and for leaving your comments. They are very much appreciated. We apologize in advance but must remove any direct advertisements or solicitations.
- Revised Publication Date: 09/07/10
If you want to talk more about this or other hair care articles on HairBoutique.com or anywhere else, please post a message on HairBoutique.com's Hair Talk Forums.