Last updated on December 5th, 2003 by Karen Shelton
Introduction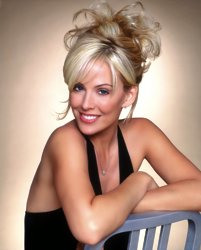 This Twisted Elegance (shown to side) updo is perfect for any special hair event from a Winter Wedding, cocktail party or the prom.
This beautiful updo was created by Paul Mitchell Master Associate Stephanie Kocielski Jaqua on John Paul Mitchell Systems spokesmodel Eloise DeJoria. Stephanie drew on the bold geometrics and bilevel motifs of Robert Cromeans' Shortcuts collection to create this sassy updo. Your hairdresser can incorporate this look into their Prom or Wedding service and put you on the fast track to high style on your special hair day.
Eloise prepped Eloise with Extra-Body Daily ShampooT and Extra-Body Daily RinseT. She then blow-dried with Super SculptT (to smooth, enhance shine, and hold the style) and a round brush, and enhanced texture with a loopy iron set.
Styling Instructions
Stephanie separated the front of the hair from the back and, starting from the center of the back section, divided the hair in half in a two inch parting and pinned to the back of the head.
Next, she took two additional sections, crissed-crossed them and pinned them also to the back of the head. Stephanie then moved to the front section, parted the hair, let the bangs fall and pinned up the excess to create a disconnection.
Throughout the styling process, Stephanie applied Foaming PommadeT to create softness. She pieced out the ends on top with Super Clean Spray and Spray WaxT.
Optional Accessories
For Prom 2004 soft romance, megawatt glamour and gorgeous glitz are in. Add high sparkle hair jewels or tiny glitter headbands around the crown. Experiment with a stunning filigree barrette placed along either side of the face. Add spray glitter or glitter gel to individual strands for extra wattage.
If you want to talk more about this or other hair care articles on HairBoutique.com or anywhere else, please post a message on HairBoutique.com's Hair Talk Forums.
Twisted Elegance Updo Credits:
Hair: Stephanie Kocielski, Photography: Spicer
For more information, please contact your John Paul Mitchell Systems Salon Consultant or Distributor.