September 10th, 2008 by Karen Shelton
Introduction
Victoria Beckham is fondly known as Posh Spice by the media and her many fans. The nickname began during her days with the Spice Girls and actually suit the beautiful celebrity well. Her history with her hairstyles and fashions definitely prove she is posh.
Since moving to the United States in late 2006 Victoria has managed to capture the headlines with her ever changing hair and fashions. Her version of the famous bob haircut, created for her by Jessica Galvan, was quickly named The Pob and was wildly popular.
Note: To read more about Victorica's Hairdresser - Jessica Galvan refer to: Jessica Galvan - Celebrity Hairdresser To Posh Spice & A Host Of Other Stars.
The Pob hair soon gave way to new hairstyles that were accompanied by an ever changing array of hair colors.
Once again Victoria has created a media buzz with her latest haircut, The Poxie which is a form of a pixie haircut. When you combine Posh with Pixie you get the inventive name - Poxie - which was created by the media.
In addition to going with an extremely short haircut, Victoria has gone much darker with her hair color.
The headlines claimed Victoria had shocked the world with her drastic hair cut but I for one was not surprised. Her Hollywood hairdresser, Jessica Galvan, told me Victoria likes to change up her hairstyles and hair colors on a regular basis.
Victoria showed off her new Poxie at a Marc Jacobs fashion event in New York City on Monday, September 8th. She told The Mirror "I felt it was time for a real change- and I love it!. I've always loved the idea of having a crop." Her always supportive hubby, David, reportedly thinks his wife's new do is sexy.
Can You Pull Off A Pixie Haircut?
If you love Victoria's latest super short hair incarnation you might consider following her lead to the hair salon for your own version of The Poxie.
Although the super short crop looks great on Victoria because she is ultra thin and has a great face shape, not everyone will look as beautiful in a super short hairstyle.
Disadvantages Of A Pixie/Crop/Chop Short Haircut
DailyCeleb.com All Rights Reserved
Before running for the scissors, consider the following pros and cons or opting for an abbreviated hairstyle:
1. Pixie haircuts are unforgiving for some face shapes. Since a true short crop is so short, there is no extra perimeter hair to minimize a strong jaw line, prominent or double chin or well-defined cheeks.
2. The Pixie haircut or similar hairstyles such as The Crop and The Chop work best on people with oval face shapes and more petite body styles. It is generally not considered to be as flattering on well-endowed body shapes or larger faces.
3. Super short haircuts will also maximize any facial flaws and will highlight any existing skin challenges, wrinkles, sagging jawlines or other challenges you may wish to minimize with longer hairstyles.
4. Generally speaking, pixie haircuts tend to be more flattering on younger faces.
5. Hair type and texture is also a key factor. Medium to thick tresses with minimum natural bend are well-suited for pixies and chops. Depending on wave and curl patterns, some types of natural curls and waves may or may not work well when cut super short. When in doubt, consult with your favorite hairdresser.
6. Super short haircuts requires constant maintenance. Since the Pixie haircut is so precise, as soon as the hair starts growing the haircut loses its precision cut lines.
7. Most pixie haircuts are not ideal for hair extensions - either clip-in or individual wefts. To successfully adopt hair extensions your strands must be at least 6" long. Most crops and chops are generally shorter. Keep this in mind when selecting a crop if you wish to wear your clip-ins or other add-on hair pieces.
8. If you love big hair accessories the super short pixie will not work for you. Wide headbands or large clips and combs are not suitable for abbreviated hairstyles.
Advantages Of A Pixie/Crop/Chop Short Haircut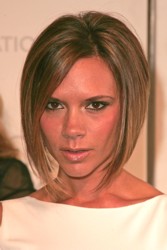 DailyCeleb.com All Rights Reserved
On the plus side a Pixie haircut offers some the following advantages:
1. It is an easy wash and wear hairstyle requiring minimum time with hot styling tools. 2. Since Pixie haircuts tend to grow out so quickly, you can rest assured that if you hate the style for you, it will definitely only last a short period of time. 3. It looks very chic with skinny headbands and miniature flower and jeweled hairclips. 4. Since there is less hair to cleanse, a Pixie requires less shampoo, conditioner and related styling products. 5. Going with a Poxie like Victoria Beckham makes a bold statement. 6. Adopting a super short hairstyle after wearing longer styles is a great way to completely alter your look. 7. A cropped hairstyle will provide the option to have all damaged strands instantly removed. Since the Pixie is such a super short cut, all split ends of hair with chemical damage will be only a memory. 8. Super short haircuts are ideal for drastic hair color changes. Platinum blonde is a great option for Pixies, crops and chops since there is less danger of extensive hair damage.
Step By Step Instructions - Steal Victoria Beckham's Poxie Haircut
To copy Victoria's new pixie haircut complete the following steps: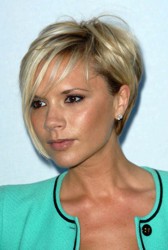 DailyCeleb.com All Rights Reserved
1. Start by weighing all the pros and cons of going super short. While it is always important to follow your heart and wear your hair the way you love, contemplate how the style will look with your face shape, hair type and texture and lifestyle.
2. Find a hairstylist specializing in short crops, chops or true pixies. Depending on your hair texture and type you may opt for a razor instead of a scissors cut.
3. Start by washing your hair in lukewarm water with the shampoo appropriate for your hair's texture, type and current condition. Short cuts like the pixie require only a tiny amount of shampoo.
If your hair is highlighted/lowlighted like Victoria's be sure to use shampoo designed for chemically treated hair. If hair is dry or damaged, consider diluting the formula.
4. Rinse shampoo completely from the strands and unless your hair is fine or thin, apply a rinse-out conditioner. Allow the conditioner to soak for up to five minutes, especially if hair is dry, coarse or damaged.
5. Finish with a cool/cold water rinse to add natural shine and close the cuticle.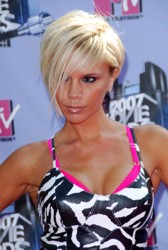 DailyCeleb.com All Rights Reserved
6. Towel blot to remove excess water. Due to the minimum amount of hair, you may or may not need to detangle.
7. Apply volume spray to the roots.
8. Use a blow dryer with a concentrator attachment. Direct air from the blow dryer up the shaft of the hair from the ends to the roots to build in volume and give hair a tousled effect.
9. If desired use a medium barrel curling iron on just the ends to add a light curve.
10. Finish with a shine serum or a spritz of hairspray.
Pixie Cut Styling Options
For a chic tousled pixie simply wash hair, towel blot to remove moisture, apply desired styling products, ruffle with fingerstips and allow strands to add-dry.
Summary
Victoria Beckham has become a hairstyle icon. Her every changing styles have given birth to first The Pob and now The Poxie. With her track record of innovative hairstyles it is only a matter or time before Victoria adopts a new hairstyle. In the interim, watch for this Spice Girl to wear innovative versions of her latest look.
If you want to talk more about these or other hair care articles on HairBoutique.com or anywhere else, please post a message on HairBoutique.com's Hair Talk Forums