Last updated on July 20th, 2000 by Karen Shelton
Introduction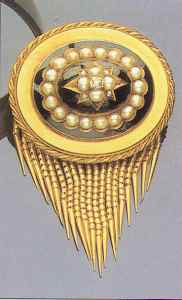 When I was a little girl, I spent at least two weekends per month with my grandparents. Of all the fun things my grandmother and I did together, the most fun was going through her jewelry drawer.
Among the jumble of precious and sentimental things was possibly the weirdest stuff I have ever seen, before or since—human hair jewelry.
My grandmother had a whole collection of the stuff; bracelets, rings, earrings, and necklaces, all made from intricately braided locks of hair.
She and I used to shudder elaborately as we looked at it and touched the different pieces. It always gave me the shudders to think I was looking at hair from all those dead relatives.
When I asked her why anyone would make (or want) jewelry like this, she told me that it was a way of remembering those who had passed on.
Grandmother had a pretty sharp tongue and could be wickedly funny when she wanted to, so she went on to say that wearing hair jewelry was also a great way for everyone else to feel sorry for you! That always tickled me.
Hair jewelry, or mourning jewelry was popular from the time of the memento mori ("Remember Me") jewelry of the Middle Ages, and on through the 16th and the 17th centuries, upward through the 19th century.
This type of jewelry served as a remembrance of dead loved ones, and was often encased in gold, silver, crystal, and other precious components.
The hair itself was used in several styles: woven as a background under a gold monogram and worn under crystal, and as such could be made into a brooch or necklace; braided to form watch chains or around a ring bezel, made into a floral funeral design, or simply a lock of the hair was enclosed in a locket or brooch.
Some of the more macabre designs were popular in the 17th century, where both the literature and religious attitudes of the time stressed the brevity of life.
This theme was shown in jewelry ornamented with motifs representing the passage of time and symbols of death (see photo to the side) such as the winged hourglass, coffins, skeletons, skulls, angels, crossbones, and, interestingly; babies blowing bubbles.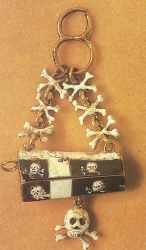 During the Neo-Classical movement, it was fashionable to wear large rings containing the hair of loved ones, framed in deep blue and white borders, and framed with pearls.
If all this weren't creepy enough, for a time it was often the custom to put aside sums of money in a person's will to have pieces made up and distributed to the mourners attending the funeral.
Note: The photo to the side is from Jewelry edited by Lydia Darbyshire and is an example of a 17th century "hair jewelry" motif with skull and crossbones in obvious evidence.
During the latter part of the 18th century, sentimental motifs of the Romantic period for mourning jewelry were a broken column, a weeping willow, or a Grecian maiden bending gracefully (and we assume, sorrowfully) over an urn.
Finger rings were especially popular, some with the outside surface of the ring engraved with the loved one's name and dates. Often rings that had previously belonged to the deceased were engraved with the name and date.
The rings themselves could be plain or fancy, and black or violet enameling was common for use in this type of jewelry. Amethyst and seed pearls were frequently used as added decoration.
Mourning jewelry, like Henry Ford's auto, was made up from a variety of materials that could be "any color, just so long as it was black." Jet, enamel, glass, onyx, Berlin cast iron, vulcanite (an early precursor of plastic), petrified oak from the bogs of Ireland, and even paper Mache were used in making the jewelry.
Generally the hair was preserved under a tiny crystal or glass window with a brief epitaph. Never was this more prevalent than during the Victorian era, where doughty Queen Victoria mourned privately and publicly for her lost Albert.
Keeping loved ones' hair was not only just as a memento of dead people; it was (and is today) a popular way for lovers and best friends to exchange vows of eternal friendship.
A lock of the loved one's hair was carefully kept in a locket and worn close to the heart as a sentimental keepsake.
And of course, if the romance died, the now-not-so-precious lock was probably thrown on the fire along with old love letters.
Conclusion
In conclusion I have to say that, much as I love jewelry, this is one kind I really don't want to collect. It is interesting for the pure history of it, and for the fact that the dead loved one had enough hair to make all those elaborate designs, but to me it is still decidedly eerie.
If you want to talk more about this or other hair care articles on HairBoutique.com or anywhere else, please post a message on HairBoutique.com's Hair Talk Forums.