January 3rd, 2012 by Karen Shelton
Introduction
The Millionaire Matchmaker title is held by raven haired Patti Stanger (born May 31, 1961) who is an American matchmaker and television producer with her own Bravo TV show.
She is the founder and CEO of Millionaire's Club International Inc., a professional matchmaking service for millionaires.
Patti is very controversial having angered naturally textured people with her anti-textured hair stand for her Bravo TV show. She also has a reputation as being a matchmaker from hell.
Note: Visit Patti Stanger's Celebrity Hairstyle Gallery to see more images.
In the October 2011 issue of InTouch Magazine former clients and co-workers slammed her for inability to find love for herself or some of her high profile clients.
Patti has shocked viewers and fans of her Millionaire Matchmaker show with her cutting criticisms and sarcasm.
Although Patti was engaged to Andy Friedman, after their engagement ended Friedman dated one of Stanger's colleagues from the show.
Patti appeared on Today with Kathie Lee Gifford and Hoda Kotb and told them "I'm still struggling" to find love and marriage. Patti noted "everyone finds love in my office but me!"
A third-generation matchmaker, Stanger has been known to taunt the women who meet with her clients.
Hair Texture And Age Bullying
Actress Iliana Fischer was kicked out of Patti's office for being over 35 on a 2010 episode. Fischer told InTouch Magazine (October 2011) Stanger "called me an 'old lady' and humiliated me!"
Of course there are the well-known episodes where Patti, who wears her long dark hair lush and stick straight, chided prospective dates for her millionaires to lose their curls, waves, kinks and coils.
After Patti was criticized for her anti-curl attitude she defended her policies explaining that as a rule her clients prefer dates with texture free people.
Steal Patti Stanger's Hair Style
To recreate Patti's bone straight hair style start with hair which is either naturally long or enhanced with clip-in or fusion style hair extensions.
Patti's thick tresses usually extend several inches below her shoulders and end mid-back. It's not know whether she utilizes clip-in or fusion style hair extensions, but she lives in Hollywood so anything's possible.
Ironically the anti-hair texture reality star wore her own tresses embellished with soft undulating waves when she visited with Hoda and Kathie Lee on the Today show.
The famous matchmaker keeps her own ends well-trimmed and maintained.
It's possible that your hair type, texture and/or strand condition may not be ideal for this style. You may also need to consider whether the hairstyle would be appropriate for your face shape and type.
Raven Black Strands
The type of hair texture you possess determines the type of tools and techniques you should utilize to style Patti's sleek hairstyle.
If you take your own hair to the raven black of Patti's hue you will need to pamper your chemically treated strands.
Millionaire Matchmaker Hair Style Secrets
Start with the very best hair care products and tools for turning chemically processed hair into a sleek cap:
1. Shampoo strands in lukewarm water with moisture enhancing shampoo and rinse out conditioners.
If you hair is naturally dry, chemically damaged, colored or naturally textured you may wish to experiment with alternative cleansing systems such as Diluted Shampoo (DS), Conditioner Only Wash (CoWash), Low Poo, No Poo or Water Only (WO).
You may also wish to cleanse as infrequently as possible.
2. Apply moisture enhancing leave-in conditioners.
3. Employ frizz fighting products if your hair has a tendency to frizz.
4. For a mane that's soft to the touch, work a hair softening hair cream through damp strands to create smoothness.
Use products with a cream or silicone base. Avoid hair styling products like gel, wax or styling mud that hardens the hair.
5. Give thin, fine hair an instant volume boost by skillfully wielding your blow dryer.
Blow dry the right side of the hair to the left side and the left side to the right. Dry the back of the hair to the front and front to the back. Use either a paddle style brush for a sleek finish or a round brush for volume and curve.
Note: Changing the direction of blow-drying creates volume directly at the roots.
6. If you prefer a tousled look to a sleek one, finger pick your strands while air-drying for a messy look.
7. Finish either style with a spritz of shine building serum to help lock in moisture, add shine and block humidity.
8. If you wish to build in some texture, set damp strands in pin curls or finger waves and sit under a hood style dryer or air dry.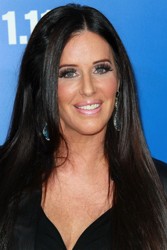 NBC.com All rights reserved.
When styled for full effect, a section along top of the crown is lifted with hairspray to form spikes.
For a softer look, layers can be styled down and tousled for texture.
Summary
Long lush bone straight hairstyles never go out of style.
Patti Stanger showcases her long straight hair on her Bravo TV show, The Millionaire Matchmaker. If you look close sometimes she has a hint of a soft wave throughout the middle and edges of her hairstyle.
Patti strongly suggests women looking for love with millionaires stick with no or low textured hairstyles even though sometimes she will wear her hair with light texture.
Although a controversial opinion with naturally curly and textured people, Patti defends her thoughts about hair texture as based on years of experience helping people to hook up.
Ultimately everyone should wear their hair how they love it best regardless of current trends, popular opinions or the recommendations of reality TV stars.
- Revised Publication Date: 01/03/2012
If you want to talk more about this or other hair care articles on HairBoutique.com or anywhere else, please post a message on HairBoutique.com's Hair Talk Forums.