Last updated on February 18th, 2010 by Karen Shelton
Introduction
Curly girl Melina Eleni Kanakaredes was born April 23, 1967 in Akron, Ohio to Connie (née Temo) and Harry Kanakaredes, an insurance salesman.
Note: Check out Melina's Celebrity Hairstyle Gallery here at HairBoutique.com.
She is second-generation Greek-American and is fluent in Greek. Her two maternal uncles own and run a candy store in Akron called "Temo's Candy Company", a chocolate store established in its current location by Melina's grandfather, Christ Temo.
Melina decided not to follow in the candy making business. Instead she chose to go into acting.
She is widely known for her two starring roles as Detective Stella Bonasera in "CSI: NY since 2004 and as Dr. Sydney Hansen (1999 - 2002) in the TV show "Providence."
Before hitting nighttime television she was a fan favorite as Eleni Andros Spaulding Cooper from 1991 to 1995 on daytime's "Guilding Light."
Throughout her acting history Melina Kanakaredes has honored her natural hair texture and worn her hair curly. When she first appeared on the scene as Eleni in "Guilding Light" her gorgeous curls enhanced her dark beauty and made her unique in the world of actresses known for their stick straight tresses.
Her love her of natural ringlets has continued throughout the years. In fact, it's difficult to find photos of Melina with her hair worn any other way but in a halo of beautiful bouncy spirals.
Melina, who married Peter Constantinides on 6 September 1992 has two daughters, Zoe (born 23 May 2000) and Karina Eleni (born 25 January 2003).
Back To Melina's Natural Curls
When I look at Melina's beautifully sculpted Botticelli style ringlets and curls I am amazed by the fact the actress has resisted the well-known Hollywood pressure to go straight.
Many popular actresses such as Nicole Kiddman, Geena Davis and Julia Roberts have often suppressed their natural coils in favor of chemically straightened hairstyles.
Not so with Melina. Her curls have always been incorporated into her various roles with great success. She is truly a curly girl icon in the world of acting.
Unlike other actresses, Melina has been very consistent with her hair length and color. While it appears she has hints of highlights and lowlights interwoven through her curls, for the most part she has stayed within the same chocolate brown base hair color through the years.
While researching her hair history I searched several archives and found very few photos of her with either straight strands or tresses with a notably different base.
During her years on "Guiding Light" her tresses, which were worn curly, appeared to be much darker than they are currently in her role on "CSI: New York". However, going slightly lighter with her base and building depth through highlights and lowlights would be a smart move for current hair color trends.
Melina Kanakaredes' Hairstyle 411
If you look closely you will be able to see that Melina's light chocolate brown tresses have been very carefully highlighted and low lighted to add the illusion of fullness, depth and shimmer.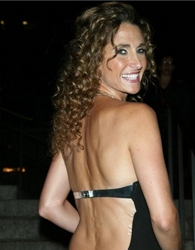 DailyCeleb.com All Rights Reserved.
One thing is pretty clear, Melina has found a fabulous hairdresser who understands how to cut and style natural curls. Her hair is always a perfect example of well maintained ringlets.
For her Red Carpet appearances Melina often wears her natural curls down but my add an element of polish by pulling a few strands up and back off her face to give the illusion of an up/down hairstyle. For the majority of her events she lets her curls flow free.
Hairstyle: Sexy Ringlet Infused Long Hairstyle
One ongoing question about Melina or any Hollywood star is whether or not they utilize any type of wigs or add-on hair for various hairstyles.
Looking closely at Melina's photos in this article it doesn't appear she has add-on strands, but with the options available in today's add-on hair market it's often hard to tell.
If I had to guess I might say there has not been any hair added to increase Melina's volume but only her celebrity hairdresser knows for sure.
Hairstyle Color: Milk chocolate brown base
Hairstyle Highlights/Lowlights: If you look closely you will see what appears to be ribbons of caramel highlights with deeper auburn lowlights giving Melina's hair warmth, depth and rich lush movement.
The deep auburn highlights placed against the soft chocolate base also helps to bring out a blinding shimmer.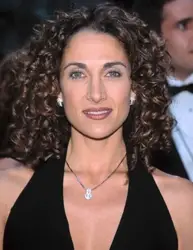 DailyCeleb.com All Rights Reserved.
Texture: Melina appears to have medium to medium thick naturally curly hair in excellent shape. Her hair appears to have been skillfully cut and shaped based upon her natural curl patterns.
There appears to be slight layering around the perimeter of her hairstyle which may be related to her natural curl pattern.
For the Red Carpet her hair is usually styled with lots of body and some volume built in around the crown. For less formal events she might wear her hair pulled back into a loose ponytail or twisted into a loose bun.
Fringe: Melina rarely wears a fringe which may be due to the fact her hair is naturally curly. From time to time she will appear with a few ringlets pulled down along her hairline.
Lately the star has been seen with her dark chocolate brown tresses cascading from a side part directing the front section of hair near the hairline over to the opposite side of her face.
Sometimes Melina's hair is directed back off her hairline in such a style that no obvious part is visible.
Face Shape: Melina's face shape is mostly oval with a more prominent chin that is slightly angled. She has large eyes and lips which are magnified by her current hairstyle.
Hairstyle Works Best: Melina's hairstyle works best for naturally curly, wavy or kinky hair which is shoulder length or longer which is all one length or with very subtle layers.
Although people with straight tresses may be able to duplicate Melina's curly style, it is much easier to create for someone with natural waves, curls or coils. The reason there are so many steps listed below is because if hair is not naturally curly or wavy, it will require consistent blow drying, curling and hot ironing to get new ringlets to last.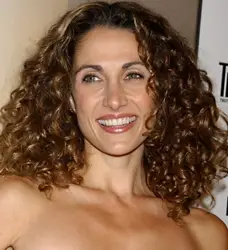 DailyCeleb.com All Rights Reserved.
Hair Tools Required: Long finger diffuser attachment for a blow dryer or blow dryer with or without a concentrator nozzle.
A large barrel curling iron or optional hot rollers, 100% boar bristle round brush, salon style clips, styling spray and/or cream, sculpting hairspray, shine spray and/or serum drops are also helpful.
To add strategically placed curls, volume, fullness or length you may wish to play with clip-in hair extensions. This is more true of someone with straight or wavy strands transitioning to this much curlier hairstyle.
Steal Melina's Hair Style
Melina's naturally curly hairstyle can be customized to work with just about any face shape. This style is ideal for tresses which are medium in thickness.
Follow the steps below to re-create Melina's style:
Start with a precision hair cut which is all one length or with very slight layers throughout. If you have natural curls, work with an expert to achieve a cut which is designed to maximize your natural curl pattern.
1. Start by detangling hair completely from ends to roots before washing.
2. Cleanse your hair in lukewarm water with a product designed to add back moisture and to treat colored or highlighted hair with tender loving care. Cleanse hair either with Water Only (WO), Diluted Shampoo (DS) or Conditioner Only (CO). Use products designed for your hair type, texture and current length and condition. If your hair is colored or chemically treated be sure to use appropriate products
3. Rinse hair well and then apply a moisturizing rinse-out conditioner focusing the products on the areas of the hair that are most dry or damaged. If your hair is fine or thin you may wish to skip this option. Remember to condition based on your hair's type, texture and needs.
4. For extra conditioning substitute the rinse-out conditioner with a deep conditioner that is allowed to soak down into the hair's shaft. Finish with a cool/cold rinse to lock in moisture and add additional shine.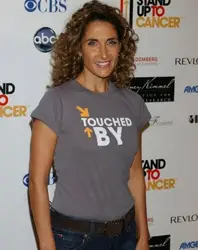 DailyCeleb.com All Rights Reserved.
5. Towel blot to remove excess moisture. Apply a conditioning detangling spray or leave-in conditioner and detangle strands with a wide tooth comb working from the ends to the roots.
Note: If your hair is prone to frizzing apply a defrisant product or mix with your other styling products. It has been reported in the past that many celebrities like Melina are a big fan of Phytodefrisant for their naturally curls which may be prone to frizz.
6. For fullness, lift and volume throughout the crown, apply a volume enhancing product to the roots. Distribute a curl enhancing cream, balm or mousse to the rest of the strands distributing from below the roots to the ends.
7. If desired create a center or side part using a long tail comb, depending on how you wish to style your hair. If you prefer, no part is just as beautiful with this hairstyle.
8. Starting on one side of your head, select a section of hair that is approximately 2" thick. Clip the rest of the hair out of the way with hair friendly salon or duck bill style clips. Utilize duckbill clips at the crown for additional volume.
9. Blow dry target section with a boar's bristle round brush and a blow dryer with an optional concentrator nozzle to help create ringlets. When the target section is 100% dry, roll the section in a self adhesive roller or similar or with fingers into a spiral form. Pin to the scalp.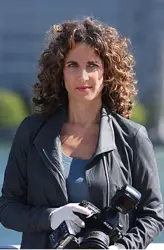 CBS All Rights Reserved.
If your hair is naturally curly you may prefer to use a long finger diffuser dry attachment and allow curls to lay in the basin of the diffuser.
Note: If hair is naturally curly, do not use fingers to blow dry since this can add to frizz.
10. Repeat the same steps on your entire head drying all of your hair until every section is completely dry and rolled.
11. Allow hair to cool completely while rolled and pinned to the scalp.
12. Once hair is completely cool and set remove the rollers one section at a time.
13. Starting with one section of hair, roll around a medium sized (smaller or larger depending on the size of the ringlets you desire) curling iron in a spiral pattern.
14. Gently slide the curling iron out from under the curl and pin in a spiral pattern against your head.
15. Using the curling iron, work around the entire perimeter of the head until all sections are curled, pinned and allowed to cool.
16. Once all of the curls are completely cool, remove each spiral curl one at a time. Do NOT brush or comb. Use your fingers to arrange the spirals. If desired you can apply a light pomade or cream and gently twist each curl for additional hold and formation. Gently pull on them with your fingers to loosen or lengthen.
17. For a more unstructured look use fingers to rake curls or bend over at the waist and shake all of the curls.
18. Apply a shine serum, shine spray or hair cream to seal in moisture and add that shimmering shine similar to Melina's. Hairspray is optional.
19. To add structure and definition consider accessorizing with a headband, bobby pins and/or barrette.
Styling Options
Although ringlets look gorgeous when allowed to cascade down around the shoulder in bouncy spirals, they also can be pulled back into a very loose nape based chignon.
They can also be coiffed into a half up/half down style with part of the hair above the ears pulled back at the crown allowing the rest of the coils to cascade down.
Creating a deep side part or adding a few ringlets along he hairline completely alters the look.
Be bold and experiment depending on the event and your outfit.
Summary
Melina Kanakaredes was recently on "The Bonnie Hunt Show" and is very dedicated to her extended Greek family. She loves her role on "CSI: NY" and enjoys life with her husband and two daughters.
Life is good for actress Melina Kanakaredes who is also blessed with a head of spectacular natural ringlets which she loves to wear in a halo of natural curl glory.
Social Media Network Information
Please follow me on Twitter at: http://Twitter.com/HairBoutique. I look forward to meeting new people
from all walks of Twitter and learning from their Tweets. Visit us at Hairboutique.com located at: http://www.HairBoutique.com, on Facebook, MySpace and YouTube.
Thank you for visiting us at The HairBoutique Blog and for leaving your comments. They are very much appreciated. We apologize in advance but must remove any direct advertisements or solicitations.
- Revised Publication Date: 11/01/10
Send this page to a friend..
If you want to talk more about this or other hair care articles on HairBoutique.com or anywhere else, please post a message on HairBoutique.com's Hair Talk Forums.