August 8th, 2003 by Karen Shelton
Introduction
The maestro of lightening hair changes, celebrity hairstylist Ken Paves, recently joined stellar forces with spectacularly beautiful Marley Shelton to make smashing new short hair history. The sizzling new style was instantly captured for the annuals of hair history by the frenzied paparazzi on the red carpet.
Marley, according to Ken, is "so committed to her acting craft", that she is always "eager to experiment and morph through a range of hairstyles to give authenticity to her myriad of film roles".
Widely admired for her long lush blonde locks in The Bachelor with Renee Zwelleger, Marley recently submitted her lengthy strands to the cutting room floor, in the name of a new film role.
Marley's resulting psuedo Mia Farrow gamine look was specifically designed to work with her nice girl socialite Ingrid role in Uptown Girls.
Wanting to make a spectacular premiere entrance, Marley selected a drop-dead gorgeous gown from Armani. Of course every goddess needs a matching hairstyle.
For her appearance, Marley wanted to show a whisper of her naughty girl side. After all, as Marley recently confessed in the August InStyle magazine "she likes to be demure and sexy at the same time".
Ken, who "absolutely adores working with Marley" because she is really "amazing to work with" was tapped to create a little of his legendary hair magic for the big event. So Ken popped over to the actress's house, just around the corner, to brainstorm some sizzling new coifs to work with her spectacular gown. The result of their magnificent collaboration? The eye-popping MiaFarrow-Meets-Halston-At-Studio54 which was the instant talk of the town.
Working at his normal speed-demon styling frenzy, Ken transformed super short haired Marley from primly proper to sultry siren in 30 minutes.
Ken Paves: Magical Fingers & Lots Of Hairpieces
Starting with his trusty razor, Ken completely altered Marley's neckline by tapering it into an edgy rounded shape that gave the shape of her head and neckline a completely new look.
Then Ken's magical flying fingers went to work "gluing tons and tons of individual human hair strands that averaged 12 inches in uncut length, to Marley's crown" and "positioning them towards the front of her hairline to create a shock of full bangs".
Yes, Ken created the new sultry front fringe by means of fusion hair extensions.
Even more amazing, Ken alternated "three different shades of custom colored hair pieces to give Marley's hair that brilliant blonde goddess glow".
Using the "very lightest shades of gold, ash and platinum blonde", Ken meticulously hand-placed and fused "each and every tiny strand into the most strategic position. His goal was to achieve wild texture that would also lay sleekly against Marley's head".
Once the many different pieces of hair were in absolute perfect placement to create an instant elongated fringe, Ken went to work skillfully razoring the newly added hair extension pieces until every single strand was different lengths ranging from 2 1/2 to 4 1/2 inch strands.
Wildly shearing so that the bangs formed a slight asymmetrical drape, Ken created an impressive array of amazing hair textures.
Once Ken was satisfied with his magical hair placement and layering, he reached for his flat iron. Painstaking separating all of her strands into very small sections, he ironed all of her hair. As he worked with the iron, he elevated each strand into the air so it resembled a crazy "diffused Mohawk".
When he was finished Mohawking Marley's hair, she laughed and asked in amazement if that was how Ken "was going to leave her hair". "Well of course not", he assured her.
Rene Furterer Spray Gloss
Ken then applied a liberal amount of Shinbi's Magic Move to Marley's temporarily elevated tresses. He then whipped out his magical red blow dryer and applied heat to all of her strands.
Working in a clockwise direction he delicately finger ruffled, smoothed and arranged her new extensions interlacing them with her natural tresses. He continued to fingerpick and tousle until he had created the edgy texture and fluid movement he envisioned for this hairstyle.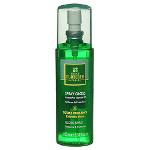 Ken finished the style with a liberal blast of Rene Furterer's fabulous new Spray Gloss (shown to the side) which creates a soft, mirror-like effect on each strand to enhance shine and hair texture.
Note: Ken Paves also used Rene Furterer's Carthame Oil on Jennifer Lopez during the filming of The Wedding Planner. The perfect product for Marley's highly textured new do.
Viola, the making of a blonde Red Carpet goddess with an instant new fringe was complete.
Ken Paves' Magical Hair Creation Secrets
So how was Ken able to create instant hair history with Marley's stunning short do in such an abbreviated time span? Having had the privilege to watch Ken work in real time, I totally understand how he was able to whip up a spectacular history making new do in a matter of 30 minutes.
I swear this man can fly. OK. Maybe it just seems like it because his hair styling movements are so elegant and fluid.
The real truth is that Ken is one of the best stylists in the world.
Yes I am prejudiced, but so are his many sizzling celebrity clients ranging from Celine Dion, Jessica Simpson, Lara Flynn Boyle and Nancy O'Dell to Carmen Electra, Christina Applegate, Ashlee Simpson, Jennifer Lopez, Minnie Driver, Heather Locklear, Lucy Liu and Victoria Principle, to name just a few of the legions of his celebrity clients around the world .
Not only has Ken been working with Marley's hair for a long time, he understands how she likes him to handle her "tons and tons of straight hair that has a little wave".
The famed celeb hairdresser also has collaborated with her long enough for them to form a relationship built on mutual trust and understanding. Which is Ken's modus operandi.
Ken confessed to me that Marley reminds him of "a supermodel who understands the value of constantly reworking her image to do justice to whatever role or event she is currently involved with".
His "hair creation juices are completely unleashed when he works with Marley, because she is like a blank canvas, totally open to experimentation for the sake of her craft and for the character she has assumed".
He acknowledged "it takes a lot of courage to be willing to drastically change your image for the sake of art". In that regard, Ken finds "Marley is unlike a lot of actresses who are more reticent about making major hair or style changes".
Ken and Marley have a lot in common because Ken "lives to create spectacular looks for his clients". He does this by "understanding who they are and what they are trying to accomplish". So what else can I say? Ken's work says it all.
Note: To talk about fusion or other hair extensions visit the HairBoutique.com Hair Extension Forum located at: http://talk.hairboutique.com/default.asp?C=13
If you want to talk more about this or other hair care articles on HairBoutique.com or anywhere else, please post a message on HairBoutique.com's Hair Talk Forums.