January 3rd, 2000 by Karen Shelton
Introduction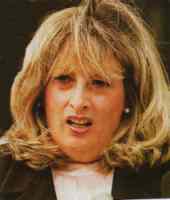 Linda Tripp has gone the way of her ex-phone buddy Monica Lewinsky and had a major makeover.
While it is nice that Linda had plastic surgery, lost weight and had lots of other improvements made, the Hair Boutique is most interested in the hair aspects of Linda's makeover.
For her hair makeover Linda selected one of the best stylists in Beverly Hills, California to sculpt her new do from her previously long "no shape" overly blonde style that she is famous for.
Famous stylist Yuki Sharoni transformed Linda at his tony salon in Beverly Hills.
Linda was styled personally by Yuki who commented that he found transforming Linda's locks to be challenging but rewarding.
Linda's over bleached blonde locks were colored by colorist Marcus Daniels who is famous for coloring the locks of NYPD Blue's Kim Delaney and singer Faith Hill.
The press reported that Daniels toned down Tripp's brassy platinum streaks to a more natural dark golden-blonde using highlights, applied a special glaze for shine and a Keretase conditioning treatment to soften and condition.
According to Christina Cessna, assistant colorist, it took approximately 4 hours to turn Tripp into her new dark golden blonde self.
The normal cost for all the services that Linda received would normally run $400. Sharoni charges $150 for hair styling.
Supposedly Daniels waved his normal $400 worth of fees in the hope of getting some good publicity. The Hair Boutique contacted the Sharoni salon to try and talk with Daniels or Sharoni but never received a return call from publicist Linda Silver.
So while we would love to oblige Daniels with lots of publicity about his wonderful color work on Tripp, we were unable to make contact with him.
We think Linda looks wonderful from a hair view. Her new style and color suits her well. Kudos to Sharoni, Daniels and Cessna.
If you want to talk more about this or other hair care articles on HairBoutique.com or anywhere else, please post a message on HairBoutique.com's Hair Talk Forums.