April 22nd, 2010 by Karen Shelton
Introduction
Short fine hair needs to be cut and styled to amp up the volume to create the illusion of more hair.
Layered bangs, when cut correctly on fine, thin hair, can be some of the a great bang styles to select from.
As a big fan of bangs (I have been wearing them all my life), I find layered bangs easy to tousle, straighten or wear messy
Layered bangs which are tousled, messy or side-swept can be a wonderful way to build initial hair volume right at the hairline for fine, thin hair.
Note: Read more about Lisa Rinna's Short Sassy Hairstyles and check out The Lisa Rinna Gallery Of Styles.
Of course like everything else in the Bang Hair Universe, some bangs work well for some fine hair, but not so well for others.
Layered bangs usually work best for people with naturally straight hair.
Challenges With Short Fine Hair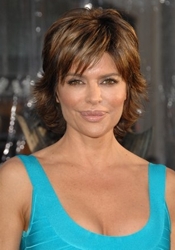 DailyCeleb.com All rights reserved.
One of the challenges with short fine hair is that the hair may be too thin or baby fine may turn out looking wispy. The fineness factor of your hair definitely needs to be taken into consideration when trying out layered bangs.
When it comes to fine hair, if you are going to go with bangs, layered is often the better bet because when fine hair is cut into a full frontal fringe, there will be a tendency for the hair to fall flat onto the forehead. The process of layering will lift, separate and add an airiness to a frontal fringe of fine or baby fine hair.
Straight across bangs may not look as dramatic when created on hair which is naturally thin, wispy or baby fine.
If the base of the bangs are cut too far back toward the crown, the bangs may be too lopsided to hold a good layered shape. Which is why it's important, whenever possible, to work with a hairdresser who has lots of experience with fine tresses.
With layered bangs on fine hair the lowest layer should be constructed with a series of ever shorter layers cut from the base layer up.
It is important to avoid cutting too many or too short of layers or else the bangs will not lay properly and there will be too short strands that may stick up from the top layer.
Avoiding Long Bases And Razors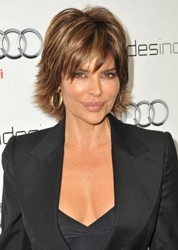 DailyCeleb.com All rights reserved.
If the base layer is too long, there is a danger or the ends flipping up and forward. Creating layered bangs are more complex than bangs cut straight across.
When layered bangs are created, it is advised that shear scissors are used instead of a razor. This is because a razor will leave the ends choppy and there may be breakage associated with the ends due to the sharpness of the razor.
Layered bangs are typically cut to hang slightly past the eyebrow by anywhere from 1/8 to 1/4th inch. This of course depends on how you like your bangs and current trends.
Although some hair and beauty experts recommend that only some types of face shapes should wear bang style,s other experts believe that every face shape can benefit from the look.
Note: For more tips on achieving straight bangs read Bangs - The Straight Scoop.
Another option to achieve full, thick straight across bangs is to have tiny human hair extensions applied to just the bang area. Yes, this has been done. Another option is clip-in bangs which are less viable in most cases because they look unnatural and may create the dreaded 60s mall bang look.
Highlighted Layered Bangs For Fine, Thin Hair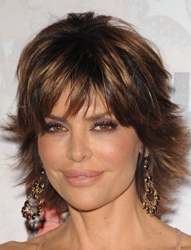 DailyCeleb.com All rights reserved.
If the goal of straight bangs is to punch up the eyes, carefully applied ribbons of highlights and lowlights intertwined throughout the bangs can have a spectacular effect.
If the highlights and/or lowlights are added to thin, fine hair worn in straight bangs, there is an added benefit of instant plumpness and volume.
Layered Bang Styling Options
Long eyebrow skimming bangs can be styled so that they are worn down in a straight or jagged line extending across the forehead.
Or, sometimes eyebrow skimming bangs are worn swept to one side with the bulk of the bangs draped over one eye Veronica Lake style.
Skinny headbands are an ideal hair accessories since they can be worn a few inches back from the bangs with actually maximize the beauty of the straight bangs.
Experiment with a range of headband widths to create a wide range of different looks.
Another great accessory for bangs for thin tresses are thin clip-in bangs in a variety of different hues. The sides of the fringe can also be adorned with tiny jeweled bobbies or sassy sleeper clips.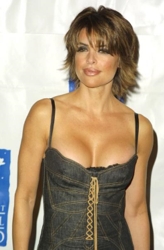 DailyCeleb.com All rights reserved.
Summary
Layered bangs has been around since before the days of the famous flappers. The straight bang was adopted by Louise Brooks who wore the hair with her famous short bob.
Do layered bangs look good on everyone with fine thin tresses?
Although everyone should wear their hair exactly as they please, layered bangs need to be selected on a case by case basis.
Social Media Network Information
Please follow me on Twitter at: http://Twitter.com/HairBoutique. I look forward to meeting new people
from all walks of Twitter and learning from their Tweets. Visit us at Hairboutique.com located at: http://www.HairBoutique.com, on Facebook, MySpace and YouTube.
Thank you for visiting us at The HairBoutique Blog and for leaving your comments. They are very much appreciated. We apologize in advance but must remove any direct advertisements or solicitations.
- Revised Date: 05/03/10
If you want to talk more about this or other hair care articles on HairBoutique.com or anywhere else, please post a message on HairBoutique.com's Hair Talk Forums.