April 18th, 2003 by Karen Shelton
Introduction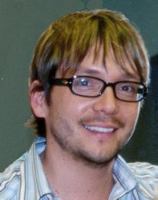 I recently caught up with celebrity hairstylist Ken Paves who had just returned from spending several days in the desert working with Pamela Anderson's hair for a future calendar and some media cover shots. (Photo: Ken Paves - Copyright HairBoutique.com 2002-2003 - all rights reserved).
The rigors of a totally madcap schedule combined with the dry desert air had robbed Ken of his voice. Even though he had to croak out his well-chosen words, the ever gracious and considerate Ken insisted that it was OK to do a quick phone interview to catch up on his latest hair triumphs.
Just when I thought Ken couldn't possibly top the spectacular work he has already done, he went off and created something even more spectacular. What do I mean? Have you seen renowned chanteuse Cline Dion lately? If you haven't seen her in a recent US Weekly with a beaming Ken peering into the mirror over her shoulder, on Oprah giving a tour of her home and showing off her baby, or splashed across the media, you are probably living in a cave somewhere.
Ironically Ken wasn't even originally scheduled to work with Cline's hair. He was asked to work his renowned wig design magic for the 54 members of the show's dance troupe. As a result of his promise to design custom looks for the show (created by Franco Dragone, the mastermind behind Cirque du Soleil), which is one part Broadway and one part Las Vegas, Ken has been keeping a grueling daily commute schedule between Las Vegas and LA.
As if designing multiple wig changes wasn't keeping him busy enough, Ken was eventually approached to work personally with Cline's hair. Ken's task was to create a new hairstyle for her "A New Day" live performances at Ceasar's Palace Colosseum along with her assorted special performances at the Opening Night Party and on Oprah's TV Special.
Since Ken enjoys working with celebrity clients that are positive, upbeat and love what they are doing, designing a new style for Cline was a perfect fit for Ken's legendary design talents. Since Ken believes that it is "important to develop a relationship with his clients" he had a chance to "really get to know" his famous new client. After all, his amazing works of hair art ultimately spring from his "ability to really understand who his client is and what their real priorities are". When it comes to working with his stable of celebrities Ken takes "every possible facet of their personal and performance lives into consideration".
Such was the case with the celebrated songbird who is known as one of the hardest workers in the industry. Cline has undergone some major life changes over the past few years, starting with the cancer diagnosis of her beloved manager husband, Rene. Even though Rene came through the cancer scare with a clean bill of health, Cline decided to make some changes in how she lived her life. Two years ago she fulfilled her dream of having a child with the birth of little Ren-Charles.
Her primary life's focus is now completely dedicated to being a great mom to her dearly loved son. Like any working mom, Cline has to make hard choices about to spend her time every day. As Ken put it, "she gives 110% of herself in everything she does".
Cline is famous for living life at a breakneck pace. The singer's performances in her celebrated Las Vegas show consume a lot of time with daily rehearsals, preparation for the show and the actual onstage times. Even the business of being beautiful is time consuming.
When Ken was asked to create a look that would compliment Cline's public and private lives, he talked at length to Cline to "understand the look she wanted and would enjoy wearing". Cline told Ken that "she wanted something fresh and new" but a style that was "easy to style and wear". Extensions were definitely "not an option" because they required such a time commitment and would blow out her time allowance of 45 minutes for daily hair and make-up.
Another consideration for the ultimate chop/pixie that Ken created revolved around the fact that Cline "likes to spend a lot of time in the pool with her beloved son". A short, wash and wear cut seemed to be the perfect choice for her sun and surf off-hours. Hairstyle versatility is one of Ken's hair design signatures. Indeed, as he went to work creating Cline's spectacular new style he considered "all the possibilities of turning out a style that could work as easily lazing by the pool as singing and dancing in full costume".
Ken created Celine's first new chop by trimming approximately seven inches off the back and around the sides and creating lots of well placed layers around the crown. He evened out the length to give it a perfect symmetry and balance. After Ken crafted Cline's cut, celebrity haircolorist, Rita Hazan, flew in from New York City to add her magical blonding touch.
How does she like her new short do? "She absolutely loves it" and believes it "was a great decision" said Ken. After the first cut was made, Cline asked Ken "to take her hair even shorter and more layered at the crown". Why? She wanted "to have more options to try different looks" and give it a "more glamorous performance aura".
Cline is not one to shrink from personal change and transformation. In fact, in the early years of her career while she was pushing hard to become an International performance artist she was required to take 18 months off to completely remake and reshape her image. Undergoing a total transformation by cutting her hair, plucking her eyebrows, and having her teeth capped, Cline was willing to do whatever it took to make her dreams a reality.
According to Ken she "also loves to experiment with different looks for her chic new style". With Ken's styling genius and guidance, she has emerged with a range of versions that range from an Elvis-esque Pompador to a spiked punk rocker to a glamorous diva.
The fashion world has gone crazy for the new pixie crop look and is touting it as the new Mia Farrow/Twiggy. It is also being referred to, as a history making cut that will have a strong influence on hair trends in the future. The response from Cline's beloved fans and the media has been very positive. Although some fans may have preferred Cline with longer tresses, they acknowledge and respect her new bold, adventurous style that perfectly mirrors her new direction in both her performance and personal life.
Ken pointed out that Cline "is a confident, strong woman. Photos really do not do her justice" Ken confided "in person she looks absolutely gorgeous". And yes, her hair and makeup now take just a smidge under 45 minutes. As Ken explained, "much of his inspiration for Celine's new style" sprung from his "vision of her as a spectacular performer who is strong, accomplished and willing to take risks".
Not only does Ken deem that Cline is a "fantastic performer and lady" he "respects her goals to be a great mom and make time for her young son". He also admires her willingness to make a total style change.
As I've said before in previous articles about Ken, respect is an important part of whom he is as a person and celebrity hairstylist. He prefers to only work with "celebrities where there can be a mutual respect that develops as part of the relationship". Ken also seeks out clients that "love their work and enjoy what they are doing". Cline fits the bill on all accounts.
Since the show's premiere Ken has been jetting to Las Vegas every day in order to work with Cline's hair before and during the show. Ken starts the process by washing and conditioning Cline's thick, naturally curly haired strands with Kerastase Bain Satin Shampoo and Kerastase Masque Oleo-Relax, which helps condition, detangle and create silky, smooth tresses. He towel blots her hair, adds Kerastase's Serum Oleo-Relax anti-frizz balm and blow dries it with his famous Solano blow dryer.
Ken then sets her strands in hot rollers. While her hair is setting Cline has her make-up applied and has dinner with her family backstage. Ken removes the curlers and then brushes and backcombs the hair to give it well-defined movement and root lift. He flat irons the bottom strands with a small-barreled iron to get a smooth finished look on the ends of the style. Depending on whether Cline wants to go with an Elvis or glamour look, he will tousle or slick appropriately, using either wax, paste or gel. When the style is finished he sprays her entire style with PhytoLaque Soie for a light but firm hold.
Although Cline appears to have a messy chopped pixie, her hair is actually very carefully cut and precisely sculpted. While her off-stage "mom" look is no muss/no fuss, her performance hair is very polished.
Lurking unobtrusively backstage during the actual show, Ken is ready to leap forward between acts to smoothe, tuck, brush, spray, twirl or tousle as required. As always, this world-class stylist and his famous round brush is never far from his celebrity client.
After an intense whirlwind Las Vegas evening of styling, spraying, and touchups, Ken rushes back to the Vegas airport and hops the red-eye for LA where he lands in the wee hours of the morning. Once home, he prepares for his upcoming full day of tousling, clipping and smoothing his other celebrity heads like Jessica Simpson, Lara Flynn Boyle and Pam Anderson.
Ken's time in Las Vegas has involved one of the biggest wins of all time. Ken and one of the world's most beloved singers gambled together and won with a hot new style and media and world admiration. While some might prefer winning at the Blackjack tables, I bet if you asked him Ken Paves would tell you that life doesn't get much better than this.
If you want to talk more about this or other hair care articles on HairBoutique.com or anywhere else, please post a message on HairBoutique.com's Hair Talk Forums.