October 25th, 2003 by Karen Shelton
Introduction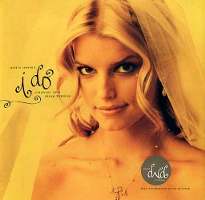 I recently trolled through the aisles of the local Dallas Barnes and Nobles looking for Jessica Simpson's recently released bridal book.
Jessica with help from her gorgeous mom Tina and writer Katina Z. Jones, chronicled Jessica's October 2002 romantic nuptials to Nick Lachey in I Do: Achieving Your Dream Wedding (click on the link to purchase Jessica's book from Amazon.com or call your local Barnes & Noble bookstore).
Yes, the book is a gorgeous work of bridal art, it has wonderfully touching and romantic photos and Jessica and Nick both looked amazing. I wanted to get my hot little hands on the book because of the section appropriately titled "The Look of Love" which features none other than celebrity hairstylist Ken Paves.
When I first met Ken Paves in July 2002 at the Seventeen Magazine photo shoot held in Dallas, he confided, during one of our conversations, that he was "incredibly touched and honored at the opportunity" to do Jess's hair for her upcoming nuptials. Having spent two days watching this master hair wizard whip the blonde beauty's strands into a range of styles from faux hair roller loops to a cascade of gorgeous waves, I was dying to get the inside scoop on how he planned to do her tresses for the most important day of her life. There is absolutely no doubt why Ken Paves is one of the most sought after celebrity stylists. Everyone from Jessica and her sister Ashlee, who stars on the WB's Seventh Heaven, to JLo and Celine Dion have enjoyed the spectacular styling skills of this incredible hairdresser.
Ken told me quite frankly back in July of 2002 "that he did not know yet how he would exactly do Jessica's hair". He said that he had put together some sketches of what might work with her gorgeous custom designed Vera Wang wedding gown, but that he and Jessica would sit down together and discuss "the ultimate bridal style". Once they figured out a style that Jess liked, they would do a practice run on the look to make sure it worked.
As we chatted about what an incredibly gorgeous bride Jessica would make Ken confided that "Jessica was doing a book with her mom Tina about every aspect of her wedding and her bridal hairstyling and makeup tips will be included in the book".
As he promised, there is a wonderful section of this stunning book devoted to Jessica's ultimate wedding hairstyle which Ken designed to be soft and elegant. As the book points out, Jessica's new husband Nick likes her hair "long and pretty." And if you have watched MTV's hit Newlyweds, you know that Jessica loves to please Nick.
Keeping with the true soul of Jessica and knowing Nick's preferences, Ken created a soft cascade of loose finger curls with his magic wand. The spectacular array of waves were magnificently highlighted by the addition of vintage Van Cleef hair clips that were hand sewn into Jessica's hair.
There are some wonderful images of Ken with Jessica in the book. Besides doing Jessica's bridal hair, Ken also did the hair of her mom Tina and her sister Ashlee, who was the maid of honor.
If you have been watching the MTV's Newlyweds, it is possible to catch a few glimpses of the hair master working on Jessica's hair in the wedding scenes of the show.
As I have written in the past, Ken is completely devoted to Jessica, having worked with her for many years. The working relationship that Ken has with Jessica is built on solid friendship and trust. As a result, the hairstyles he always creates for the gorgeous singer are absolute perfection.
Whether you are a fan or not, having had the privilege of personally meeting Jessica and spending two full days in her company, I can tell you that her role on The Newlyweds was just that, a role. I watched Jessica interact for many hours with magazine editors, photographers, the press, mobs of fans and even a squad of Dallas policemen. Not once did I see her be anything but kind, caring and totally considerate of those around her.
When I saw the first few episodes of the Newlyweds I was stunned since this was not the Jessica Simpson I had met. However, Ken assured me that MTV's producers wanted to highlight her hilariously funny blonde ditz side. And yes, I did witness Jessica as being very funny. She is definitely a natural comedian.
Jessica Simpson is the 2003 version of Laugh-In's Goldie Hawn meets Carole Lombard. Her lovable blonde persona was definitely played up through masterful editing and producing. In person, Jessica Simpson is pure class and elegance with a huge heart and a brain to match. Watch for this spectacular young woman's star to continue to rise.
Meanwhile, if you love romantic weddings or in the planning stages of your own wedding, Jessica's book is a must. Even if you are a huge fan of Nick and Jessica, you will enjoy this well done edition.
If you want to talk more about this or other hair care articles on HairBoutique.com or anywhere else, please post a message on HairBoutique.com's Hair Talk Forums.