Last updated on August 3rd, 2002 by Karen Shelton
Introduction
Behind every beautiful celebrity is a skilled team of hair and beauty experts. Jessica Simpson's go-to hairstylist for many years is celebrity hairstylist Ken Paves.
I first met Ken at a two-day Seventeen magazine shoot at a North Dallas spa salon (Seventeen Studio Spa Salon) in Dallas back in 2002.
He accompanied Jessica and her entourage for the photo shoot along with shooting a TV spot and a performance by Jessica.
First Impressions
I liked Ken at once. He immediately warmed my heart with a comment that my long blonde hair reminded him of Stevie Nicks.
I also realized very quickly after meeting Ken that the business of being beautiful for the camera is very hard work.
It takes a lot of time to set up each still, video or film shot including constant hair and wardrobe changes.
Flying low below the shoot's radar, Ken transformed the beautifully blonde Jessica into a dizzying array of stunning hairstyles right before my eyes. In short order he transitioned Jessica from a celestial goddess to a white-hot rock star.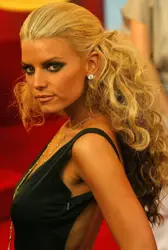 DC Media All Rights Reserved
Ken operated with military precision from his cramped command post in the spa's tiny make-up alcove.
Spreading out his irons, rollers, brushes, clips, combs and serums, he looked like a hair scientist getting ready for a major project.
Over the course of many hours Ken painstakingly pinned rows of faux hair rollers into Jessica's hair, brushed her hair out into a flirty pony and then orchestrated an array of curls and waves.
Right before my eyes Jessica's hair was constantly changing.
The Eye Of The Hurricane
Ken can weave his hair spells in a matter of minutes while a hurricane of activity swirls around him. A ball of energy he managed to bring a calming sense of humor into the eye of the chaotic storm.
I was surprised at how easily he managed to stay cheerfully focused on the hair project at hand, even with constant interruptions from photographers, producers, a host of editors and the media.
Ken never missed a beat as he clenched his favorite brush in his mouth while using his fingers to smooth and tease every strand into absolute perfection.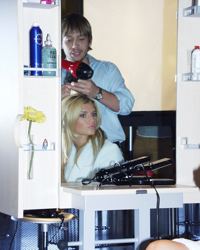 Jeffry Hines HairBoutique.com - All rights reserved
Waving his cord-modified Solano blow dryer like a magical red wand, Ken meticulously worked and tousled even as Jessica downed a quick lunch salad, chatted about her newest CD or talked with her managers.
Ken And Jessica's Long History
Exuding total coolness he was clad in chic, but relaxed, California style jeans and shirt. Ken sported his own edgy blonde highlighted hair (courtesy of hair color guru Rita Hazan) which ranged from butterscotch to vanilla.
Ken has been doing Jessica's hair for several years. Make no mistake, he absolutely loves working with Jessica.
Although highly sought after as a celebrity hairstylist, Ken is selective about the hair he works with. Jessica is one of his favorites because "she is an amazing girl, such a sweetheart and great to work with".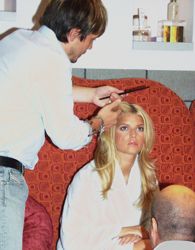 Jeffry Hines HairBoutique.com - All rights reserved
Ken told me "Jessica is beautiful and very charitable."
He said "she is a very kind and generous soul." Ken respects her as "a person and performer and admires her natural talent for doing hair and make-up".
There have been times, Ken reported, when he saw Jessica and "she looked absolutely amazing, just beautiful". Then he discovered that she had actually done her own hair and make-up.
Jessica's natural hair and make-up talents makes her so fabulous to work with "because she understands her hair and its potential". Ken likes the fact that Jessica "works with him to achieve great styles and he respects her abilities".
Sharing The Compliments
Ken loves to spread around the credit. He had so many nice things to say about Jessica and his other team members, that I had to concentrate on getting him to talk about himself.
After raving about the fabulous talents of Rita, who does Jessica's colors, he called out to Jessica's mother Tina and insisted that she confirm how quickly and fabulously Rita could create highlights.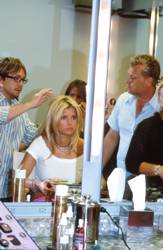 Jeffry Hines HairBoutique.com - All rights reserved
Tina agreed that "Rita does great highlights and very quickly".
A Young Bridgette Bardot
Although Ken regularly works his hair magic for Jessica and many other well-known celebrities, he is "a Midwestern boy at heart who finds tremendous joy in his work and his clients".
His stated preference is to "work with celebrity clients that are positive, upbeat and love what they are doing, like Jessica".
Ken believes that "it is important to develop a good relationship". After all, his works of hair art ultimately spring from his "ability to understand who and what his client is all about".
From that understanding, he is able to craft a total image that his hair designs compliment. He noted "hair should reflect the inner you".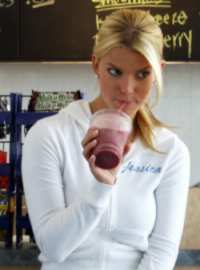 DC Media HairBoutique.com - All rights reserved
Ken explained "much of his inspiration for Jessica's overall look springs from his vision of her as a modern day Bridgette Bardot". Or possibly "a young Mariel Hemingway in the film Star80".
Indeed, upon meeting Jessica I realized she has an irresistible blonde beauty which oozes from every pore, much like Ms. Bardot in her heyday. Jessica's beauty smolders without stepping over the line of good taste.
I've seen Jessica project the image of a beautiful, confident women. Just like Bridgette, when I met Jessica back in 2002 she was well on her way to become a worldwide sensation with her beauty and talent. Just as Bardot did in the 50s.
Although Jessica's rich voice can easily and effortlessly glide through a diverse collection of songs from ballads to sultry R&B, funk and rhythm-pop, Ken can envision "just the right look for her performance hair".
Work Hard But Have Fun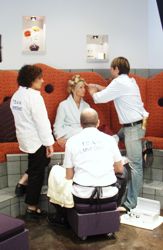 Jeffry Hines HairBoutique.com - All rights reserved
Ken definitely has fun through his work and it shows in everything he does. During the actual photo shoot in the spa's famous cozy pedicure pit Ken hovered close by his celebrity ward, with hair clips decorating his sleeves and his hair tools tucked into various pockets.
Watching as every part of Jessica's hair was photographed, Ken darted back and forth between takes to make sure, with the flick of his wrist, that every curl was just right.
Posed to leap forward in an instant, he was always prepared to smooth, tuck, brush, spray or twirl Jessica's hair as needed.
Ken is one part hairstylist and one part cheerleader. He kept the shoot atmosphere relaxed and chilled, knowing exactly when to crack a joke to help his celebrity client smile and have fun through the grueling posing.
As a multitude of cameras flashed, Ken called out to Jessica helping put her at ease and making her smile and laugh.
Jessica's Fine But Thick Hair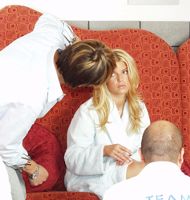 Jeffry Hines HairBoutique.com - All rights reserved
Ken explained Jessica "has very fine hair but there is lots of it". Even more noteworthy "her current bra length locks are all her own sans her previous hair extensions". He has been helping Jessica "grow out her length for the past four years since her first CD when she appeared bleached to within one inch of her life".
The talented hairdresser pointed out that "Jessica has naturally light blonde hair but the bleach was too much for her fine hair". Not only did the excessive bleach "cause her hair to break and become very damaged, Jessica didn't really like the white blonde look".
As a result of the bleach damage Ken "had to take Jessica's hair temporarily shorter and supplement with extensions as needed for a longer look". Ken and Rita Hazan, Jessica New York colorist decided "to take her back to a softer, more natural blonde look".
Jessica's hue, when I met her in 2002 was "a combination of her own beautiful natural blonde and some well-placed highlights created with the Clairol Professional color line". Her hair was soft, shiny, glamorous and very healthy.
Jeffry Hines HairBoutique.com - All rights reserved
Ken pointed out Jessica has perfect hair for long hair. Recently he added "gentle scissor cut layers around Jessica's face to add softness and shape within impacting the overall length".
I asked Ken why he used scissors rather than a razor. He explained "Jessica's hair is so fine that it is thinnest around her face and would tend to split if cut with a razor".
Jessica wanted her hair a little longer for her upcoming Fall 2002 nuptials to Nick Lachey.
As a result of her wishes, Ken told me he was helping her to strengthen and condition her hair with a special protein serum.
Ken is a big fan of European hair care products. His three favs are Phyto (Phytotherathrie), Rene Furterer and Leonor Greyl, not necessarily in that order.
Ken admitted within the Phyto line his favorite products are "the two Phytolaque sprays and the Phytodefrisant Balm".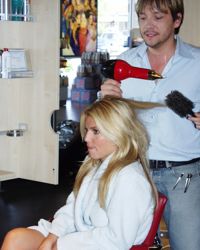 Jeffry Hines HairBoutique.com - All rights reserved
A bottle of red Phytolaque Soie non-aerosol spray was in constant reach while he worked on Jessica's hair.
He loves the "Phytolaque Soie on Jessica hair because it allows for a soft silky hold." He believes the Phyto product protects and nourishes her hair.
Jessica's Bridal Hair
Ken will be doing Jessica's hair when she has her fairytale wedding to Nick Lachey of 98 Degrees in the Fall of 2002. I asked Ken if he knew how he would be doing Jessica's hair.
Although he admitted that he has some ideas on Jessica's wedding hair designs, he told me he would meet with Jessica some weeks before the wedding to do some practice styles.
He would then take photos of the styles and leave them with Jessica to decide.
Tex Mex Natch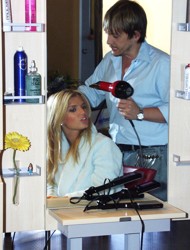 Jeffry Hines HairBoutique.com - All rights reserved
After a long hard day of brushing, spraying, curling and bending Jessica's curls, Ken joined the star and her family for a Tex-Mex feast at the famous Dallas Chuys on McKinney.
Happily admitting to two delicious margaritas and eating from one end of the table to the other, Ken obviously enjoyed spending time with all the folks in Jessica's camp. And vice versa.
It's obvious he is highly regarded by Jessica, her family and the rest of her entourage.
A Fan As Well
On Jessica's second day at the Seventeen spa she was scheduled to perform onstage as one of the main attractions for an outdoor Parking Lot Party as well as have a private pedicure party for a group of her lucky fans.
Jessica was also scheduled to be photographed in a number of locations throughout the spa and meet and greet her fans for an autograph session.
Arriving with his bag of magic hair tools, Ken set up shop for day two of Jessica's visit.
After creating a series of beautiful soft hair designs for her various appearances, Ken followed Jessica outside to the main stage.
Jeffry Hines HairBoutique.com - All rights reserved
Standing with her manager he applauded and cheered her on during her on-stage performance. He told me he "loved her performance and is always one of her biggest fans."
Gone But Never Forgotten
After Jessica finished her performance at the Seventeen Parking Lot Party, she was whisked off stage into the back of the spa to quickly change and head for the airport.
Ken accompanied Jessica and the police escorts through the secret back entrance and out to the sleek white stretch limo.
Before he disappeared into the mammoth darkness of the car he stopped, gave me a big hug and said good-bye.
Note: To read more about Ken visit the Ken Paves Page on HairBoutique.com.
- Revised Publication Date: 10/25/11
If you want to talk more about this or other hair care articles on HairBoutique.com or anywhere else, please post a message on HairBoutique.com's Hair Talk Forums.