September 13th, 2003 by Karen Shelton
Introduction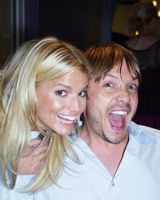 It is no secret that I am a huge fan of celebrity stylist Ken Paves. Not only did I have the fantastic opportunity to spend two frantic but fun-filled days with him during a Jessica Simpson photo shoot for Seventeen Magazine, I was honored to win his continued friendship.
(Photo of Ken Paves & Jessica Simpson taken in Dallas, Texas in 2002 by HairBoutique.com - copyright HairBoutique.com - all rights reserved).
Over the past 14 months I have talked to "KP" as I know call him, on a regular basis. We would probably talk more often except for the fact that Ken lives a totally frantic life jet setting around the globe to attend to the pampered strands of some of the most fabulous female celebrities like Jessica, Pam Anderson, Carmen Electra, JLO, Anatasia, Christina Applegate, Nancy O'Dell, Celine Dion, Ashlee Simpson, Minnie Driver, Kirsten Dunst, Lara Flynn Boyle, Calista Flockhart, Victoria Principle, Marley Shelton, Heather Locklear, Carmen Diaz and Lucy Liu, to name just a few of many stellar strands he has transformed in the recent past.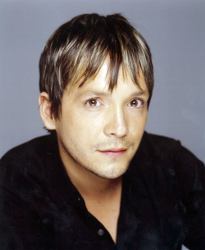 Contrary to a recent snippet in US Magazine about Ken Paves doing the celebrity strands of Nick Lachey and Jessica Simpson, Ken only works with female tresses. Why? Because that is what he feels he does best and enjoys the most. Ken is a true believer in following your life's passion. Working with only female celebs and clients is part of that passion that defines his work and his career. (Photo of Ken Paves courtesy of Ken Paves - all rights reserved).
Although a lot of Ken's work is visible, like Jessica's hair for her latest music video, Pam Anderson's hair at the MTV Music Video Awards and Christina Applegate's hair at the recent Emmys, a lot of Ken's work is hidden.
Although some people are aware of the fact that Ken does the hair on several Oprah audience makeover shows, many people are not aware of how he tirelessly donates his time and energy for many different charitable causes. Ken has a heart bigger than the Grand Canyon and he silently gives and gives and gives of his love and attention to children that need him.
Ken also works behind the scenes at major entertainment events and can be seen briefly as a walk-on in The Wedding Planner. When it comes to his "girls" Ken is always willing to share the appropriate hair and beauty scoops and his tricks for creating some of the most spectacular hairstyles that glide down the red carpets around the world.
Jessica Simpson's Real Hair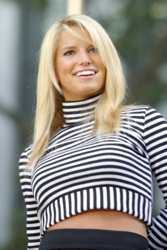 Although the 2004 MusicVideoAwards (MVAs) took place last week, Ken and I tried in vain to have a conversation about his work on the tresses of Jessica, who was doing a Marilyn Monroe turn, Carmen with her new chunky layered look and Pamela. Every time Ken and I tried to hook up by phone either the wireless cells were bad, his email was on the fritz. We also kept getting cut off, or he was about to get on a plane or was caught in a rain storm in New York chasing his limo down the street. And yes, that really did happen, but it is much more hilarious when Kenny tells the story. (Image of Jessica Simpson courtesy of Good Morning America - all rights reserved - 2003).
I finally managed to get KP on the phone today for a rare stretch of uninterrupted 20 minutes. It was a total alien experience. I told Ken that he had to give me the scoop on Jessica Simpson's "real" hair. Jessica has been showing up all over the Universe lately in a wide range of hair styles sparking all sorts of rumors whether her hair is long, short or somewhere in-between.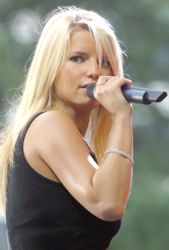 So what is going on with Jessica's hair? According to the man that works on her hair constantly, Ken told me that Jessica's hair is currently long with her strands hanging to "about the middle of her back". So what about that saucy wig that she wore for her vocal performance on the recent Craig Kilborn show? A wig, natch. (Image of Jessica Simpson courtesy of Good Morning America - all rights reserved - 2003).
And the super straight look for the Good Morning America appearance in New York where she sang two of her new singles? "That was her own hair skillfully blown out by Justin" KP's assistant.
So what about Jessica's short blonde loose curled look for the MVA's and the Marilyn Monroe fingerwaved short style for the Giorgio Armani awards? "The same wig" that Ken used "for the Craig Kilborn show" was styled for both events. Ken also created a spectacular ringlet inspired look for Jessica appearance at the recent LA Fashion Show.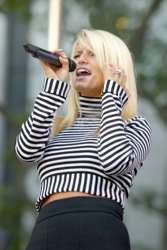 OK, got it. I asked Ken to explain how he got Jessica's hot blonde curly wig to look so great. He said "the secret was to attach the wig in such a way as to blend the wig strands with Jessica's real strands".
Huh? How did he do that? KP promised to "demonstrate on me" the next time he saw me in person. I can't wait to learn that secret because the wig really did have me fooled.
(Image of Jessica Simpson courtesy of Good Morning America - all rights reserved - 2003).
Pamela Anderson's Hair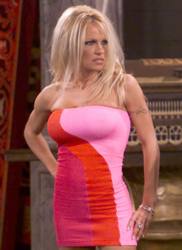 Besides Jessica's hair, Ken also did Pam Anderson's hair for the MVAs. I mentioned that Pam's hair is looking fabulously glossly and shiny these days. Ken reminded me of a previous conversation about Pam where he explained that "he had her on a special conditioning regime to strengthen and soften her strands".
(Photo of Pam Anderson from NBC - Just Shoot Me - NBC Photo: Chris Haston - all rights reserved).
Ken reported that Pam's conditioning treatments "are working wonderfully and her hair has never been healthier or looked stronger".
For the MVAs Ken "added spot extensions to Pam's natural long strands to achieve volume and texture".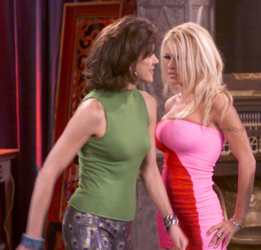 Speaking of Pam, Ken confirmed me that "she still does her own highlights herself at home".
KP told me that Pam does a "really great job with her own color/ KP confided that Pam applies the home blonding product to her strands and then uses the color processing time to get on her treadmill". (Photo of Pam Anderson from NBC - Just Shoot Me - NBC Photo: Chris Haston - all rights reserved).
The image of the gorgeous Pam Anderson slathered with an off-the-shelf blonding product running on her treadmill had me laughing. But you have to admire her ingenious use of her bleaching time. I love Pam anyway. I recently read in her Jane column that she doesn't mind that the media writes about her and photographs her every move, but she does wish they would leave her two boys out of the mix. Pam, if you are reading this, I completely agree.
Ken had originally told me some months back that Pam prefers to do her own color in the privacy of her own home.
Ken confirmed that Pam does a wonderful job with her color and it looks "great". And no, I can't tell you the brand because Pam wants to keep that info private. (Image of Carmen Electra & Pam Anderson from Baywatch Hawaiian Wedding: a world premiere movie event, 2003 FOX - all rights reserved).
I can tell you that the sizzling top that Pam was wearing during her award presentation was created out of a dress that KP cut with his very best and sharpest scissors. I teased him about the fact that not only is he creating award wining hairstyles for his "girls" he is creating fashions.
Ken has been working with Pam for quite some time and has done her hair not only for the recent MTV Music Video Awards but also went with her to do her hair for the recent Country Music Video Awards where he crafted a series of hot styles for Pam role as the Mistress of Cermonies.
Carmen Electra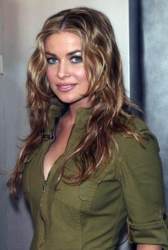 As if doing Jessica and Pam's hair wasn't enough, Ken also did Carmen Electra's hair for the MVAs. As I reported recently, Ken created a super layered, super chunky look for Carmen that he skillfully styled for a soft sultry look.
(Image of Carmen Electra in March of 2003 on Last Call With Carson Daily -- NBC Late Night -- Photo: Michael Simon / Startraks - All rights reserved).
I asked Ken if he had any ideas of how he was going to do Carmen's hair for her upcoming nuptials to Dave Navarro, which will be held in Los Angeles. Ken said that he was thinking of some ideas that that no final decisions had been made. He also confirmed that MTV would film the nuptials.
If you want to talk more about this or other hair care articles on HairBoutique.com or anywhere else, please post a message on HairBoutique.com's Hair Talk Forums.