February 21st, 2006 by Karen Shelton
Introduction
The major celebrity awards such as the Golden Globes, People's Choice, Grammy Awards and The Academy Awards always provide strong clues to where hair styles are moving in the next year.
Not only do the Hollywood Red Carpet paparazzi provide sneak peeks into the length and texture of hair, for both men and women, their wire images provide clues to popular hair color hues. Because the Red Carpets are populated by stars of every age, race and sex, taking a good look at the resulting award show hair fashions is very informational.
What's even more interesting is the fact that celebrity hairdressers all have their own opinions about the state of hair trends and it may or may not agree with their peers. Since celebrity hairdressers are the master geniuses behind the Red Carpet looks, their opinions will be reflected by the hair styles worn by their famous star studded clients.
Celebrity hairdresser Ken Paves is famous for the spectacular trend setting styles that he has architected for such major stars as Jessica and Ashlee Simpson, Eva Longoria, Jessica Alba, Brittany Murphy, Carmen Electra, Avril Lavigne and a host of other celebrity beauties.
Put-On-Pieces From Hair-U-Wear
DailyCeleb.com All rights reserved.
When I caught up with Ken to get his pronouncements on emerging hair trends for 2006 he had just finished creating the history making tresses that Jessica Simpson wore to the very recent 2006 People's Choice Awards.
Ken confided that "the blonde beauty was wearing the absolute most add-on hair pieces that he had ever used on Jessica - on any other celebrity - for that matter".
Ken gave me explicit permission to report that the add-on pieces that Ken utilized to create the three different looks that Jessica wore at the awards, were Hair-U-Wear's Put On Pieces.
I asked Ken what he believed was happening with hair for 2006. He replied "everything". In his always exuberant and charming manner Ken explained "anything goes with hair for 2006 - from short to long, straight to textured, any hue". Ken has discovered from working with his "girls" that women are tired of wearing their hair according to dictated fashion trends. They are "breaking all the rules" in favor of "creating their own".
Feel Good Hairstyles
DailyCeleb.com All rights reserved.
Ken noted that women, "celebrity or not", are "bucking the required hair wear trends and selecting styles" that "feel good".
Loving this new "do your own hair thing" movement, Ken explained that women are "finding their own beauty signatures and selecting hair, fashion, make-up and accessories according to what makes them feel beautiful, self-confident and works with their own unique style".
What does that mean exactly for 2006 hair trends? Are they stick straight, curly or full of waves? Short or long? Blonde, brunette or ruby red hued?
"All of the above!" The key is for women, as well as men and children, to follow their own desires and work with their hairdresser to create their own "signature looks". While Ken agrees that more people are favoring longer styles with waves and curls, he believes that it's as much the desire to embrace their natural textures and stop fighting their hair, then following specific trends.
Hair Follows Fashion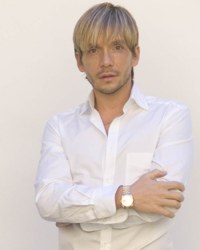 Courtesy of Ken Paves All rights reserved.
The master celebrity hairdresser (shown to the side) also commented that "hair follows fashion" and right now, fashion is all about softness, beauty, simplicity and freedom.
Part of that freedom is to "build your own look" which also supports Ken's creed that "everyone is beautiful", regardless of "how they wear their hair or what fashion style they adopt".
In fact, Ken believes that women are not only learning to embrace their own natural beauty and uniqueness with regard to how they wear their hair, they are learning to think of their hair as a type of "accessory" that can be instantly changed to flow with their current moods, attitudes and fashion style that they are embracing.
One of the reasons that Ken adores working with wigs and Hair-U-Wear's Put On Pieces is because if gives women "so many amazing options" on a daily basis to completely change their looks "to honor the way that they are feeling".
Utilizing options like Hair-U-Wear's Put On Pieces allows women to easily morph from short to long, wavy or curly to stick straight and even change colors as much as they like. All of these fantastic hair changing options can be done without any chemical damage, major chopping or color alterations.
Ken Paves believes so strongly in the Hair-U-Wear's line of Put On Pieces and the Great Lengths Professional Line, (which he finds of the very best quality), he uses the products on his celebrity clients whenever possible.
Embrace Your Natural Textures
Ken also believes that women can easily "enhance their natural beauty" by utilizing the right styling products that will assist them in maximizing their natural textures.
Based on feedback from the thousands of women that Ken has worked with over the past, he created a line of hair care and styling products that help women to wear their hair according to what makes them feel beautiful.
The Paves Professional line of products was custom designed to meet Ken's very specific requirements. Not only are the products "sulfate free", they are used by many of Ken's favorite celebrity clients like Jessica, Ashlee and Carmen. Oprah, who is a constant source of creativity and inspiration to Ken, has actually given Paves Professional products away on her award winning show.
has announced to her audiences that she loves Ken's products and uses them herself.
Whether you decide to wear your hair stick straight or enhance your natural curls, waves and texture, Ken has a styling product that will provide those options.
For sultry, shiny, stick straight styles, Ken created the Paves Professional Straight & Narrow Balm (above).
For styles that maximize and play off the natural texture of soft curls and waves, Ken invented the Red Carpet Mousse (which is a favorite of Jessica's and CaCee Cobb).
The Red Carpet Mousse can be used on damp strands that are air-dried or in conjunction with a round brush and a blow dryer. The Red Carpet Mousse is one of Ken's most versatile products.
For fabulous hold without stickiness, Ken always uses his Convertible Proof Firm Hold Repairing Hair Spray.
Regardless of the style desired, Ken's Convertible Proof Hair Spray will hold tresses softly, but firmly in place.
Summary
Ken Paves is the ultimate disciple of inner beauty awareness Ken believes that everyone should embrace their own unique special gorgeousness and enhance it. Whether you wear your hair full of natural curls, bursting with luscious waves, or stick straight, select the style that makes you feel fabulous and completely self confident.
The entire world of hair is yours to own with the correct styling products and the willingness to step outside the box and play. Don't forget to try Hair-U-Wear Put-On-Pieces and Paves Professional products to enhance your own special beauty.
The complete range of Paves Professional products including all the products mentioned in this article are available at HairBoutique.com's Marketplace.
For Hair-U-Wear visit their website at: http://www.hairuwear.com and check out the fabulous Put-On-Pieces selections.
If you want to talk more about this or other hair care articles on HairBoutique.com or anywhere else, please post a message on HairBoutique.com's Hair Talk Forums.