August 25th, 2007 by Karen Shelton
Introduction
When the hair gods decided to bestow on me the good fortune of interviewing celebrity hairdresser, Laurent Dufourg, known by his many celebrity clients as "Laurent D", I was beyond thrilled.
I've been following the grand master's celebrity styles for many years with great admiration.
When the time came for my appointment, I was definitely nervous and certainly star struck.
Afterall, Laurent D is the man that is famous for taking blonde goddess Gwyneth from long to short and for weaving a dizzying array of sizzling new looks for the likes of Tea Leoni, Terri Hatcher, Sharon Stone, Uma Thurman, Johnny Depp, Joely Fischer, the Hilton Sisters and scores of other "names".
One of the world's most famous hairdressers, Laurent is full of warmth, charm and kindness. Punctuating many of his statements with "darling" I felt completely at ease with this uber famous hair icon, as if I had known him for years.
Note: Check out Katee Sackhoff - Short Sassy SciFi Strands!
SciFi Channel - All rights reserved
Laurent keeps his work in proper perspective. And that's not easy considering his jet set lifestyle. Yet Laurent proclaims in his melodic French accented voice that "it's all about his client, no matter who they are, and not about him". Whether Laurent is sniping the locks of a harried hausfrau that saved for one year for the privilege of sitting in his chair or the latest "It" girl, this Sultan of Snip puts total focus on the person blessed with his appointment.
If anything, Laurent understands that the hausfrau needs him more than his celebrity clients like Sharon, Joely and Uma "who always look amazing, no matter what". For him, it is pure joy to "turn a woman that struggles daily to look good, into a person who leaves his chair feeling totally beautiful."
To Laurent D, hanging out with Terri or Tea and their respective families for a fun-filled dinner, is just his normal everyday life.
Vanity Fair & InStyle Parties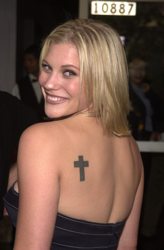 DailyCeleb.com - All rights reserved
So how does a man with a stable of the best and brightest celebrity clients juggle them during the busy award's season?
It's quite simple, as Laurent explained "whoever books first wins".
Yes, even those unknown starlets-on-the-rise that want eye-popping shimmering tresses for that first red carpet stroll can sneak to the front of Laurent's famous line by being the early bird that snares the hairdresser's undivided time and magnificent attention.
Can Laurent be persuaded to switch celebrity heads at the last minute? "Absolutely not", confided Laurent. He has "been there and done that and will never go there again".
Explaining a near disastrous experience from some years ago, Laurent confided that somehow he had wound up, due to unusual circumstances , "scheduled to do two celebrities on the same day for a major LA awards show". As the day played out, "the first actress was horribly late for her appointment", forcing Laurent to "cut it extremely close for his appointment with the second celebrity, a long time valued client".
An extremely loyal man, Laurent would never dream of ever causing any of his celebrities even the slightest tidbit of red carpet trauma. After that hair raising experience where a trusted relationship might have been torpedoed by time mismanagement, Laurent swore he would never do more than one head for any major event. Period.
Does he stroll the red carpet with his favorite clients? Yes, sometimes he does. However, he utmost concern is that "the very last thing that happens before his famous clients carefully climb into their limos is to make sure that every single strand is in perfect placement".
As he pointed out, "the history of his work for every award show season will play out over and over again in the media as celebrity red carpet retrospectives are rolled". In some cases, his work adorning the heads of major stars like his world famous Gwyneth or Sharon Stone cuts are printed for years.
Fear Factors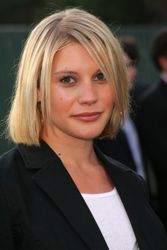 DailyCeleb.com - All rights reserved
There are many secrets to Laurent's spectacular success and eternal popularity. One is his expressed concerns was that as a result of his work that any of his clients would ever make it to the "worst coiffed" lists of Joan, Melissa or other talking heads.
Of course even the very best plans can go awry but Laurent believes "the red carpet is not the place" to take a major departure from a celebrity's normal hair style. Working closely with the celebrity stylist that will architect the celebrity's total look from gown to accessories, Laurent strives to work within the total framework creating "hairstyles that enhance rather than detract". His favorite words when it comes to describing his cuts and styles are "soft and sexy".
So what if one of his famous clients wants him to do something totally crazy that might risk that dreaded "what did they do to their hair" comment from Joan? Oh, well, he pauses, "of course the client should always look amazing", but "I would do my best to talk everything through with them to make sure that any style that they wanted to wear, would not cause them any type of media regrets".
This charming man is so obviously protective, supportive and loving of his clients that it is crystal clear why they all absolutely adore him and his work.
Steal Katee's Short Hair Style
Katee's short bob style for her role as Starbuck is built upon a foundation of precision perfect lines flow into shorter defined angled sides to a straight back that has more length. A deep side part results in a sleek draping of sleek shiny hair that hugs one side of her face. The other side is slicked back behind the ear with the ends directed forward towards her chiseled face.
Steal Katee's stunning short style with the following steps: 1. Start with a precision short cut that takes into consideration your own face shape, hair type, texture and condition. 2. To duplicate Katee's sleek Starbuck look, shampoo hair with a shampoo designed to address your hair's special needs. If you color, highlight or chemically treat your hair, select a shampoo that supports those treatments. If you prefer, use a dilution formula or a conditioning only (CO) treatment. 3. Apply the appropriate rinse-out conditioners. (Avoid if hair is super thin or fine). 4. Finish with a cool/cold water rinse to close cuticles and encourage natural shine. 5. Towel blot and apply cocktail of desired leave-in detangling/conditioning or styling products (mousse, gel, glaze). 6. To style, hair is parted deep on one side. Using a blow dryer with a concentrator nozzle, hair is blow dried with a paddle brush for a super sleek finish. 7. Once hair is 100% dry use fingers to finish style and direct hair behind one ear. Opt for a dab of pomade or styling cream to finish ends and keep them sleekly in place. 8. For super watt shine, apply a tiny drop of shine spray or drops to the palms of hands and lightly swipe over the top of the style.
Vanity Fair & InStyle Parties
DailyCeleb.com - All rights reserved
I asked Laurent if he had even been to any of the award parties like the splendid InStyle or Vanity Fair Academy After Parties. "But of course, darling" he laughed. "I attend every year". I was green with envy and told him so. "Well you must go then", he laughed, making it seem like all I need do is dial up someone and tell them that I wanted to go. Hmmm, if only it were that easy.
Besides attending the most desired celebrity parties of the year and strolling arm in arm with his celebrated heads past the paparazzi Laurent "travels all over with Teri", goes on "vacation with Sharon" and "traveled to Japan with Uma during her Lancome days". Those experiences are just at the tip of Laurent's fabulous and hectic lifestyle.
You might think that a man who has a mind boggling array of the biggest celebrities on his speed dial might be, well, affected. Nothing could be further from the truth. When I asked Laurent who his own hair heroes were he told me "there are so many great hairdressers that do amazing work" that it is difficult to pick just one. When pressed he told me that he was a huge fan of the recently deceased John Sahag who did "amazing dry cuts and inspired styles". He also had high praise for Orlando Pita "who does fantastic runway hair" and Enzo Angileri who Laurent proclaimed "a very dear friend".
This amazingly talented, world class hair star exhibited no signs of ego. He was generous with his praise of his two Prive expert hairdressing teams and singled out several for specific kudos. He mentioned that Steven Tapp was "incredible with color" and that Steven did all of Madonna's color, sometimes at the Prive Salon, sometimes around the world.
We also talked briefly about Frankie Payne, who I had the pleasure of interviewing. Laurent had high praise for Frankie and his work including his long term styling of Rachel Griffith of HBO's Six Feet Under. It seems that Frankie, who works out of the Prive Salon in Los Angeles, has been working with Laurent for "over twenty plus years".
Summary
Apart from tending to hair, Prive in Los Angeles serves healthy snacks and teas and have a tranquil Buddha Garden Caf. Upstairs is Ona Spa, an oasis providing massages, facials and body scrubs
If you want to talk more about this or other hair care articles on HairBoutique.com or anywhere else, please post a message on HairBoutique.com's Hair Talk Forums.