September 21st, 1999 by Karen Shelton
Whether it is prescribed as a relief from the heat of summer or as an inspiration for dressing up your hair for a night on the town, an elegant, but simple, updo is always a wonderful solution.
(Courtesy of Liliane Laureano - Modern Salon, 5/99)
Updos work for any type of special event from Homecoming, Winter formals, weddings, Proms, just a special night out, or to dress up an elegant gown.
One misconception about updos is that they are complicated and hard to create. Not so. With a little planning, some practice and the right tools, beautiful updos can be created as easily as pulling your hair into a ponytail and adding some stunning jewels.
Creating A Ponytail Updo
An updo can work on any hair that can be pulled into a ponytail. The updo above is a "nape neck" ponytail updo. The finished bun nestles softly and elegantly into the nape of the neck and is dazzling with a circle of magnetic hair jewels.
Day Old Hair Works Best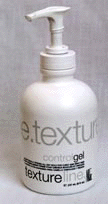 To get a really glossy ponytail updo, you may want to consider creating the look on "day old" hair. When hair is freshly washed it is harder to handle. In general, newly washed hair is a lot softer and fluffier than hair that has "aged" a little.
Hair that has "aged" or is "day old or better" will have the advantage of natural oil buildup which makes the hair easier to mold and adds natural shine.
If you must wash your hair first, be sure to use a very good hair gel when you dry your hair to give you hair extra hold or grip. You can use the gel to slick all your hair back or if you have curly hair that you want to tame a bit.
Instructions
This style works for hair that is any thickness. If your hair is naturally curly, you will need to apply a straightening gel like KMS Flat Out or similar, to achieve a smooth updo look.
Follow these step by step instruction to create the ponytail bun.
Brush hair completely to remove knots and tangles.
Pull hair into a taut ponytail at the nape of the neck.
Secure with a "hair friendly" bungee cord or elastic band that is the same color as your hair to blend easily.
Smooth hair by applying a good shine formula product
Divide the newly made ponytail into three equal sections.
Use either a medium barrel curling iron or medium sized hot curlers and curl the three sections, directing the curl to the nape of the neck.
When the hair is cool, carefully roll each section toward the neck.
Pin each section into place against the head.
You have the option of leaving space between each section or smoothing the three sections into one bun.
Add hairspray.
Hair Options
Once you have the updo pinned and sprayed you can dress it up or down as much as you would like. You can wind a ribbon around the perimeter of the bun or add a variety of hair jewelry from hair sticks to the very popular floating hair jewels.
For extra razzle dazzle apply crystal or semi-precious floating hair gems or magnetic hair jewels.
The jewels can be pinned in a circle around the bun.
If you prefer you can wear the jewels sprinkled through your hair. You may also want to consider matching your necklace and earrings to your hair jewels.
Longer Hair Options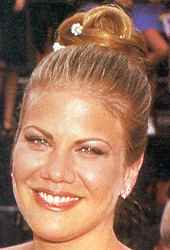 If you love this bun but your hair is mid back or longer and would be too much for a nape bun, you can modify the look slightly by starting the ponytail a lot higher up on the head and letting the curls rest higher up near the crown.
Actress Kristin Johnston (TV's 3rd Rock From The Sun) pictured to the right, has an updo that is created with a ponytail and some big curls pinned at the top of her crown.
She has added floating jeweled flowers to accent the curls.
You also have the option of letting the three sections of the hair hang softly down the neck rather than being pinned up on the nape.
You can also add a jeweled snood to catch the soft bun and highlight the hair.
Summary
This updo/bun is easy to create. With a little practice, most people can create a beautiful ponytail bun by themselves.
If you are concerned about having every hair in place, you may want to ask a friend or loved one to help you create the style. You always have the option of asking your favorite stylist to help you out as well.
Social Media Network Information
Please follow me on Twitter at: http://Twitter.com/HairBoutique. I look forward to meeting new people
from all walks of Twitter and learning from their Tweets. Visit us at Hairboutique.com located at: http://www.HairBoutique.com, on Facebook, MySpace and YouTube.
Thank you for visiting us at The HairBoutique Blog and for leaving your comments. They are very much appreciated. We apologize in advance but must remove any direct advertisements or solicitations.
- Revised Publication Date: 01/18/10
If you want to talk more about this or other hair care articles on HairBoutique.com or anywhere else, please post a message on HairBoutique.com's Hair Talk Forums.